Organize Your Year with a Downloadable Homeschool Student Planner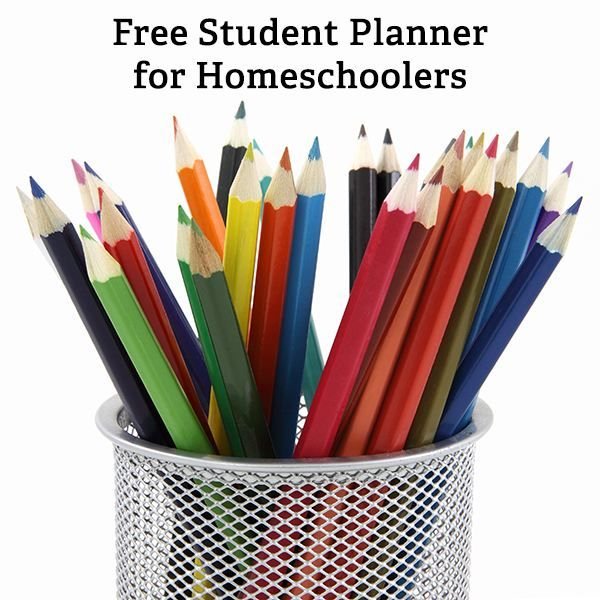 How to Bring a Planner Into Your Homeschool
While some families are content to unschool or to simply do the next lesson in the curriculum materials they have selected, other families prefer a more organized and focused approach. Using a student planner can be a life-saving venture. There are a few different ways to go about using a planner:
You can plan out an entire year at one time
You can plan out a month or week at a time
You can plan for the day with your student
You can record what your student did for that day
No matter what method you decide to use for planning and tracking your student's assignments, the most important part of using a student planner is consistency. It is important that no matter what method you choose, you use the planner in the same manner each day.
Not only should you plan the basic subjects (Language arts, math, history, science), but you should also include any appointments, planned field trips, and planned outings in your schedule.
Teaching Students Effective Planning
As students progress in age and take on more responsibility, it is important to show them how to effectively use their planners. You can sit down with the student and give a brief lesson in planning, and then work with the student each day to ensure that the planner is being used properly. By taking time to communicate your goals, and by listening to your student's goals, you can help that student to become more independent down the road.
Set Goals for the School Year: Go over these goals with your student. Do you want your student go complete his or her history text or only a portion of it? Do you need to incorporate more balance into your school day? Does your student have an extra-curricular activity he or she would like to participate in? Create a list of three to five goals for each subject, and then allow your student to create some goals of his or her own. Next, prioritize the goals; what are the most important goals to meet? The least important goals? By taking time to prioritize, you can easily determine what course of action to take when faced with multiple choices.
Break the Goals Down by Month: By taking the goals and breaking them down into monthly goals, you can show your student how each of the goals is achievable by setting realistic milestones. For instance, completing a math book doesn't seem nearly as daunting when that book has been broken down by topic.
Translate Monthly Goals into Weekly and Daily Tasks: In order to meet the monthly goals, what will need to be done? How much time will the student need to focus each day or week on that subject or goal? Your student may be surprised when he or she realizes that to complete an entire course, he or she will only need to spend thirty minutes to an hour a day on work toward that goal.
Mark any Appointments into the Planner as Soon as They are Known: This way, you can take into account any time restrictions when it comes to planning out the week and the day. Try to instill in your student the habit of planning at least a week in advance (though for younger children, sometimes playdates will be more spontaneous).
Protect Work Time: Finally, it's important to protect any time that will be spent learning and studying. With older children, this is more important as they will go on to college or the work world and need to be able to effectively manage their time. For younger children, this is important to help block out distractions.
The Goals Page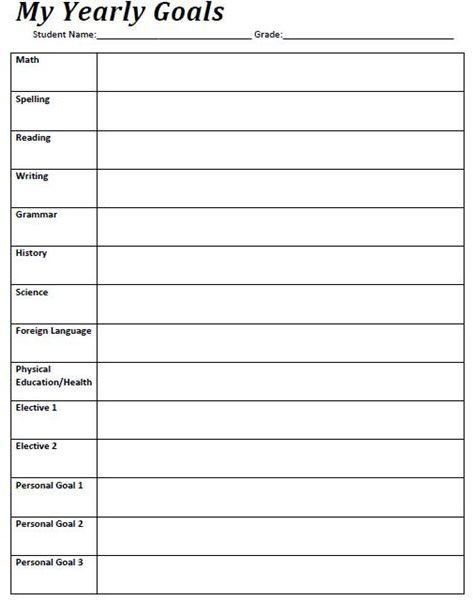 The first page of this student planner is the yearly goals page. This page allows for you and the student to record the goals he or she has by subject area. Try to make sure that any goal that you write down is achievable within the scope of your school year. The importance of creating goals that can be met cannot be stressed enough. If you create goals that are beyond the capability of the individual, chances are you are likely to be disappointed and the student will be stressed out.
If the student struggles at math, for example, you might want to reconsider the notion of having the student complete an entire algebra book in one year. Perhaps he or she requires two years to make it through a rigorous curriculum. Likewise, if a student is a slow reader, it is unlikely he or she will make it through the cannon, much less half the cannon in a single school year. Be sure the goals fit the student's abilities.
The Subject Breakdown Page
It's important to break goals down into workable action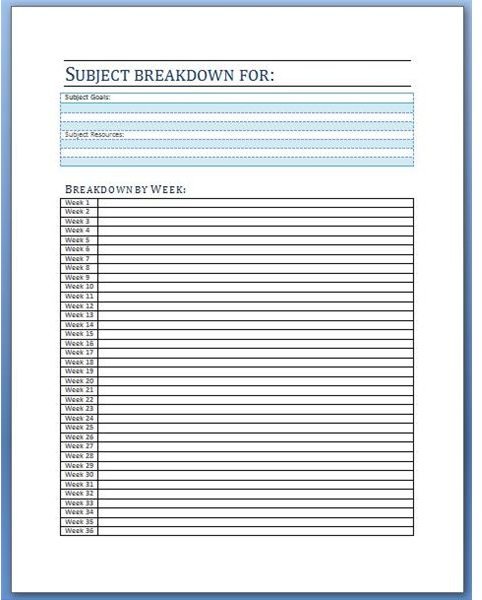 s. That's what the subject breakdown page is for. At the top of this sheet, write down the goals you have for that subject. Once you've written down the goals that are associated with the subject, then you can list any resources that you will need for that subject. Finally, you should break the subject down into weekly goals.
There are a few ways to go about planning by week. One way to plan is when you look through your resources and determine what topics you will cover. A normal school year runs between 36 and 40 weeks depending on your curriculum. Don't feel limited to following the chronological order in the book. Instead, make a list of the topics, group similar topics together, and then plot them on the sheet. This works well for subjects like science or history.
A second way to plan involves going through your resources and breaking that resource up into 36 or 40 chunks. Be realistic. How much can you expect your student to cover in a single week? Don't overschedule. It's much easier to work ahead if you're homeschooling than it is to play catch-up because the schedule you imposed upon yourself was too rigorous.
A third way of planning comes when you've purchased a curriculum that already has a lesson plan. Look at the lesson plan and determine whether you need to adjust it for your child. Does it move too fast? Does it move to slow? Don't feel locked into pre-organized curriculum choices.
The Month at a Glance Page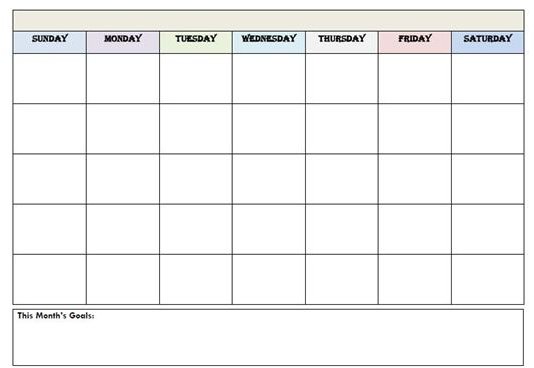 When was that choir recital? Do you know whether you have a doctor's appointment? Is there a homeschool group field trip this month? You'll know if you get in the habit of recording all events that are time-bound on a calendar. If you keep a copy of a month at a glance page with your student's planner, it will greatly simplify the weekly planning process.
Create a calendar for each student. This way, each student can keep track of his or her own obligations and appointments. Don't neglect to keep a master calendar for yourself! You'll notice on this template that there's also a place to record monthly goals. Does your student want to read for an hour every day? Do you want to encourage a new habit? Is there a resource you're hoping to finish?
The Weekly Page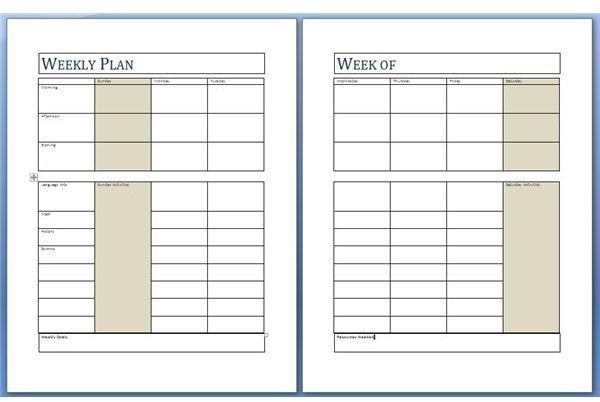 When you sit down to plan out the next week, you will first want to round up your month at a glance page, subject breakdown page, and the previous week's page. The first thing you will do on your weekly planner page is record any appointments and meetings that will be occurring during that week. If it's at the beginning of the school year, your task is easy, simply transfer the information from the subject breakdown to the page. If you've already completed a week or more of your school year, then first transfer anything unfinished that needs to be completed. Then, add relevant information from your subject breakdown.
The Daily Planning Page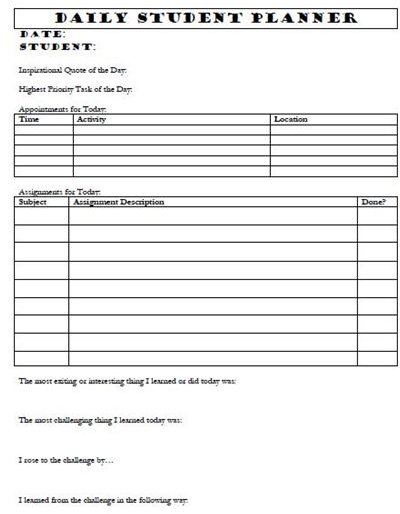 Finally, the daily planning page can help you to get control over your day. What makes this planning page unique is that rather than listing a series of hours, there is a place for you to record your appointments, but the focus of the page is a place to record assignments. Additionally, there is a place to record an inspirational quote for the day and the day's highest priority.
Perhaps the most valuable part of this page is the ability for students to do a self-evaluation at the end of the day. This self-reflective exercise will help students and parents to easily monitor progress.
Planning doesn't have to be a challenge. By teaching your student at a young age to plan, you will set him or her up for future success - whether your student goes on to college, goes into the workforce, or starts a business.
Ronda Roberts Levine has been homeschooling for four years, and she has found that many of the planners available don't meet the unique needs of a homeschooling parent.
Screenshots courtesy of Ronda Roberts Levine