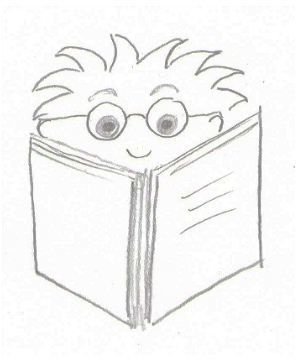 Whether or not you need assessments is a decision that varies according to regional requirements and personal preference. Some states require homeschooled students to participate in standardized testing. Check with your local homeschool association or school district for requirements in your area. When assessment is optional, some homeschoolers decide not to assess at all, while others choose to test their children regularly. Reading assessments can be very useful because they can provide peace of mind, when your child is on track, or narrow down areas of need for struggling children. They can also help parents to choose reading materials for their children at an instructional or independent level.
What Skills Do These Assessments Address?
Each assessment tool is different from the next and a little reflection will be necessary to decide which is the most appropriate. Ask yourself why you are performing the assessment. Is it a state requirement or are you just curious? Do you want something quick to help you choose books your child can understand, or are you looking for more information to guide your curriculum? Reading assessments can provide a quick and dirty reading level or they can provide detailed information about many elements of reading, such as:
Phonics/Phonemic awareness
Spelling
Vocabulary development
Decoding skills
Comprehension
It is important to note that the value of reading comprehension is sometimes underestimated and it is important to ensure that students are learning the skills necessary to understand what they are reading, across the curriculum and in everyday life.
Online Reading Assessments
Homeschool parents can find a variety of reading assessments to meet their needs and those of their children. One way parents can begin evaluating the reading progress of their children, is to check their state Department of Education website, for Grade Level Expectations (GREs).
Simple reading assessments, like the Dolch reading lists or the San Diego Reading Inventory can give parents a quick grade level estimate. The Dolch lists rely, mainly, on a child's knowledge of sight words, many of which cannot be sounded out and must be memorized. The Sandiego lists cover grades one through ten.
At Mind Play, second through tenth grade students can do an online assessment and receive a free report that includes a score of average, above average or below average, with information about areas for improvement in phonics, vowels, consonants, word structure and comprehension. Independent and instructional reading levels are provided.
A very comprehensive reading assessment can be found at Let's Go Learn. K-12 students complete the Diagnostic Online Reading Assessment (DORA) on the internet. There is a fee, but the $20 seems worth it, as parents are then sent a very detailed report containing grade levels in several elements of the reading process. A summary of strengths and needs is also provided, along with individualized recommendations and teaching strategies.
Other Reading Assessments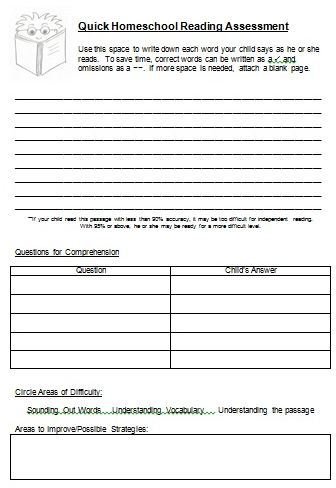 Another useful tool is the Running Record. Basically, a running record is a verbatim log of everything your child says while reading a passage of text. It can help you see what part of the text is causing difficulty and assist in choosing books that are at an appropriate level. You can also download a quick homeschool reading assessment here.
School districts and private assessors often use tools that are longer and more detailed. These tools often provide standardized scores and a great deal of information about students' reading performance but they also tend to be costly and more thorough than the average family will need.
What to Do When Your Child is Struggling?
No matter which method you use, reading assessments can be most valuable in pinpointing areas of need. When you see, for example, that your child is guessing at words based on the first letter, it might be time to increase focus on phonics skills for sounding out words. If he or she is having trouble with comprehension, you can spend more time on vocabulary development, or use graphic organizers to increase understanding. Assessing your child is a great first step in deciding what and how to teach next.
References