For the Parent Experiencing Homeschool Burnout: Learn How to Overcome It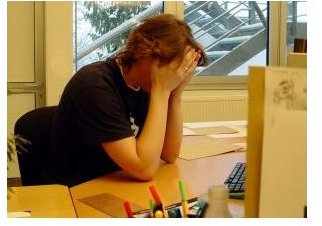 It's a Real Problem
Do you dread getting out of bed in the morning? Upon awakening you head for the refrigerator to fix breakfast, trip over dirty laundry, can't find a clean pan and arrive at the refrigerator only to find it empty. You have a dirty house; nothing to feed your family; your daughter is falling behind in math; and tonight you're throwing a birthday party for your mother. You can't homeschool today–you have too much to do! When a parent decides to homeschool his child, sometimes he fails to realize how big of a responsibility it is. Homeschooling is an added job for the parent and it takes dedication and a great deal of time and patience. Sometimes parents may feel as if they have no time to themselves, especially if they are solely responsible for all of the other household duties.
You have a severe case of home school burnout. Luckily there are ways of overcoming it.
Symptoms
Just like an illness, this problem also has symptoms. The first step to overcoming it is recognizing you have it.
Feeling overwhelmed

Feeling depressed

Irritable

Thinking of putting your child in public school

Feeling angry and resentful towards family members

Fatigue

Lack of Confidence

Crying

Stomach Upset

Headache

Feeling incompetent to teach your child

Fearful your child isn't learning enough

Fear of your child failing

Blaming yourself
If you have one or more of these symptoms you could be suffering from homeschool teacher burnout.
Causes
We may have unreal expectations for our self and our family. Some women feel if they don't keep their house immaculate and prepare nightly gourmet meals, they are failing as a wife and mother. Another cause of burnout is lack of alone time. Not enough outside activities or possibly too many outside activities are consuming our lives.
Many parents have unreal expectations concerning home schooling itself. They may feel as if they have to show everyone inside and outside of the family that they can succeed at turning their child into a walking Einstein. As a result they may be focusing too much on homeschooling responsibilities and not enough on other family areas of life.
One significant reason for burnout is failure to have organized lesson plans. If you are scrambling to get lessons completed on a day-to-day basis, you may become overwhelmed.
Just…Stop!
Overcoming home school burnout can be achieved with the right recovery program.
The very first step to take is to "Stop!" Stop everything you're doing and take a break, whether it be a mini-vacation with the family or a few days just having fun with the kids. During this time try to do as few household chores as possible. Do not accept invitations. Focus on relaxing and enjoying life for a few days. Spend some alone time with your significant other without the children. When the vacation is over sit down and make up a daily schedule for yourself and your family to follow. Divide the household chores. Don't worry if your house is a little messy. Plan meals in advance. Cooking out of a crock pot can save time. Above all, stop trying to be Super Mom.
More Tips
Time management is a significant problem for parents who homeschool. For instance, on Monday from 8:00-9:00am we will do reading and writing, 9-10 Math, 10-11 Science, 12:00 pm lunch and 1-2 Social Studies. In the public school it takes a teacher approximately eight hours to accomplish the same amount of curriculum that a parent should be able to master in three or four hours. Make sure to have lesson plans made out in advance and be sure they are age-appropriate.
Add at least an hour or two of fun time into your schedule. This time can be used as just having fun together as a family. It's important to find time to play with, listen to and enjoy your children. Sometimes parents are always teaching and neglect to do this. Don't forget at least 30 minutes for just yourself. Alone time may include taking a bath , reading a book or going on a walk, anything you enjoy doing alone. It is crucial to allow yourself some alone time everyday.
Make lesson plans ahead of time. Many parents find it easier to create lesson plans during the summer when their children are swimming and involved in other summer activities. This allows parents a reasonable amount of time to get everything in order for the following school year. Other parents try to homeschool year round. It is recommended that children need a break; taking a break during the summer months is a wise choice to avoid burnout.
Use a trip to the grocery store or dentist's office as a learning experience. Set boundaries with family and friends. Take the phone off the hook to avoid interruptions during home school hours. Don't accept too many invitations for outside activities. Make sure to enjoy your weekends. Try not to home school during the weekend. Maker sure to eat right and get plenty of rest. If you follow all of these steps you should be on your way to overcoming burnout.
Read More About It
Purchase the book Home School Burnout: What it is. What Caused it and How to Overcome It, by Raymond S. Moore. It can be found at Amazon. Find online resources to help with planning curriculum and lessons such as Online Home School Resources. Join a home school support groups. Talking with other parents who are going through the same thing can be very helpful. Remember all of us who home school have or will eventually go through home school burnout. Sometimes home school burnout is not the only cause but life in general. But now that we know the steps to take, we have discovered the key to overcoming home school burnout.