Setting Up a Homeschool Learning Room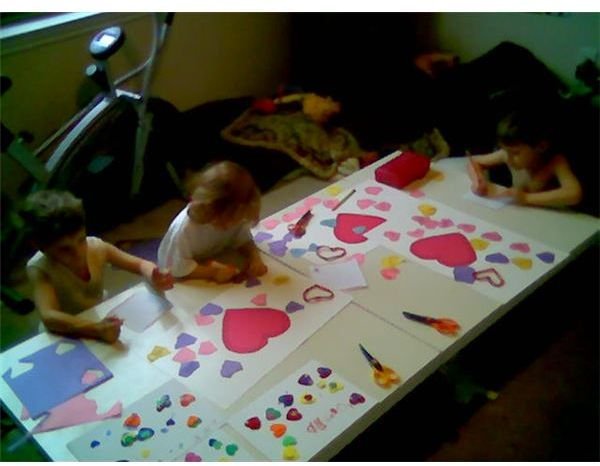 Having a designated area for your child to complete their school work is important. Even if you do not have a room to spare in your house, you can create a portable classroom. Make it easy to put everything back away when you are done for the day, unless you want your company to have to sit in the middle of your schoolroom. Regardless of what you may deem appropriate for you and your family, here are some considerations you need to take into account.
Finding Space
While you want enough space to be able to work comfortably, not every home has a lot of spare room. This is fine because you don't have to remain in the same room all the time in order to be able to homeschool. Some of your child's classes may be more suitable for other rooms or even outside. If possible, itt is preferable to have a homeschool room your children associate with thinking, reasoning and studying. Doing so helps them get in the right frame of mind when it is school time.
Most homeschool families find that the ideal location for their homeschool is a space with a door that can be shut while school is in session. This allows for a boundary to be set between school and the rest of the house to encourage a school mindset. It is a good idea for this area to have a lot of natural lighting and fresh air to help combat fatigue. If you have a room that suits these needs but doesn't have enough room for a desk in it, you may wish to look into a foldaway study nook. These are available at most furniture stores and come with built in shelves.
Things You Need In The Room
Some of the things to include are:
A bookshelf or a cupboard that is easy for your children to access on their own.
A table with comfortable chairs. If you have enough room, you may want to have a separate table that you use.
A chalkboard or a white board for your children to write on.
Learning materials (i.e. stationary, art supplies, books, reference books, pictures, cards, blocks, DVDs) that your children are able to access on their own.
A trash can.
A filing cabinet for storing records, lesson plans, tests, curriculum and report cards.
A computer with Internet access.
A calendar for scheduling monthly activities and holidays.
Pens, pencils, highlighters and erasers.
Notebooks, three-ring binders and pocket folders for your students to store their work in.
Organizers for storing crayons, rubber bands and glue.
For those who do not have a spare room, use a milk crate for each of your children so that they have a portable place to store their schoolwork.
Other supplies may include colored pencils, tape, index cards, rulers, scissors and pencil sharpeners.
Organization Tips
For those who are fortunate enough to be able to create a homeschool room, set up a desk where your child can do their schoolwork. This can be either a normal school desk or a small extra table. Place your child's school supplies there in an orderly fashion. An old coffee can in the corner of the desk works great for holding these things if no drawer is available.
Place a bookshelf near the desk for your child to store their textbooks, notebooks and reading materials. A shelf can even be used for holding your own items like a grade book and attendance records. If you don't have room for even a small book shelf, consider hanging some shelves on your wall.
It is also a good idea to have a white board or chalkboard hanging on a wall near your child's desk. Try to find one that also doubles as a corkboard. Here you can place reminders of upcoming assignments and projects. You can also display your child's good work and great artwork. Consider decorating it with a theme each month and allow your child to help you do so.
Take some time to look around your home first before rushing out to purchase these items. You will probably be pleasantly surprised by how many of these things you already own, or you may find items that can easily be repurposed for the school room. Don't have a desk? An old table will work just as well. Stackable crates work well for holding books and school items. You can create shelves out of cinder blocks and planks. Have any other creative ideas for creating a school room? Let us know in the comments.
Resources:
Image credit: Wikimedia Commons/kitchenkam