Bookmaking Homeschool Lesson Plan: How to Get Your Child Writing More Often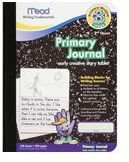 Here's the Basic Lesson Plan
Writing is such a good outlet for children to share their creativity, use their imagination, and even find an emotional outlet. This article will lay out a basic bookmaking homeschool lesson plan, and then give ideas on how to put together books with your child. To incorporate this into your homeschool day try the following:
Gather the materials you need for the book you'll be making (see ideas below and pick one).
Make the actual book together (or buy the Mead Primary journal, see below).
Give your child some writing prompts, if needed. Some examples are included in the last section under guided bookmaking. Other writing prompts could be describing a favorite vacation, or telling about an imaginary dream vacation, writing a biography about someone your child is learning about in history, or even journaling about your child's feelings about the day in general. More writing prompts are linked in an article on writing prompts for elementary students.
After the writing prompt has been given, allow your child time to freely work on the book.
Once the writing is complete, your child can choose to put illustrations with the writing, or stick with the literary aspect alone.
First: The Most Simple Bookmaking Idea!
If you'd like to give your child an outlet for writing creative stories, the most simple bookmaking idea is first. Buy a Mead Primary Journal! It has 100 pages and features a large space for writing at the bottom of the page, with a blank top portion of each page for drawing pictures to go with the story. I've used this journal with my five year old son. He dictates the story, and I write the words. This journal is especially good for children between the ages of four and ten, because the writing portion of the journal still has redline cues for helping guide beginning writers.
Second: Another Really Simple Way to do Bookmaking with Children
If you are looking for a super, simple design for bookmaking, this is it! Take three to five sheets of plain white paper and fold them in half. Take a piece of poster board or a manila envelope and cut to the same size as the pieces of paper. Now, fold everything in half, and staple in the crease. If you want to take this design a step up, you cut punch holes along the crease, and use ribbon to tie bows in each of the holes you punch, to become a fancier version of this simple binding. Remember, bookmaking doesn't have to be fancy to be effective. The goal is to get your child to want to write and share imaginative ideas, stories, and thoughts. Even a simple book can hold your child's ideas! Some great thoughts on bookmaking with simple books can be found at the website PreKinders. A link is listed below in the article credits.
Third: A Simple 'Hotdog' Style of Bookmaking

This bookmaking idea comes from Susan Kapuscinski Gaylord, who has an excellent bookmaking website listed below in the article credits. Her website features step by step , bookmaking instructions and youtube videos for many, many styles of books. This particular style of bookmaking is called a Hotdog book. This bookmaking idea uses one piece of paper and a pair of scissors. It creates an eight page book, which would have six pages for writing and illustrations, and then a front and back cover. If your child would like to make a longer book, you would simply make more of these small books and glue them together. Susan's youtube presentation of how to make this book is fantastic, and you can watch it here https://www.youtube.com/skgaylord#p/u/15/YX5jp1hqUG4 for exact step by step instructions.
Fourth: Guided Bookmaking Ideas
If you're looking for writing prompts (ideas to spur on writing) to go along with the bookmaking why not consider making an alphabet book with your child? My son and I have done this as part of learning letters. I made a book with a page for each letter. I wrote a capital letter and it's lowercase partner on each page, and then I had our son pick something to go with the letter for each page, such as 'ant' for the letter A. Then we'd draw the picture.
For older children, consider making a book to go along with something you are learning. For example, are you learning about states and capitols? Then, why not make a book featuring each state and its capitol, along with computer generated pictures of the state's flower, bird, or tree.
Another idea is to do a word book with big words, inspiring words, or nonsense words. You could have a definition on the page, along with the word, and an illustration of each word.
The ideas are endless for guided bookmaking. Community helpers, careers, musical instruments, sports, and any topic of interest to your child could become a book!
Why Incorporate Bookmaking?
By doing a bookmaking homeschool lesson you will be bringing out your child's creativity. At the same time you will also be enhancing skills you are teaching in your curriculum, such as grammar, spelling, handwriting, and much more. You can enhance any subject by making what you are learning into a book. Try out one of these ideas, and see how it becomes a project you will want to save for years to come!
Article Credits:
Mead Journal Picture: www.mead.com (Primary Journal)
Hotdog Booklet Image and Susan Kapuscinski Gaylord's website: https://www.makingbooks.com/step.shtml
PreKinders website https://prekinders.com/pre-k-bookmaking/