Benefits of Horseback Riding for Homeschooled Students: Educational Aspects & Where to Find Local Lessons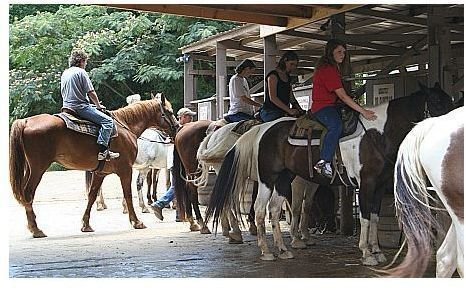 Benefits
Horseback riding offers the following benefits for homeschooled students:
Physical education
Therapy for those with physical, emotional, and learning challenges
Teaches responsibility
Builds confidence
Creates a sense of freedom
Social interaction with other riders
Once you have decided to include this activity in your homeschooling, finding a local stable will be the next step. When looking for a stable for lessons, there are safety and other issues to consider.
For homeschooled students, horseback riding goes beyond riding a horse. It complements core subjects by providing a hands-on learning experience of combining what is learned in the home classroom and applying it to the trail and stable.
Physical Education
Horseback riding provides physical education hours, which the homeschooling parent will log as part of the student's coursework. In the book, Rider's Fitness, the authors claim that horseback riding:
Improves balance
Strengthens many muscle groups
Provides a slight aerobic workout for the rider
Improves flexibility and posture
In addition to the fitness benefits of riding a horse, there are equestrian sports of:
Polo
Competitive jumping
Stunt riding
Using lassos
Riding as a jockey to race
Therapeutic Benefits
Some families choose to homeschool because they have a child with a physical or learning challenge. According to the American Equestrian Alliance, horseback riding can be helpful for those dealing with physical challenges and to help improve balance, muscle strength, and flexibility.
There are two main forms of horse therapy:
Therapeutic riding
Hippo therapy
In describing the difference between the two types of therapies, the Saddle Light Center for Therapeutic Horsemanship explains that therapeutic riding teaches skills to the rider, who has a disability; while hippo therapy uses the horse as a therapeutic tool. Hippo therapy has been successful when used in occupational and speech therapies.
Therapeutic riding and hippo therapy have been used to help those with:
Muscular dystrophy
Brain or spinal cord injuries
Cerebral palsy
Down's syndrome
Multiple sclerosis
Amputees
Wheelchair bound
Emotional health concerns
Hearing and speech impairments
Autism spectrum disorders
The American Hippo Therapy Association reports that the bond which occurs between the rider and the horse creates a sense of responsibility, confidence and patience.
Social Aspects
One of the main daily concerns homeschoolers are faced with is the question of proper socialization. Horseback riding provides an opportunity to interact with other homeschoolers or non-homeschoolers on the trail and in the stable. Riding can also help students gain confidence and a sense of responsibility through learning horse care and upkeep, while enjoying the sense of freedom riding a horse brings.
What to Look for in a Riding Stable
Three important things to consider when you are looking for a stable are:
Safety issues
Care and upkeep of the horses
Approach to teaching
The specifics of what is involved in a horseback riding lesson will vary from facility to facility, but all should follow safety guidelines and display a good level of care and upkeep of their horses. After you determine these two qualifications are met, you can explore their teaching style to decide if it meets the needs of your homeschooled students.
Visit the stable before scheduling your event, and look around.
Are riders wearing helmets? A reliable stable will require all riders, especially children, to wear helmets as a preventative measure of safety. One misstep from a horse could create a serious injury to a rider.
Do the horses appear to be healthy and well taken care of?
If both safety and horse care check out, begin to ask questions about their teaching approach.
Instruction and Style: Western or English
Many stables will include instruction on brushing and tacking the horse, mounting and dismounting, and general control of the reins. Look for a stable that will also give instructions on proper care and upkeep of horses, as this teaches the student responsibility. There are two main styles of riding: Western and English. Make sure the stable teaches the style of riding your homeschooled students want.
Consider the Costs
Cost will also be a consideration. Horseback riding tends to be an expensive sport. Be sure to get pricing, including any sign up or use of equipment fees. A good stable should be able to provide you with a list of pricing and what clothing, or accessories, will be needed. This might include boots, jeans, riding pants, or a lariat; provided at your expense.
Age Recommendations
Also make sure you inquire about what age the stable recommends for beginning students. If the age is above or below where your students fall, you will want to look for a different stable to meet your needs.
Finding Riding Lessons for Homeschoolers
Many stables welcome homeschoolers who seek lessons because they fill up daytime spots that are otherwise left open. Contact local stables and inquire about:
One organized field trip
A visit to a stable for a day of riding
Group lessons
Weekly private lessons
Weekly semi-private lessons
Attending a horseback riding camp
Some states have horse ranches, which welcome families and homeschool groups to stay and take a riding vacation where you can enjoy a variety of riding experiences. Get started planning your trip by visiting:
Hiddentrails.com
Ridingtours.com
You will find many camps listed on allensguide.com, when you search for horse camps.
Visit equinenow.com to find a local stable that offers lessons. You can search by the state and the type of lessons.
Reining in Educational Lessons
Homeschoolers have a way of creating unit studies out of almost any area of interest. Horseback riding is an opportunity to homeschool core subjects in correlation to horses. Use a visit to a stable as a chance to tap into learning. All of the core subjects, and some electives, can easily be taught by referring to the hands-on experience the child gains from a horseback ride.
Reading - One way to get children interested in a subject is by introducing a book, which is written on their level. The Saddle Club books center around a group of girls and their horses. Pony Tails is another similar book. If you prefer non-fiction books, there are several books written about horses, types of horses, different styles of riding, how to care for a horse, stories about cowboys, jockeys, or polo matches. For the very young student, a picture book about horses will suffice. A book that allows your homeschooler to touch and feel, or interact, with the book is even better.
Vocabulary/spelling - Take words common to horseback riders, and turn them into a vocabulary/spelling list. Some words to include on your list are equestrian, Western, English, reins, Quarter Horse, Thoroughbred, stable, saddle, stirrups, dressage, tacking, mounting, or hippo therapy. Dig deeper by learning the etymology of words like "hippo" or "equestrian".
History - Horses have been used for generations as transportation in farming, mining, sports or for show. Images of horses have even been carved out of wood and painted pretty colors for children to ride them on a carousel. Farriers, blacksmiths, or groomers are an example of workers who have based their careers around horses. Do a complete study of the history of horses with your homeschooled student and include topics such as the Pony Express and how horses came to America.
Science - Zoology includes the study of horses. Horses are part of the Family Equidae, which also includes the Zebra. Veterinary studies involve all animals, including horses, and relates to science. Study the horse's anatomy, including labeling the names of the parts of the horse's hoof: toe, sole, frog, and heel.
Math - Interject horses into a younger student's math studies by using toy plastic horses as counters or counting horses on a coloring sheet. Explore with your older students what the measuring term "hands" means and how it relates to horses.
Art - Drawing horses is a skill many students long to learn. There are many drawing books that take you step by step through the process to sketch a horse. Take this a step further by learning the history of artists who have included horses in their paintings and artwork.
References
Photo Credit: Tere Scott
"Therapeutic Riding Program", www.americanequestrian.com/therapy.htm
American Hippo Therapy Association, www.americanhippotherapyassociation.org
Fosdick, Kerstin L., LTP, "About Therapeutic Riding: History of Therapeutic Riding," The Saddle Light Center for Therapeutic Horsmanship, www.thesaddlelightcenter.com/therapriding.htm
Dennis, Dianna R., McCully, John J., Juris, Paul M., Rider's Fitness Program, Storey Books, November 2004
Davis, Beverley, "Timeline of the Development of the Horse", Sino-Platonic Papers, University of Pennsylvania, August 2007
"IAITC Horse Lesson Booklet", www.agintheclassroom.org/060605/Teachers/Make%20&%20Takes/HorseLessonPlans.pdf