Once you decided to educate your children at home you need to know what the legal requirements are. The PA homeschool requirements are a bit stricter than those of some other states but they are definitely manageable. The Pennsylvania homeschool law is pretty clear and easy to fulfill. Basically the law requires parents to comply with certain rules.
Affidavit Packet
Parents wishing to homeschool must submit a notarized "affidavit packet" addressed to the superintendent of their local school district. This information is due when you begin to homeschool and then each additional year by August 1st. The "affidavit packet" consists of:
A. Notarized affidavit explaining your intent to homeschool your children. Include your address, children's names and grades and a list of the other items included in your packet. Examples of a Pennsylvania homeschooler's affidavit can be found at the Christian Homeschoolers of PA's website.
B. List of educational objects for each subject you will be teaching.
The PA state homeschool law requires students in the elementary level study the following:
English, including Spelling, Reading, Writing
Arithmetic
Science
Geography
History of the United States and Pennsylvania
Civics
Safety Education, including dangers and prevention of fires
Health and Physiology
Physical Education
Music
Art
Safety Education, including dangers and prevention of fires
Students in the secondary level are required to include the following in their education:
English, including Language, Literature, Speech, Composition
Science
Geography
Social Studies, including Civics, World History, History of the United States and Pennsylvania
Mathematics, including General Mathematics, Algebra, Geometry
Art
Music
Physical Education
Health
Parents shouldn't let these requirements overwhelm them but rather look at them as an opportunity to do some serious thinking about their goals for their child's education for the current school year. Many homeschool teachers take a minimalist approach by giving the state very broad objectives, whether or not they have more detailed personal goals. Fulfilling this aspect of the PA homeschool law Illustrates just how serious parents are about their child's education.
Homeschool educators are under no obligation to follow the local school district's curriculum, although according to the law, the district must make the curriculum available to homeschoolers. Also, remember these are your goals and you are allowed the flexibility to change your educational plan as the school year progresses.
C. Required medical information or medical exemption form is also part of the PA homeschooler's affidavit packet. A simple statement that specific medical information is confidential and that the child's medical records are "on file" at your pediatrician or family doctor's office should suffice but school districts often press for vaccination records and proof that your child has had their regular health and dental exams.
D. A copy of the teaching parent's high school diploma or evidence that they graduated high school needs to be included.
It is a good idea to ask your school district to sign a receipt when you drop off your materials or mail the "affidavit packet" to the school district superintendent by certified mail, return receipt requested or ask the school district to sign a receipt when you drop off your materials so that you can prove your compliance with the law. Always retain a copy of all affidavit materials for your own files.
Compulsory Attendance Age in PA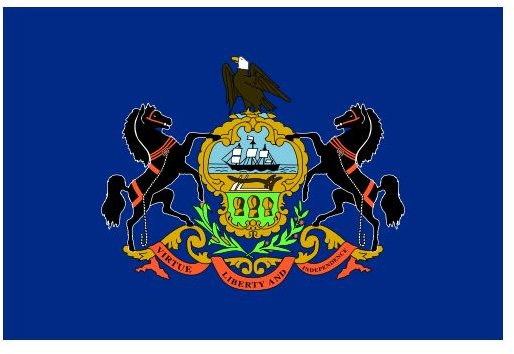 Pennsylvania does have a compulsory attendance age. Students ages 8 to 17 are required by law to be registered with their local school district. If a student is not yet eight years old and has not attended any school for first grade or above, your student is under the compulsory school age and you do not need to report to the school district in any way.
A home educator doesn't have to file an affidavit, keep a log, submit a portfolio, etc., and most homeschool parents choose not to. If your child has attended public school for first grade or above prior to their turning eight years old you will need to file an affidavit as soon as you begin homeschooling. In the Philadelphia School District, the compulsory age has been lowered to age six.
End of the Year Requirements
At the end of each school year, homeschool educators are required by the state law to turn in a homeschool portfolio. A school district superintendent reviews the contents of a portfolio and then decides to either approve it (which happens in most cases) or request further information from homeschooling families. Several items must be included in each student's portfolio.
Attendance record: Parents who homeschool in PA are required to teach their children for 180 days of each school year (900 hours per school year at the elementary level and 990 hours per school year at the secondary level). Keeping a log or simple date book that the homeschool teacher has noted daily lessons will fulfill this requirement.
List of subjects taught: PA homeschoolers must include a list of curriculum choices and reading materials in the student portfolio. Having your students keep a reading list is a great way to keep track of this.
Samples of student work: Parents should save samples of their child's schoolwork throughout the homeschool year and include the samples in the portfolio. School districts may vary on how much student work they wish to see. Tests, corrected and revised papers, brochures from field trips, sample worksheets and photos of artwork or science experiments are all good items to include as samples of your student's work.
Evaluator report: Every homeschool program in PA must be approved yearly by an independent evaluator hired by parents. Evaluators, who are often certified teachers or licensed psychologists, look over the portfolio and submit a report stating that proper education is taking place. You can find the phone numbers of evaluators at the PA Homeschoolers website.
Standardized test scores: At certain grade levels (3rd, 5th, and 8th), homeschooled students in PA need to take standardized tests such as the California Achievement Test or the Iowa Test of Basic Skills. The test results are included in the student portfolio.
Other Home-Based Learning Options
In addition to the PA homeschool statute, other options for educating children at home can be explored under state law. These options, which do not require the paperwork necessary for traditional homeschoolers include hiring a qualified private tutor or enrolling students in a cyber charter school. Parents still do need to inform their school district of a private tutor's credentials on a yearly basis. Cyber school students are supervised by parents at home but are officially classified as public school students.
Though PA homeschool requirements are considered stringent by some, many parents find the process of maintaining student portfolios for the local district is quite straightforward and rarely met with objections. Look at the portfolio as a nice way to document your child's academic progress. Though most PA school districts comply with homeschooling laws, parents who feel that their rights are being violated can seek legal support from organizations such as HSLDA (Home School Legal Defense Association).
References