Homeschool Portfolio Evaluation Checklist: Information and a Downloadable Checklist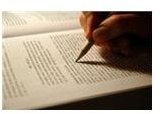 What Is a Homeschool Portfolio?
In homeschooling, a portfolio provides documentation of a child's educational progress. Using tools like a homeschool portfolio
evaluation checklist helps ensure your child's portfolio is as complete and accurate as possible. You can use this free portfolio evaluation checklist to help you assemble a comprehensive academic record for your homeschool student.
In some states, a portfolio and yearly evaluation is required in order to maintain eligibility for a home education program. When governed by state mandate, requirements for portfolio contents are clear, as is the case in Pennsylvania. In these states, evaluation by an objective third party educational professional is required, rather than relying on the parent's opinion.
Other states do not require portfolio evaluations, but do require parents maintain yearly portfolios in the event that the validity of their home education program is ever called into questioned. Students preparing to apply for college admission are advised to have a portfolio to demonstrate their mastery of college preparatory classes. In these cases, the use of a homeschool portfolio evaluation checklist is an invaluable tool to help parents assemble a good portfolio of their child's educational history.
The Importance of a Portfolio
Homeschool portfolios should have certain records, samples and documentation included for each calendar school year. In the case of college admissions, your student's portfolio should document and provide a summary of college preparatory work. Most colleges require proof that a child has met graduation requirements for high school. In fact, federal student financial aid requirements stipulate that children must have valid, certified proof of high school completion. This leads many homeschoolers to seek high school equivalency tests such as a GED or similar graduation exam options.
However, it is important to note that even with these exams or test results, most colleges require homeschoolers to submit a portfolio. Such colleges and universities as Southern University of Virginia and Georgia Perimeter College, to name just a few, evaluate homeschool students as much on their portfolio as they do standardized test scores and high school graduation exams. Evaluating your student's portfolio contents now can save long delays in the admission process and disappointing admission denials.
Portfolios vs. Transcripts
For children in public school, documenting academic performance is simple. During the college admissions process, students simply submit a copy of their high school transcripts along with standardized test scores such as SAT or ACT. What few parents outside school administration and teaching positions know is that even public school systems use portfolios. Each teacher submits entries to the student's permanent record each year. The permanent record comprises grades, teacher notes, work samples, and other information regarding academic progress. A transcript is merely a summary of the information contained in the student's public school portfolio.
Homeschool parents can easily create and manage similar documents for their children. If you maintain yearly portfolios, whether required in your state or not, you can easily make transcripts for your homeschool student when needed. Combined with portfolio information and standardized test scores, these transcripts are accepted by most college admissions offices as proof of academic progress and abilities.
References and Resources
Oklahoma Homeschool, Portfolios and Grades
Christian Home Educators of West Virginia
Image courtesy of stock.xchng https://www.sxc.hu/photo/948188