"The Well-Trained Mind": Modern Classical Education at Home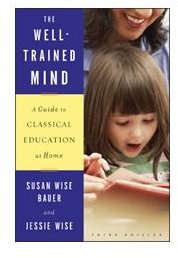 Classical Education
Classical education is based on the Trivium: teaching in different ways for the three levels of learners. The stages include the Grammar stage, the Logic stage and the Rhetoric stage. The Grammar stage covers roughly the elementary years and is geared toward setting up the foundation for further education. The Logic stage includes the middle school years, around 5th through 8th grade, and focuses on cause and effect and the logical connections between different areas of knowledge. The Rhetoric level uses the foundation and logic developed in early phases to develop beliefs and communicate effectively.
Using a primarily language-based approach, classical education includes the study of western civilization, Latin and Greek languages, history, literature and culture. Classical education is a popular method among homeschoolers as it is a holistic method of education that has endured the test of time.
About The Well-Trained Mind
The first edition of The Well-Trained Mind by Susan Wise Bauer and Jessie Wise came on the homeschooling scene in 1999. A new revised version was released for the ten year anniversary. This book serves as a curriculum resource and teaching guide for homeschoolers. The method is systematic and rigorous. The book includes information on various curriculum offerings for each grade, from pre-school through high school graduation, suitable for a thorough classical education. The Well-Trained Mind is considered a secular resource, though it does offer some Christian options. The method adjusts readily to many learning styles and religious beliefs.
Subjects
While classical education may focus specifically on a language-based approach, it doesn't exclude other subjects. The Well-Trained Mind approach covers almost any subject homeschoolers would want and need to study. The curriculum and teaching resources cover math, science, world languages, history, the arts, grammar, spelling, word study and other subjects within each discipline. Latin is begun at an early age. One of the main focuses is to study history chronologically in a repeated four year cycle of ancient history, the middle ages, the renaissance and reformation, and modern history. Science is divided in a similar four year cycle study of biology, earth science and astronomy, chemistry, and physics and computer science.
Teaching & Support
The book gives guidelines and help for teaching the method, such as information on how to teach specific subjects based on the trivium. Parents, however, have to put the material together to fit their needs. The Well-Trained Mind is not a packaged curriculum and does involve a considerable amount of time and effort from the parent-teacher. The parent will have to choose from the selection of the curriculum outlined and suggested in the book. Support is available through speaking appearances by the authors, forums on their website, and email.
References