Write Your Own Home Economic Curriculum for Homeschool Students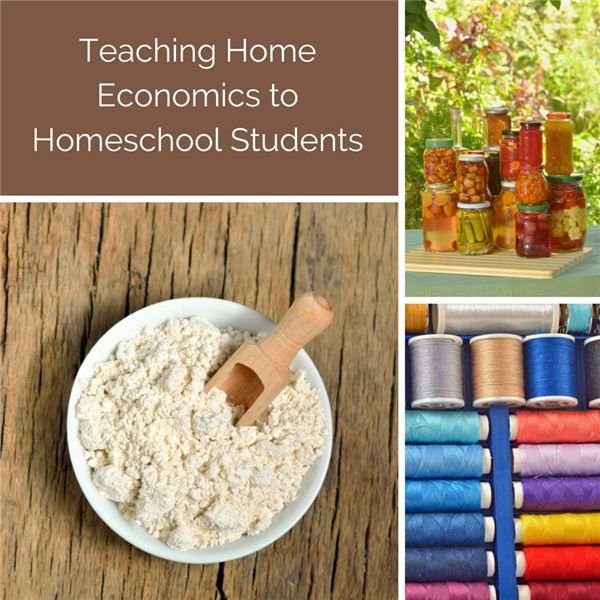 Writing and Designing the Curriculum
Write your own homeschool home economics curriculum and furnish your children with one-of-a kind education. Writing your own curriculum rather than using a purchased program gives you better control over the subject material that you will teach and allows you to customize the course to better match your child's skills and ability levels.
As a home educator, you appreciate the value of evaluating and choosing the content for teaching materials and activities to support and enhance your family values, ethics, and moral standards. You realize that children in a small group or one-on-one situation learn faster and retain information better than those taught in larger groups.
Writing the Curriculum
Here is a step-by-step guide to planning, writing, and implementing your own homeschool curriculum for teaching home economics. This outline can be used as is or customized to suit individual needs and preferences.
Educational Objectives: This step is foundational when you write your own curriculum. Once you have determined the educational objectives and set the goals for your child, the rest of the modules are easily defined.
To ensure that you are teaching to your child's interests and strengthens, include him or her in the planning process and tailor the final curriculum design to their unique skills and needs. Here are some questions you may want to consider when you have your goal-setting meeting prior to creating this curriculum.
What topics do you want to teach?
Will the focus be on core subjects like cooking, and sewing, or broader in scope?
Why is teaching home economics important?
What specific subjects do you want your child to learn?
What subjects are the most appealing to your child; what does he or she really want to learn about home economics?
How will results be measured and how will the curriculum stay on track?
Will textbooks be used or will materials be created as needed?
Once the educational objectives are identified, develop the framework of curriculum. Add the specific pieces, like learning activities and lesson plans, as the curriculum develops.
Quarterly Topics
Step two of the creation process is deciding what subjects to include in the home economics study. The five core concepts for home economics are: cooking, baking, sewing, organization, and hospitality. By combining cooking and baking into one quarter, the key concepts are covered as follows:
Cooking and Baking
Sewing
Organization (Household Management)
Hospitality
Weekly and Daily Topics
In step three, take each quarterly subject and break it down into monthly, weekly, and daily units and lesson plans. Here is a suggested plan for the Cooking and Baking quarterly unit:
January – Food Basics unit. Weekly lessons focus on areas of food preparation, food safety, cooking and baking basics, and cooking skills. Daily lessons include cooking activities, planning a balanced menu, the food pyramid, measurements and conversions, and so forth.
February – Specialized Cooking and Baking unit. Weekly lessons focus on cooking for holidays and special occasions, international cuisines, or targeted studies like desserts or cookie-making. Daily lessons include how to make tacos, cooking with feta cheese, or how to make a soufflé.
March – Bread Making unit. Weekly lessons focus on how bread is made, nutritional facts, the history of bread making, and the science of bread making. Daily lessons to reinforce and extend the weekly lessons include making cinnamon rolls, experimenting with yeast, making unleavened breads, or taste testing various types of breads.
In step four, decide what type of extended learning opportunities to incorporate. Field trips to a local culinary school or farmer's market – or visiting a community bakery – provide excellent real-life learning experiences.
For step five, pull the quarterly unit together into a written plan. Educational goals are set, subjects identified, lesson planning is in place, and assessment methods determined. The rest is simple.
Use the same format for the remaining three quarters of your curriculum. Determine supplies and written materials by the quarterly subject matter. Write your own home economics curriculum and fine-tune the process to suit your child's needs and abilities. If additional time is needed on a particular skill, simply adapt the curriculum as necessary.
References