Homeschool Bible: Genesis is Foundational to a Strong Biblical Education
Why Teach Genesis?
Recently my husband and I had the privilege to attend an "Answers in Genesis" conference in Kentucky. One of the things I gleaned the most is how foundational Genesis is, especially to Christian believers. This means that for studies using your homeschool Bible, Genesis - with its 50 chapters of stories about Adam, Noah, Abraham, Isaac, Jacob, Joseph and others - deserves special focus.
What often is presented to young children when it comes to Genesis is the story of Noah and the ark he built. Most Bibles for children, and other story books depicting this Biblical history, show this almost as a fairy tale. For Christians who want to present the Bible literally to their children, books that make the Bible seem unreal aren't that attractive. There are materials available that show, at a child's level, how to teach Genesis more literally. This article will highlight them.
For older children, like junior high and high school students, the study of Genesis perhaps becomes more of a pivotal point of faith. Did the flood really happen? Did Noah really build an ark? How will I interpret what I read? Finding materials to help develop and defend one's faith is essential at these ages. This article will also highlight resources for this age group, as well.
Teaching Genesis on your own could be a daunting task, but there are many materials available so that you won't have to develop curriculum on your own. If you teach homeschool Bible, Genesis is a great place to start.
Materials from Answers in Genesis
My husband and I have had the opportunity to extensively browse through materials from Answers in Genesis. In this article, I would like to highlight what I think are top-notch programs for different age groups.
The God Created Series: (5-7 years old)
The picture featured above is the workbook "God Created the Dinosaurs of the World." This is a great workbook filled with facts about dinosaurs, how God created them, and where they fit within Genesis in the Bible. There are other workbooks available (God Created Birds, God Created Sea Life, God Created Insects, etc.). These workbooks are $4.99 on www.answersingenesis.org.

The Answers Book for Kids: (Ages 6-12) This particular book is "The Answers Book for Kids, Volume 1." There are four small books which have questions submitted by children from all over the world. These little books are intended for children ages six through twelve. The questions in this volume include, "How did God create everything from nothing," "When did time begin," and "Where is the Garden of Eden?" Authors Ken Ham and Cindy Malott answer these tough questions in short paragraphs. The books retail at Answers in Genesis for $7.99, or there is a discount for buying all four together. The Answers in Genesis website has a list of all of the questions answered in each book.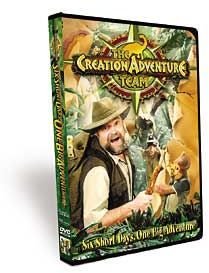 The Creation Adventure Team DVD: (Ages 5-14) The DVD picture featured on the side is "Six Short Days, One Big Adventure." It is a great DVD for children five through fourteen. It helps a child understand the background of Genesis and helps children see how to defend their faith. The DVD, "A Jurassic Ark Mystery," answers questions about dinosaurs, the flood, and if there were dinosaurs on the Ark. Each DVD sells for $14.99 at the Answers in Genesis website.
Homeschool Curriculum Helpful for Teaching Genesis
Apologia Homeschool Curriculum: (Ages 5-18) The Apologia curriculum's tag line is "learn, live and defend the faith." Their entire curriculum is designed to help young learner's defend their faith through the educational lens. In the science arena, there is new elementary curriculum developed by Jeannie Fulbright. As one of the parents who has already used Mrs. Fulbright's astronomy book says, "It reminds me of Dr. Jay Wile's Apologia Science, only yours is on an elementary level while his is written for high school age (quote from their website). On the Homeschool Reviews website (www.homeschoolreviews.com) this curriculum got rave reviews, and the parents I know who use it with their children also have spoken highly of it. These courses will help a child discover the connection of creation, written about in Genesis, and the scientific world.
Abeka's Bible Curriculum: (Ages 5-18) We had the privilege of using this curriculum to teach Genesis with our five year old son this year. The Bible curriculum from Abeka features big, bright, colorful posterboard cards that show pictures of the stories you read aloud. The Genesis passages are laid out in one set, and there is a book for the adult to read aloud from. The stories in Genesis are told clearly, and at a child-friendly pace and level. This curriculum also gets top reviews from parents I know who use it.
Pick What Works for You
How do you decide what would work best for your family? If you have the opportunity to attend a homeschool curriculum fair, this would be a good place to peruse the curriculums before buying. Also, if you've never supplemented your materials with something from Answers in Genesis, the three resources listed above are a small sampling of all they have to offer.
These resources are some of the best available for helping families teach homeschool Bible. Genesis is such a foundational place to start, so teach it well!