Online Writing Curriculum & Classes for Homeschooled Students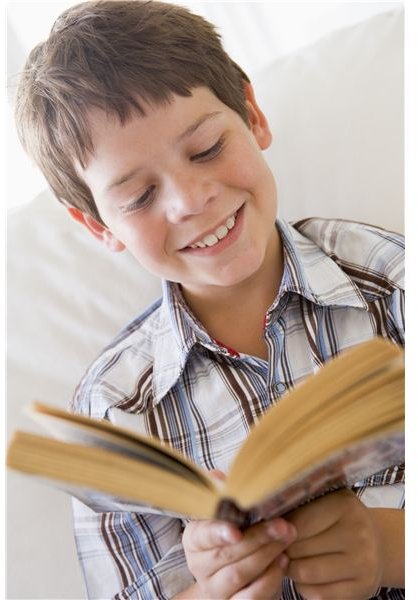 The Internet has many on-line writing courses and resources that homeschool teachers and their students can take advantage of. Manyof them are even free to use or allow you to try them out on a trial basis. Some of them require that your student work directly on the computer. Others are great resources for homeschool teachers to supplement or even create a curriculum around.
Elementary Level
The Internet has many on-line writing courses and resources that homeschool teachers and their students can take advantage of.
Many of them are even free to use or allow you to try them out on a trial basis. Some of them require that your student work directly on the computer. Others are great resources for homeschool teachers to supplement or even create a curriculum around.
Brain Pop Jr. is a great site that allows students to watch movies. It's a creative way to teach reading and writing skills to children in kindergarten through grade 3. On this site the tabs are announced so that beginning readers can use it. The reading and writing sections includes tabs for your student to learn about authors, story elements, comprehension, phonics, sentence structure, reading skills, communication and writing. The writing section has movies that will walk through writing book reports, essays, letters, paragraphs, shorts stories and poems.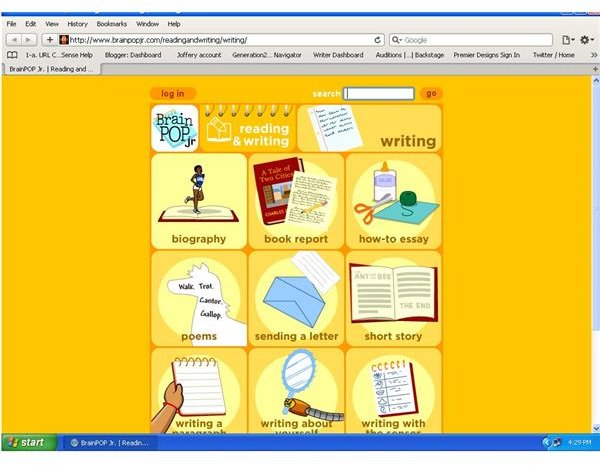 Brain Pop is the destination for older elementary students that can be accessed through Brain Pop Jr. Homeschool teachers can take advantage of the assessment tools and educational standards. When you enter the English section you find sections for famous authors, grammar, writing and study skills. The famous author tables allows your student to watch animated movies about 12 different authors from Shakespeare to Ronald Dahl. The movies are followed by several activities including a quiz.
Both Brain Pop Jr. and Brain Pop offer some free items but you can sign up for a free trial to use other materials. A full membership requires paying a fee.
Time 4 Writing offers several options for elementary level students. An eight-week course is $99. Material covered includes grammar, sentence structure, paragraph writing, essay writing, basic mechanics, and writing enhancement. The graphics are bright and colorful and the website is easy to navigate. Their courses begin at a second grade level and continue through the high school level. The classes require about 2 hours of the students time each week. Students log onto a secure site and are given a set of activities and a writing assignment. Teachers will give feedback within a day to your students work. The teachers are available to parents via email.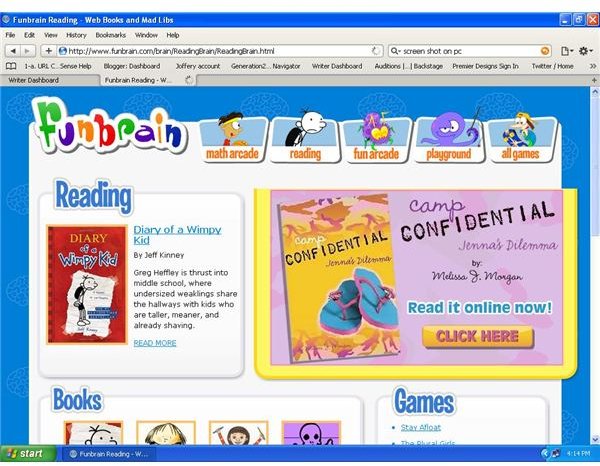 Fun Brain offers many free word games that will help students strengthen their vocabulary and spelling skills. Your student will play games to help them learn new skills. They have resources for preschool through grade 8. Most of the activities are on-line but they do offer parents some printable activities. The links on the site take you to new websites such as infoplease which has kids doing multiple choice questions to test their vocabulary. Grammar Gorilla challenges students knowledge of parts of speech. Students identify idioms and add color to their writing by playing the Paint By Idioms game. Students can even play an online version of Mad Libs. The Word Scramble game requires students to unscramble a word with a hint to help them figure it out. Most of the games give the teacher a level choice such as easy or hard.
High School
Learner.org at has a writing course designed for high school and college students. It includes 15 half-hour video segments. The videos will teach your students to write, report, edit and communicate information. It also touches on journalism history, law and ethics. The videos are top quality and feature many seasoned reporters such as Bob Woodward, Helen Thomas, Dave Barry, and Linda Ellerbee. This is a great resource for students interested in a journalism career, as prep for beginning a school or family newspaper, or just improving writing skills. Although it is a free course, you may want to purchase the recommended texts.
The Guide to Grammar and Writing is a wonderful resource that will help students with tips on composition, grammatical issues and advice on English usage. It also provides interactive quizzes and grammar logs. The students will also find articles on how to overcome writers block, avoiding plagiarism, and formatting papers. It is not a very visual site so there are very few distractions to the student. The Guide to Grammar and Writing is sponsored by the Capital Community College Foundation, a nonprofit 501 c-3 organization that supports scholarships, faculty development, and curriculum innovation.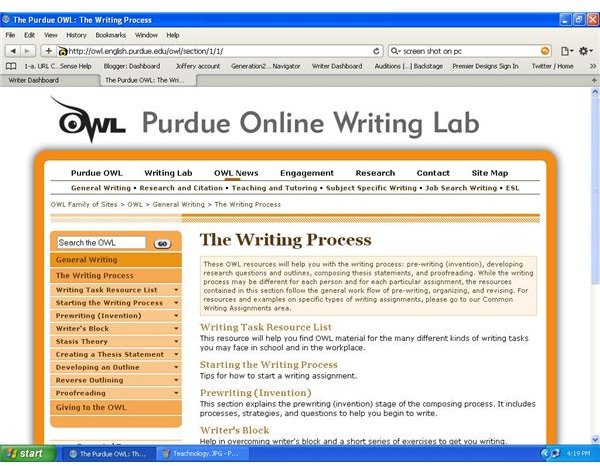 The Purd****ue OWL (Online Writing Lab) provides writing resources and instructional materials free. They have a very useful grammar blog for students. They also invite users to submit brief, writing-related questions to their OWL Mail Tutors. This is a great college-prep writing site. They cover everything from prewriting to thesis writing. They also offer guides to MLA (Modern Language Association)and APA (American Psychological Association) formats. If you have a student heading to college you want to include how to cite sources in these styles in their course work. They will be so grateful when they get to the university of their choice.
Collegedegre****e.com lists many college writing courses that can be taken for free on-line. Many of these course can easily fit into a high school education plan. Many of the courses are offered through MIT.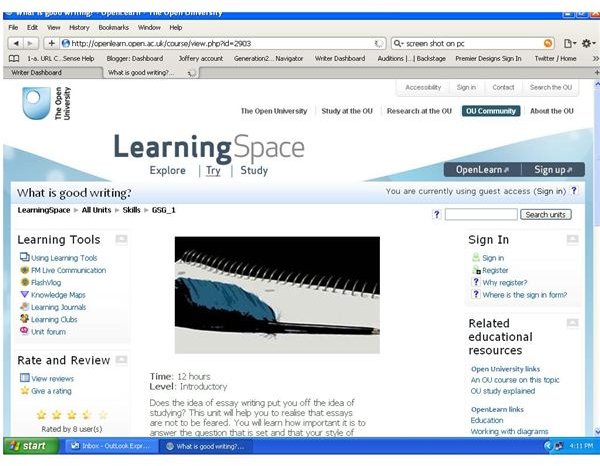 The Open University offers many college prep and college level classes. What a great benefit it is to prepare your high school student for advanced education by letting them cut their teeth on these course. The transition to a university will be a breeze and the courses are free. There are over 600 courses in all subject areas to choose from. Courses are available from introductory to advanced level and each takes between 1 and 50 hours to study. Students complete activities that will enable homeschool teachers to assess their progress and students can compare their thoughts with sample answers. Sign up is free and everything is included to track your child's progress, connect with other learners in the discussion forums and find the tools to help your student learn. Some of the courses that may fit into a homeschool junior or senior's course load include: What is Poetry, Writing What You Know, What is Good Writing, and Paraphrasing Texts. Prepare your junior or senior for college with a free course on this site.
Paragraph Punch takes students through some online, interactive exercises that will guide them through the writing process. This site will help students organize their thoughts and learn to clearly communicate them through writing. The site provides online interactive exercises that guide users step by step through pre-writing, writing, organizing, editing, rewriting, and publishing. Students can sign up for a free trial that allows one writing assignment. A $27 fee is charged for full usage that includes 15 writing activities.
Essay Punch allows users to practice their essay-writing skills. It has nine interactive writing prompts. If you have younger students you can access Starter Paragraph Punch through this same site. It is very structured and meets state standards. Book Punch, another section of this site, guides students through the process of thinking and writing about books commonly read in schools today. Built-in hints and tips tutor students as they work. Some of the books they use are: Because of Winn Dixie, The Giver, Trumpet of the Swan, Tornado and many more.
Teacher Helps
The web offers teachers many helpful tools. Printable worksheets, grading rubrics, story prompts, book reviews, and entire lesson plans are available through your keyboard. What homeschool mom and teacher couldn't use some time-saving help? There is so much to choose from. A good place to begin is with one of the following two sites.
Writing Fix is a site that was created for Northern Nevada teachers but there are just so many wonderful resources for homeschoolers that it needs to be visited no matter where you're from. Many teachers contributed to this site and there is just so much to glean. Homeschool teachers can find ideas on how to inspire writing using art, song lyrics, chapter books and poetry. There is also a section where you can find ways to teach writing across your entire curriculum. The family writing projects include some good ideas such as a family acrostic and personal timelines. The site is written by and for traditional school teachers but there is much homeschoolers can apply to their lessons.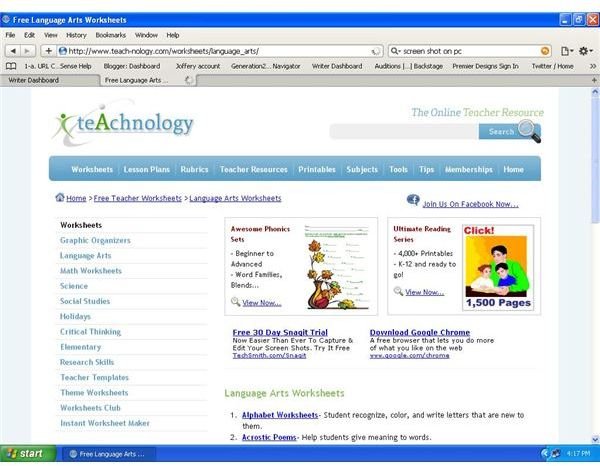 Teachnology has many printable worksheets for teachers to save time in lesson planning. Individual worksheets can be printed for free but lesson plans and worksheet books are only available to paid members. There are several across-the-curriculum-type worksheets to inspire your student's writing. Use history, science or even math lessons to inspire writing. Teachonolgy's autobiographical worksheets are a great way to help students organize their thoughts in order to write the story of their lives. They have worksheets to facilitate lessons on parts of speech, improving research skills, and several rubric generators to aid in grading writing assignments. There are plenty of free resources here to take advantage of.
Great Free Reading Equals Great Writing
Reading classic literature helps students become better writers but who can afford all those books and where would you put them? One of the best free Internet resources to enhance your student's writing courses should not be overlooked. There are several sites that let you download books for free. If you are fortunate enough to own a Kindle, Nook, Kobo e-reader or any of the many portable reading devices you can take the classics everywhere you go. Anyone can still download free books onto their computer by downloading the application available on Amazon's Kindle Cloud Reader at no cost. Many ebook sites allow you to download books as a PDF file without adding any other application to your computer.
Project Gutenberg has over 36,000 free ebooks to download to your PC or portable device. The e-books are free in the United States because their copyright has expired.
Witguides is a site that has a huge range of titles on computers, health, business, self Improvement, cooking and lots more.
Planet ebook is the home of free classic literature.Amazon offers a great selection to download. They are free classics and out-of-copyright, pre-1923 books, as well as limited-time free promotional ebooks available for Kindle or to download to your computer.
Internet Archive Text Archive contains a wide range of fiction, popular books, children's books, historical texts and academic books. They have several sub-libraries which include children's libraries and American libraries.
Open Library's goal is a web page for every book. You can browse, collect and borrow titles just like a traditional library.Many Books allows you to browse through 29,000 ebooks available there and they're all free! You can even see the designs on the covers of the books.
Teaching your students to communicate through the written word can be fun, exciting and even easy. Preparing them for the advanced writing skills that higher education requires is possible at home for a low-cost. Students who learn to write well do better in all areas of life. The ability to communicate clearly and efficiently is priceless. Take advantage of the many online writing courses, great literature and free writing curriculum that is available only a click away.
References