Learn About Homeschool Accredited Diploma Options & Schools With Accredited Programs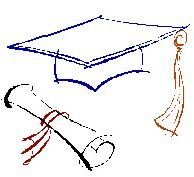 What's the Difference?
As homeschoolers, we have many options for awarding and earning a high school diploma. According to the Homeschool Legal
Defense Association (HSLDA), no state requires homeschoolers to enroll in accredited high school programs, and homeschoolers in each state have the legal option of creating their own diploma and transcripts.1
Some homeschoolers, however, find that pursuing an accredited diploma offers convenience, peace of mind, and a sense of confidence when they head out into the world of colleges and employers.
When a school is accredited, it must meet standards set by an outside agency regarding its academic offerings, student success rates within those programs, levels of organizational support, and teacher training in order to earn that seal of approval. Many homeschoolers find the reputation of a school which has gone through a rigorous accreditation process lends legitimacy to their homeschool credential.
The key is to find out whether the school is accredited, and by whom. Most programs are accredited through one of six regional agencies which handle both colleges and high schools. 2
Middle States Association of Colleges and Schools
The Northwest Commission on Colleges and Universities
North Central Association of Colleges and Schools
New England Association of Schools and Colleges, Inc.
Southern Association of Colleges and Schools
Western Association of Schools and Colleges
Checking Credentials
Before enrolling in an accredited diploma program, check the school's website to find the accrediting organization. Go to the agency's website to read their quality standards (three good sites are provided below). Low quality programs have professional images at first glance. Although the six regional agencies are the most recognized, there are many other accreditation agencies. Only by reading their policies yourself will you know what that label means and how confident your student will feel offering that diploma to a college, military recruiter, or employer.
Encourage independence in your home learner by including your teen in the research. Completing a high school diploma program will consume time and money; discuss what you are both seeking from the accredited diploma and pack in a lesson on comparison shopping and discernment about quality. Reports of diploma mills and low-quality programs for homeschoolers have begun to surface on the Internet. If you have concerns about how a potential high school program may be viewed by others, trust your instincts and keep researching. Do a family round-table. Each family member suggests a school and discusses why it was chosen.
Although it may be early for you, it's also a good idea to look at your next step. Whether the goal is to have your child go to college, the military, or into a career, research the requirements to do so. State Department of Education websites often have lists of accrediting agencies they recognize, as do college admission departments. Interview a military recruiter for up-to-date information about the accreditation needed. For employer research, contact employers in the target field of study to find out which qualifications they prefer.
Is It Right For Us?
In today's tight job market and highly competitive working conditions, families must consider if accreditation is the right path to take. Imagine presenting your diploma to a college, employer, or military recruiter. Visualize the setting. How do you feel with that credential attached to your name? Students and parents must have confidence in the diploma. An accredited homeschooling program is often a good fit for students seeking college preparation, the military, or those who plan to join large or corporate organizations.
For eclectic learners, unschoolers, or special needs learners, keep in mind that homeschoolers have been getting into college and the military and getting jobs without the accredited diploma for many years. Entrepreneurial or artistic paths can be followed in a non-traditional manner and for the unstructured, highly gifted, or creative, the accredited diploma is not always necessary for future job prospects. Other career paths can be entered through small businesses or practical experience.
Dual enrollment programs in community colleges allow students to bypass the diploma requirement and get college credits during the high school years. In this case, keep detailed records of work or portfolio collections and prepare to describe your course of study during an interview.
When separated parents disagree on their support of homeschooling, or extended family is skeptical, an accredited diploma is often the common ground solution. In custody battles or situations where family courts are involved, when a parent shows that the reputation of the high school diploma is recognized, the choice to homeschool becomes easier to agree upon.
Regardless of your choice, the process of deciding whether the accredited diploma is a good fit is a learning process. During the exploration phase, parents and teens benefit from close family communication, research and critical thinking, and the character-building challenge of facing the future with a sense of identity and purpose.
Three Specific Schools
Accredited diploma programs for homeschoolers are growing. Here you'll find some well-established programs with multiple accreditations to start with. Each of the programs below runs as a private school for homeschoolers. Accredited diplomas offered through virtual charter schools are public school programs, meaning your student is no longer a homeschooled student under the law.
The Penn Foster Career School offers an accredited high school diploma. Their program only accepts credits from accredited institutions, so this program is best used from the beginning of a student's freshman year. Tuition is about $1,500 per year, including books, toll-free support, and access to career planning programs. The school offers its own financing arrangements. Penn Foster also offers high school diplomas with areas of concentration like college prep or health care.
Laurel Springs School has been popular with homeschoolers for many years, and offers full-year packages which can be customized with options for regular and advanced placement tracks. Although cost will vary according to the courses chosen, a sample freshman year can cost $5,850 - $7,400; sophomore year about $5,700 - $6,750; junior year $6,150 - $7,200, and senior year $6,350 - $6,900. This cost includes books, materials, transcripts, learning styles profile and assessments, testing and record keeping. They also have a middle school program and sample lessons are online. The multiple-child discount is 10%.
For a Christian focus, Bob Jones University's Bridgeway Academy offers four accredited high school diploma tracks: Traditional, Online, Bridgeway Choice, and Higher Education, ranging from about $2,000 to about $4,000. Differences between tracks are in the mixture of textbook only and online courses, along with difficulty levels. With a reputation for rigor, their services include customization, transcripts, assessments and testing. Bridgeway Academy also offers dual enrollment courses which allow high school students to get college credit for work toward their diploma.
With this information and selection of schools, I hope you are empowered to make an informed decision!
References
1 FAQ: "Do I Need An Accredited Diploma?"
Diploma Image Credit: Microsoft Office