Learning Online: Middle School Homeschool Computer Based Programs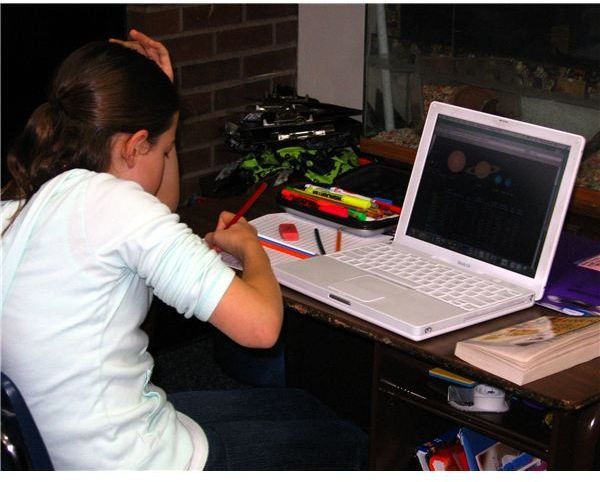 Introduction
During middle school, students begin to be more independent and might wish to learn without direct parental supervision. One way to accomplish this is through learning online. Middle school homeschool students can access lessons via the Internet from any computer and complete lessons with minimal help from parents. This can be an ideal situation for families who are in transition or who may need to lighten the work load for the homeschooling parent, whether temporarily or permanently. A few benefits of this type of learning are that the lessons are able to be updated as often as the publisher wishes, reducing the possibility of outdated information, typos or other errors. Although much of the work is done at the computer, students are required to do reading experiments, art lessons and science projects offline.
Time 4 Learning
Time4Learning.com is an online program for middle schoolers as well as preschool and elementary students. All core courses are offered, including Math, Language Arts, Science, Social Studies and Art. The program correlates with state standards and promises a 100 percent satisfaction guarantee. A benefit to this program is that instead of a yearly tuition as with some other online schools, the Time4Learning membership is paid monthly. The cost is $19.95 a month for the first child enrolled and $14.95 for each additional child.
BJU Press Distance Learning Online
Bob Jones University (www.bjupress.com), which is well known for its homeschool textbooks, offers distance learning online to homeschool students in the United States, Canada and Puerto Rio. You can choose to purchase individual courses or an entire grade kit. The program offers an online Teachers Edition for parents in PDF format, video presentations and assessments. The average price for a year's worth of online learning in middle school is around $900.
K12
K12.com is a comprehensive curriculum that is offered online to middle school students as well as all other grades. Students may choose to take a complete grade's worth of courses through this program or choose only a few as a supplement to at-home coursework. This company also serves as the online option for many public school systems throughout the United States, which means that in many areas, K12.com is completely free and covered under the charter school laws. In states that do not allow charter schools, students may choose to enroll in K12.com as a private school for the cost of tuition. A full year's tuition to K12.com is around $3500.
Conclusion
Regardless of your reasons for choosing an online middle school, homeschool students can easily succeed when using any of these programs. Be sure to keep track of your student's progress and seek help from the school's experts if you encounter a problem. Consider printing grade reports and keeping hard copies of major assignments.
Image Credit and References
Time 4 Learning, https://www.time4learning.com/index.htm
Bob Jones University, https://www.bjupress.com/page/Home
K12.Com, https://www.k12.com/
Image Credit: Morguefile.com/jdurham/Used under the morgueFile free license