A Language Arts Curriculum Option

Saxon Grammar and Writing, also known as Hake Grammar and Writing, is a curriculum option specifically geared toward students in fifth through eighth grade levels in language arts. The program is a great option for parents who homeschool because not only does it combine grammar, vocabulary, and writing instruction into one program, but it also promotes regular review of learned concepts.
When Will Your Child Be Ready?
Your student will be ready to begin the Saxon's language arts program when he or she has comfortably completed a phonics program and is reading with relative fluency. Your student will still need to have reading instruction while using Hake Grammar and Writing because there is no reading or reading comprehension instruction involved in the curriculum. Your student should know the basic parts of speech (nouns, verbs, adverbs, adjectives) and what functions they should play in a sentence. Completion of a language arts curriculum such as First Language Lessons will be sufficient preparation for Saxon Grammar & Writing.
Presentation of Information in Hake Grammar & Writing
The Saxon language arts program will run about $70.00 for the Student text, Student workbook, and Teacher's pack (with tests, lesson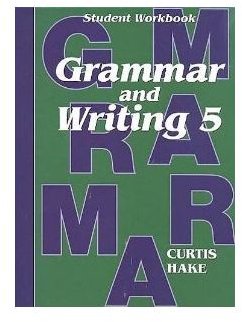 plans, and answers). Be certain to click on the homeschool link for this packet. The information in the student text is presented in the following manner:
Vocabulary words – you can either present the vocabulary words and their definitions to your student as a dictation exercise, or you can have your student copy the vocabulary words into his or her journal.
Presentation of the lesson
Example exercises
Practice using the information presented in the chapter
Review of the vocabulary words and the lessons previously presented
Hake's student text is easy for students to use on their own, with minimal interaction from the instructor (unless there are questions). This makes the program an outstanding option for parents with multiple children, or parents who need to multi-task in their homeschooling duties. The student workbook includes writing lessons and writing exercises as well as extra practice lessons. Tests are generally administered every 5 or so lessons, beginning with lesson 10.
Evaluation of Saxon's Grammar and Writing Curriculum
The great thing about Saxon's language arts curriculum is it provides as much or as little repetition as your student will need to be successful in his or her studies of grammar and writing. The program can get repetitive, but if your student does not need extra practice as evidenced either through test scores, or mastery of the topic, you do not have to have the student complete all of the review exercises.
The program has 112 exercises. Students will be expected to complete weekly dictations to practice their spelling and punctuation skills; additionally, students will have the opportunity to keep a journal with suggested journal topics. Additionally, it is vital that students complete the lessons in the program in order. This is because students will need skills learned in previous lessons for future lesson completion. For this reason, no matter how elementary a lesson may seem to be, do not allow students to skip it.
Saxon is an outstanding option for homeschooling families looking for a rigorous language arts program that completely covers writing, grammar, and word study. The program is both economical and comprehensive. If you add literature selections chosen from your local library to complement the program, you will have a complete curriculum for 5th through 8th grades for under $50 for each year of study.