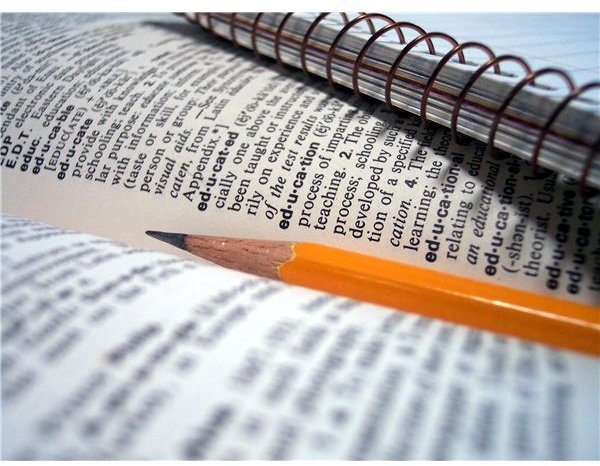 Although Internet search engines and online dictionaries make finding information effortless, it is important for all children to learn to use traditional reference books such as dictionaries, thesaurus' and encyclopedias. Homeschoolers should begin using a children's dictionary, as soon as they are able. Fortunately, numerous options are available, making it easy to find the best dictionary for homeschoolers.
Dictionaries written for younger children should include short, child friendly definitions of words most children already know as well as an abundant collection of new words. Images may be included and will probably make the book more appealing to younger readers. Example sentences, pronunciations, synonyms and homonyms should be given for each word.
The Dorking Kindersly Illustrated Picture Dictionary is an excellent choice that fulfills all requirements for what should be included in a children's reference book. It includes sections that explain the parts of speech and word beginnings and endings.
Websters New World Children's Dictionary uses medium sized text to give kid friendly definitions to words that most children know, as well as hundreds more to expand the vocabulary. This dictionary includes a 10 page guide to dictionary usage, parts of speech and grammar rules.
For children in middle school, Websters New World Student Dictionary is an exemplary choice. Containing over 50,000 words, this dictionary provides slightly more complex definitions than the above mentioned children's dictionaries, yet the text is appropriate for the children in fifth through eighth grade. Maps, pronunciation guides, and word origins are included.
One of the best dictionaries for homeshoolers in high school is the Thorndike-Barnhart Student Dictionary by Scott Foresman and Company. This dictionary contains over 100,000 words as well as a tutorial, "Teach Yourself" section, puzzles and a section called "Basic Style Rules for Writers" aimed at helping high school students improve their writing skills.
Other Reference Materials
In addition to a dictionary, homeschool students should own a good thesaurus such as Webster's Thesaurus for Students or The American Heritage Student's Thesaurus. Encyclopedias such as the Kingfisher History Encyclopedia and the Kingfisher Science Encyclopedia should be used regularly, either as a main text or a supplement to daily lessons. In fact, many classical curricula include daily encyclopedia readings as part of the daily lesson plan.
Conclusion
Regardless of the child's grade level, an age appropriate dictionary and other reference books should be available in your home school environment. Useful in every subject area, the best dictionary for homeschoolers will satisfy the child's curiosity, assist in spelling, and give a few grammar tips to assist with composition. Keep your reference materials in a place the child can reach them, and encourage him to look things up, whenever he has a question.
References and Photo Credits
https://www.ctl.ua.edu/CTLStudyAids/StudySkillsFlyers/VocabularyDevelopment/how2useadictionary.htm
https://www.elearnaid.com/dictionaries.html
MorgueFile/cohdra/used under the morgueFile free license