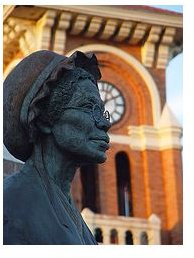 Who was the first African American female orator to speak out against slavery? The answer to that question is a bit complicated because she had two names and she did not start out as an orator at all. In fact, this woman had firsthand knowledge about the life of a slave, as she was once a slave herself.
Who was she?
Isabella Baumfree was born a slave in Swartekill, New York, in 1797 to James and Elizabeth Baumfree. In 1806 Isabella was sold after her owner passed away. Prior to being sold, she spoke only Dutch. After being sold to John Neely she learned to speak English. Neely was an exceptionally cruel master and in 1808 Isabella was once again sold. She was sold several more times and finally became the property of her final owner, John Dumont, in 1810. During her time with Dumont she was forced to marry another slave and proceeded to have five children with him. In 1826 Isabella escaped from her owner with her infant daughter.
In 1843 Isabella changed her name to Sojourner Truth, the name most often recalled by historians. She became a devout Methodist and left to preach about the need for abolition. In 1950 she began dictating her memoirs, The Narrative of Sojourner Truth: A Northern Slave and spoke at the inaugural National Women's Rights Convention.
What did she say?
Ain't I a Woman? Is perhaps the most famous speech given by Sojourner Truth. In it she pointed out that while white women were placed on a pedestal, black women were expected to work. The original speech has no title and was given in 1851. Later, in 1863, during the Civil War a very different version was published. In this version, which is most often cited, the reporter that wrote it gave the speech a southern speech pattern and additional points. While the specifics of the speech are quite different the message behind them is the same: That black women and white women ought to be given rights, if not equal to a man's then at least more significant than those which they currently had.
What was her impact?
Sojourner Truth spoke out about women's rights, abolition, and equal rights for former slaves. She worked to recruit black soldiers during the civil war and worked after the civil war to improve conditions for those freed during the war. She was, by all accounts, a powerful and motivating speaker. Unfortunately, she would not live to see most of the changes she spoke so eloquently about. In the end her biggest impact was on future generations who look to her as one of the most inspirational women of any time period.
Photo Credit: Battle Creek CVB
Additional Reading
If you would like to learn more about Sojourner Truth the Lakewood Public Library (https://www.lkwdpl.org/wihohio/trut-soj.htm) has an excellent biography.