The Life of Harriet Tubman: Leader & Legend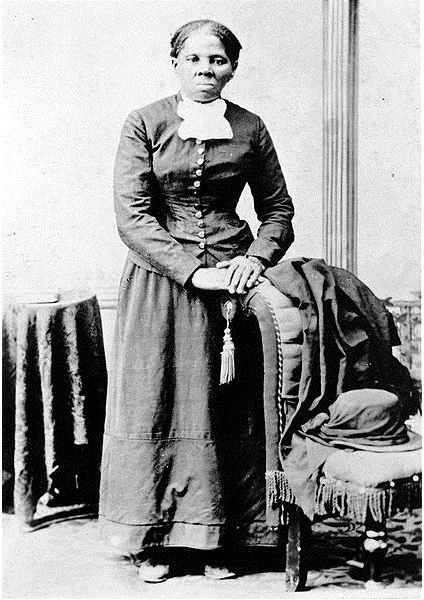 Harriet Tubman: The Legend
Harriet Tubman (1822-1913) was the most famous conductor of the Underground Railroad. In 1849, she escaped from slavery in Maryland, leaving behind her husband, parents and siblings. She utilized an established network of abolitionists to move to Philadelphia, where she worked until she had liberated her family.
"My people must go free" was her refrain. She performed at least a dozen trips south to lead at least 70 slaves to freedom. These numbers have swelled with history, making it impossible to truly measure her accomplishments. Her resourcefulness and courage became legendary. She eluded slave-owners and bounty-hunters offering up to $40,000 for her capture.
The Underground Railroad
The Underground Railroad was a route to independence that used railroad terminology to describe itself. "Conductors" were people leading slaves to freedom. "Pilots" went south to seek slaves wanting to escape, who were known as "passengers". "Stations" were safe-houses and businesses where the passengers and conductors find refuge on the way north.
Myth has made the Underground Railroad sound more organized than it truly was. Slaves were not picked up and carried away to emancipation. The first moves were their own. They needed to find courage and opportunity to flee. They needed the ingenuity and creativity to survive. Once on the road, they needed the good fortune to find assistance.
Slaves knew they had to move by night and rest during the day to avoid recapture. Once across the Ohio River, they knew they were in a land where slavery was illegal, but the Fugitive Slave Act of 1850 meant they could still be taken back to their owners. They needed aid and luck until they reached Canada, where their former masters could not reach them.
Aid would come in the form of sympathizers with directions through the country, station owners with hospitality and conductors such as Tubman to lead fugitives with stealth. Knowledge and intelligence were passed mouth-to-mouth by conspirators until the information reached slaves bold enough to make a break. Advice to follow the North Star or the Drinking Gourd (the Big Dipper) was commonly passed on. "Follow the Drinking Gourd" became a popular folksong typical of "map songs" taught to guide slaves north.
During the Civil War
Tubman's fight to free her people did not end when the Civil War began. She served the Union army as a nurse, scout and spy. Medical care for soldiers, both white and black, was scarce. Her well-established ability to sneak into Confederate territory was endlessly valuable.
She helped to plan John Brown's raid on Harpers Ferry, Virginia. Twenty men under Brown's command attempted to start an armed slave revolt by seizing an arsenal of weapons, but were defeated by Colonel Robert E. Lee.
June 2, 1863, under the command of General James Montgomery, Tubman led a raid up the Combahee River in South Carolina which freed 700 slaves and destroyed supplies for the rebel army. She was the first woman ever to lead a military action in the United States.
After the War
Tubman settled in Auburn, New York. She built a comfortable place for her aging parents. She built a home and hospital for aging and sick African-Americans adjacent to her property, supporting herself selling biographies and giving speeches. In 1896, she spoke at the National Association of Colored Women, pushing for suffrage and celebrating strength.
Even greater than Tubman's personal actions was her status as a myth. The concept of the fearless black woman risking her life to lead her people from bondage inspired the slave population. Her advice about when to make a move, when to hide, where to seek shelter and how to find guidance transferred from guide to guide until it was common, yet secret, conversation. Harriet Tubman believed slaves could be free, so the slaves themselves believed it. They learned it was possible and they learned how.
References