Get the Scoop on President Jimmy Carter: Interesting Facts For Kids (and Adults)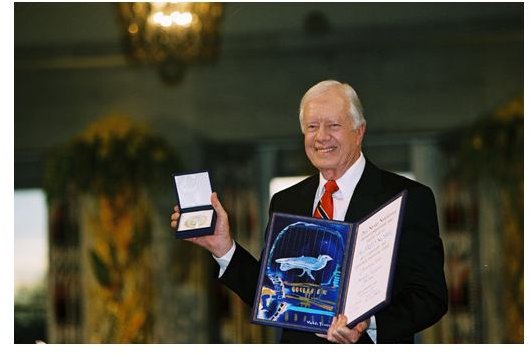 The son of James Earl Carter, Sr. and Lillian Gordy Carter, Jimmy Carter is best known as the 39th president of the United States, serving from January 20, 1977, until January 20, 1981. He has led an accomplished and interesting life, both before, during and after his presidency.
Early Life, Family and Other Facts
James Earl Carter, Jr. was born October 1, 1924, in Plains, Georgia, and was brought up in nearby Archery where his family moved when he was 4 years old.

His father was a businessman and farmer, his mother a registered nurse; Jimmy, as he prefers to be called, went on to become an officer in the US Navy, Governor of Georgia, President of the United States and a world renowned humanitarian who received the Nobel Peace Prize in 2002.

Jimmy Carter was the first American President to be born in a hospital! That hospital is now named the Lillian G. Carter Nursing Center after his mother.

His parents owned a peanut farm, store and warehouse.

He is five feet and nine inches tall.

President Carter attended public school and later Georgia Southwestern College and the Georgia Institute of Technology. He graduated from the US Naval Academy in 1946 with a Bachelor of Science Degree.

He had two sisters, Ruth and Gloria, and one brother William Alton Carter, or Billy, who started a beer business the year his brother became president. "Billy Beer" eventually failed.

Billy Carter also got involved in a Libyan oil deal that led to a Senate investigation and probably contributed to his brother's loss for re-election. He was cleared in the Libyan investigation but soon after was found to have failed to properly report his income to the IRS and sold his home to pay back taxes.

Brother Billy also ran for Mayor of Plains, GA in 1976. He lost.

Jimmy Carter married Rosalynn Smith from Plains, GA on July 7, 1946.

Rosalynn's first name is Eleanor but the former First Lady has always used her middle name.

For a time while Jimmy was in the Navy, the Carters lived in Pearl Harbor, Hawaii.

They had four children: John William in 1947, James Earl Carter III in 1950, Donnel Jeffrey in 1952 and Amy born in 1967.

Mr. Carter lost his father, brother and both sisters to pancreatic cancer. He is the Honorary Chairman of the Lustgarten Foundation's Corporate Advisory Board.
Navy Years
Jimmy Carter graduated from the United States Naval Academy (USNA) in 1946 and served in the Navy on active duty from June 5, 1946, until October 9, 1953.

He served on many vessels and following completion of the Officer's course at the USN Submarine School moved into the submarine division.

He was promoted to Lieutenant in 1952 and was a senior officer of the pre-commissioning crew of the USS Seawolf, the second nuclear submarine of the fleet.

He entered the Naval Reserve on October 10, 1953, and retired with the rank of Lieutenant in 1961.
Political Life Before the Presidency
James Earl Carter began his political career with a seat on the Sumter County Board of Education.

During the 1950s, he was the sole white man in Plains to not join a segregationist group called the White Citizens' Council.

In 1962, he was elected to the Georgia Senate. At first it was declared that he had lost but voter fraud was uncovered and he was named the winner.

Carter became the 76th Governor of Georgia on January 12, 1971. He served only one term as Georgia law did not allow a second.
Presidency
True to his character and indicative of his appreciation for his upbringing, candidate Jimmy Carter used the train depot in his hometown of Archery, Georgia, as his presidential campaign headquarters. The former center of his grassroots campaign, the depot is presently part of National Park Service at the Jimmy Carter National Historic Site.
Even though his foibles have often been the punchline to a joke, Carter had many accomplishments during his one term. Beset by international problems and severe economic troubles at home, the successes of the Carter administration are often lost to history.
Carter signed a proclamation making the first Sunday after Labor Day National Grandparent's Day.

Department of Energy was created in 1977 during the energy crisis.

Department of Education established in 1980 from what had been the National Bureau of Education.

Salt II Nuclear Arms Limitation Treaty was completed.

Civil Service Reform Act was signed on October 13, 1978.

After having boycotted the 1980 Summer Olympics in Moscow due to the Soviet invasion of Afghanistan, the US Men's Hockey Team defeated the Soviet Team in Lake Placid, NY, February 22, 1980. This was met with great excitement by people throughout the US after being demoralized by the energy crisis and the Iran hostage crisis. On February 24, 1980, the US team would go on to win gold by beating Finland 4-2. (While this obviously had no connection at all to the White House, it was one of the brighter moments of the years Carter was in office.)

The Carter administration successfully renegotiated the Panama Treaty with a series of treaties that subsequently led to the Panama Canal being turned over to control by Panama. Although criticized for conducting secret negotiations, the turnover had been unsuccessfully attempted by the previous Nixon and Ford administrations; it was Carter who was able to get the new agreements passed by Congress.
After the Presidency
The former president has devoted his post-presidency years to trying to promote peace, humanitarianism and public service. In 2002, he was awarded the Nobel Peace Prize in recognition of his dedication to humanitarian efforts and promoting peace.

He and Rosalyn spend a week each year working for Habitat for Humanity helping to build homes for needy families in the United States and other countries.

Jimmy Carter still teaches Sunday School at Maranatha Baptist Church in Plains, Ga.

President Carter has written many books that run the gamut from politics to poetry to historical fiction. His first children's book, "The Little Baby Snoogle-Fleejer" tells the story of young Jeremy, who needs crutches to walk and is often teased. He is left at the seashore one day and single-handedly faces a sea monster when all the other children run off. The story had been told to the Carter family by Mr. Carter for years prior to publication. His daughter Amy illustrated the book.
References