A Pioneer is Born
Born in Oxford, Massachusetts on December 25 1821, Clarrisa Harlowe Barton was the youngest of five children. She is one of the pioneers of American Women's History. Her most notable efforts came with her work with the American Red Cross. She crossed many barriers for women and brought them into fields that they normally could not work. She was more than a nurse as she had several different projects in her life ranging from women's suffrage to prison reform.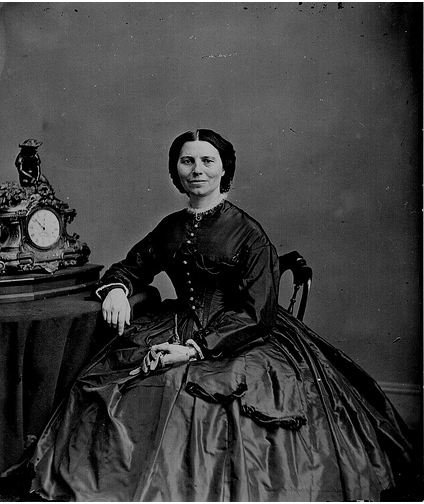 Childhood
Her father Stephen Barton was a farmer and veteran of the American Revolutionary War. Her mother Sarah was a simple home-maker — as were most women of her period. In close family all of the children pitched in around the house with work and education. This was to be the benefit of young Clara, with four older siblings teaching her advanced lessons in life and school. Her brother David was involved in a farming accident that provided her a first medical experience. She took care of him for the next three years, keeping him company and providing medical care. Her other siblings were Dorothy, Sally and Stephen.
Teaching and the Civil War
One of her first experiences into a male dominated world came when she began teaching. Although traditionally seen as a profession for women, this had not always been the case. At the young age of 17, her life experience contributed to her becoming a teacher in Massachusetts. She would spend ten years in her home state before returning to school herself at Liberal Institute in Clinton, New York. She would finish this portion of here life by teaching in Bordentown, New Jersey.
After the outbreak of the American Civil War she tended to soldiers from her home state during the war. Her hard work with the wounded soldiers vaulted her into a position of power in the Union forces. It was during the war that her skills in logistics provided the base for her development of the American Red Cross.
Health Issues
Her incredible energy and work ethic over the past 30 years would begin to cause her body to deteriorate. In 1869 her body could no longer keep up the intense regimen and she traveled to Europe to heal her mind and body. While in Europe, she brought attention to the treatment of soldiers in combat situations. Barton became familiar with the Red Cross while in Switzerland and returned to the United States in 1873. It was upon her return that she would begin the development of the American Red Cross.
American Red Cross
The Red Cross was originally formed with the intent of helping during wartime. Under Barton that role changed into what is more familiar in modern times. The new role of the organization was disaster relief. The organization assisted flood victims and earthquake victims, as well as victims of other natural disasters. Under her care, the Red Cross developed into the organization that we recognize to this day. If an area is affected by a disaster, the Red Cross appears as quickly as possible to provide the basics to the individuals that were affected by the tragedies. She remained in this position until 1904 when she left the organization.
Other Humanitarian Missions
After the Civil War, Barton worked to locate missing soldiers. Through an industrious effort of interviewing and examining letters written by soldiers, she attempted to track down missing members of the military. She also developed a relationship with Frederick Douglas and worked tirelessly for African American Civil Rights. She also worked during the Franco-Prussian War setting up shelters for those affected by the conflict. She is one of a handful of Americans awarded the Iron Cross of Merit from the German leadership.
Women's Suffrage
Her relationship with Susan B. Anthony helped bring the understanding of the Women's Suffrage Movement to the fore in the United States. She was a keynote speaker at many of the movement's conventions and meetings. She was one of the first speakers for the movement at the first Suffrage Convention in 1869. Her last appearance for the National American Woman Suffrage Association convention was in 1906.
Later Years and Her Death
After leaving the American Red Cross in 1904, she attempted to start an organization called the National First Aid Association of America. Although not as powerful as the Red Cross, it was another outlet for Barton to attempt to ease those who have been involved with tragedy. She died in Glen Echo, Maryland on April, 12 1912.
Condensing such an amazing life into one page is not an easy task, and there are more comprehensive biographies on Clara Barton for kids out there, should you need to extend the learning on this wonderful lady further. Or why not check out our articles on the Women's Suffrage Movement, or our comprehensive guide to the Red Cross for more information — links are included in blue text within this article.
References
Krensky, Stephen. "Clara Barton." DK Children, 2001.
Woloch, Nancy. "Women and the American Experience." McGraw-Hill Publishing, 2010.
Hutchinson, John F. "Champions of Charity: War and the Rise of the Red Cross." Westview Press, 1996
Source: Author's own experience
Image: Clara Barton by Marion Doss CC BY 2.2