Improve Your Typing Skills With These Online and Freeware Programs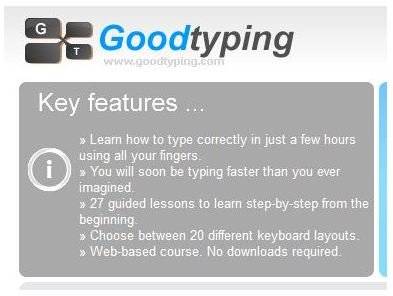 When you have to write an essay for a homework assignment, do you find that your ideas flow faster than your fingers can keep up? Many students struggle with typing, finding that the most laborious part of any assignment can be just getting it all down on paper (or computer screen). If you'd like to reduce the amount of time you spend on writing assignments, one good way to start would be by practicing your keyboarding skills. These websites and free software downloads will allow you to do just that, as well as providing you with tools to track your progress.
Goodtyping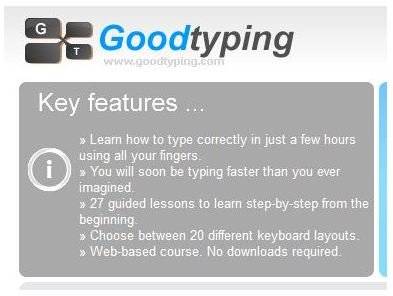 Goodtyping will allow you to test your typing speed with a free online test – if you're already super-speedy on the keyboard, your high score may earn you a ranking on their online list of fastest typists. If you don't make the cut, though, you may take advantage of their free online 27-lesson course, which is offered in 5 different languages in addition to English (French, German, Spanish, Italian and Portuguese) and offers you a choice of 18 different keyboard layouts.
TypingWeb
TypingWeb is another free online program with lessons aimed at all range of skill levels, from novice typists to professionals wishing to push their words per minute level just a bit higher. In addition to lessons, typing web also offers a number of typing games that will entertain you as they boost your skill levels. If you'd like to improve your typing on the go, you can even download a TypingWeb app for your iPhone.
Typeonline.co.uk
Typeonline.co.uk is, as the url string implies, a British typing program, but as the US and UK keyboards are exactly the same (and the language nearly identical, except for a few differently spelled words here and there), this typing program will work just as well as a US-based one. The course begins with keyboarding (five lessons consisting of ten exercises each) and continues on to the number pad (four lessons of eight exercises each).
Stamina Typing Tutor
Stamina Typing Tutor is a freeware program you can download to your computer and use to practice typing even when you are offline. It supports several different keyboard layouts (Dvorak, AZERTY, QWERTY, etc.), has a virtual keyboard you may turn on or off, gives you the option of uploading your own text for typing practice, and allows you to create a playlist of music to type by.
Gabe's TypOmeter
Gabe's TypOmeter is an application you can download that can measure your speed as you type anything – an email, an essay, even an IM. Your typing speed will be recorded in keys pressed per minute (KPM), and words per minute (WPM). You can also track your average speed over the past five minutes, or check your history over the course of time you've used the Typometer. There's even a "test yourself" area that lets you take a typing test that can provide you with a comprehensive report on your speed and accuracy.