Writing a 10 by 10 Poem: Sharpen Your Creative Writing Skills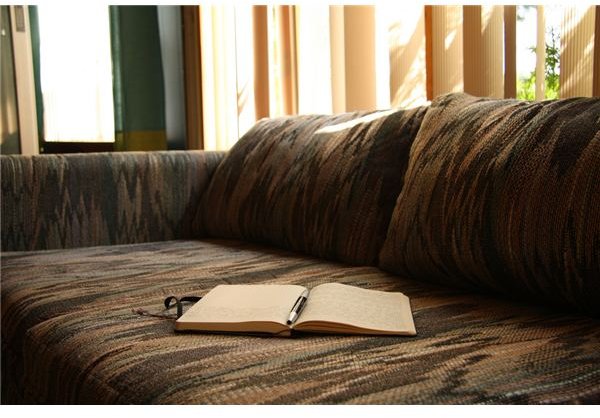 I started building them years ago. I'd been writing a lot of free-verse and accentual poetry. Perhaps I needed some boundaries or a framework. I see a ten-by-ten as a square canvas to paint or a square window to look into. I started writing them all the time about whatever was on my mind.
I can't say I invented the form, but I'm not sure anyone else uses it like I do. Ten line poems go back centuries. A decastich is a ten line poem without a specified meter or rhyme scheme. A sonnetina is a shortened sonnet, often broken into a sestet and a quatrain. In 1999, Alex Skovron published a collection of one-hundred sonnetinas in a book called "Infinite City". Under the pen-name Eighty Six, I've written two "novels-in-verse" composed of one-hundred ten-by-tens.
Where to Begin
You may use anything for a topic: an emotion, an experience, a scene, an image or a conversation. It is always best to write a lot about a little, rather than the other way around. Select small details and expand them. Make them clearer. Help the reader taste, feel, smell, hear and see what you do. Don't attack monumental themes like "love". Instead, tell me about one touch from your lover's finger or a glance from that special someone.
Set Your Brain Loose
I've been brain-storming since kindergarten and I haven't stopped. Grab some paper and a pen. Cut loose. Put down everything that comes to mind. Turn off your filters. Never erase or scratch things out. Nothing you write here is wrong. This is no time to be terse. Out of this pile of ink and words you'll find ideas and images you didn't know you had.
I still use the same spiral notebooks from elementary school. I count off the last ten lines of the page and mark that spot. I fill the twenty-two lines above that mark with stray thoughts on my topic. I read through that mess, circle the best parts, then incorporate them into my poem. Somewhere I'll find great descriptions and maybe the fixings for the first or last line.
Construction
At the bottom of the page I'll begin to build the ten-by-ten. I'll use pieces from the free-write, counting on my fingers, patching together fours and sixes, threes and sevens, and wrapping twelves from one line to the next. It feels like I'm constructing a puzzle. A rhythm will create itself. Some lines will read fast and others slow. Some will be choppy and others will roll smoothly. Sometimes I end up with one perfect iambic pentameter line.
Often, I have the ending done before the middle. I'll put down line ten and parts of line nine, then try to link them to the first lines. Now, I hate filler and I won't stretch an eight line poem into ten lines, but that's where all the free-writing comes in. You should have pages of ideas you're trimming down to a hundred syllables. Making the middle of the poem fit typically involves choosing one more image or detail from the pile.
Fine Tuning
Getting this little time-piece of a poem ticking in rhythm can be frustrating. Always I'm stuck with a nine syllable line I don't want to fatten or a pair of six-syllable phrases I can't fit in the same line. So I start moving pieces around, switching tenses, restructuring sentences and reordering the story until something clicks.
Once you have a first draft, rewrite and rewrite. Then leave it alone for a while before rewriting some more. Strengthen weak images. Remove soggy adjectives. Use tight verbs and nouns instead. Replace three or four syllable words with better ones and twos. Let a friend or class-mate read it. Read it aloud to yourself.
When you can finally read it top to bottom without finding a thing you don't like, when it starts with a hook and ends with a bang, carve it into your desk and screw with it no more.
I'll leave you with one of my first and perhaps my best:
Fake Flowers
I like flowers fake, sewn and glued, nylon
And polyester. Woven frayed petals
With coarse grain, plastic stems, acrylic dew.
Never lie nor wilt. Won't curl or change face.
Sunlight or dark, will be with you always.
In a dollar vase, give me fake flowers.
Unscented, no pollen or honeybees.
Not hungry, always growing at the sun.
Fabricate me twelve bomb-proof pseudo-silk
Injection-molded polymer flowers.
Exercises
Mark off the last ten lines of a sheet of paper. Free-write in the top portion of the paper then put your best one-hundred syllables on the bottom.

Exchange papers with a friend. Make note of his or her best word choices and parts that need to be improved.

Write a page or two about a dialog between two people. What do they say? What do they do that conveys feeling? What elements of setting add to the scene? Take only the strongest parts of this writing and build a ten-by-ten.

Return to the first exercise. Rework the one-hundred syllables until you have a strong poem.
Find more examples of my work and a ten-by-ten contest I hosted on my blog.
Editor's Note: David Klenda, also known as Eighty Six, is a poet, journalist, cook and cocktail maker. He supports his wife and sons with a combination of freelance writing and hospitality. Flexible and adaptable by nature, he accepts all writing challenges. https://eightysixthepoet.blogspot.com
References
Photo by matryosha under CC BY 2.0 via Flickr.