Learn about the Many Lakes and Rivers in Yosemite National Park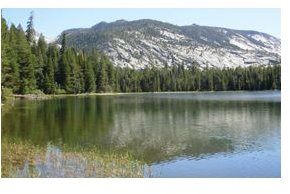 About Yosemite
President Abraham Lincoln is credited with signing a bill in 1864 which granted about 60 square miles of the Yosemite Valley and the Mariposa Grove to the State of California. From there, renowned naturalist and conservationist John Muir helped to lead the creation of Yosemite National Park in 1890. Yosemite was added to the natural park system which had begun in 1872.
In 2009, Yosemite National Park received 3,866,970 visitors, which is the highest number of visitors since hitting the 4 million mark back in 1996.
Yosemite's Waterfalls, Reseviors, Lake and Rivers
Yosemite Park is noted for its many waterfalls, including Yosemite Falls which at 2,425 feet is the tallest waterfall in North America. is home to countless waterfalls. The optimal time to view the various waterfalls is during the snow melt in the spring months. Peak runoff typically occurs in May or June, and some of the waterfalls are then completely dry by August. According to the nps.gov, other waterfalls include:
Upper Fall: 1,430 feet
Middle Cascade: 675 feet
Lower Fall: 320 feet
Bridalveil Fall: 620 feet
Ribbon Fall: 1,612 feet
Vernal Fall: 317 feet
Nevada Fall: 594 feet
Illilouette Fall: 370 feet
Silver Strand Fall: 1,170 feet
Sentinel Fall: 2,000 feet
Horsetail Fall: 1,000 feet
The park is also home to literally thousands of lakes. Finding the exact number of lakes and rivers of Yosemite is difficult, because many are seasonal and like the waterfalls, evaporate after a period of time. Furthermore, many of the lakes and rivers of Yosemite are located in the wilderness, and are only accessible to visitors by hiking to their locations. A map of the park can be used to identify both the locations, as well as the names, of many of the true lakes and reservoirs.
Several of the more well-known reservoirs, lakes and river systems are as follows:
Lakes and Reservoirs
Tenaya Lake (which is a popular destination for picnicking, swimming and canoing)
Mirror Lake (which boasts reflections of Half Dome and Mount Watkins)
Johnson Lake
Hetch Hetchy Reservoir (which was actually created from damming of the Tuolumne River)
Lake Cherry Lake
Ellery Lake
Lake Eleanor
Mammoth Pool Reservoir
Saddlebags Lake
Tioga Lake
Lake Vernon
Rodgers Lake
Benson Lake
Table Lake
Mary Lake
Wilma Lake
Many Island Lake
Virginia Lake
Roosevelt Lake
Merced Lake
Rivers
Rivers in the park flow through Wawona, Yosemite Valley, and Tuolumne Meadows. Two of the main river systems include:
The Tuolumne River System (of which 54 miles flow through Yosemite National Park)
The Merced River (of which 81 miles flow within the Yosemite National Park)
Each of these systems have been designated wild and scenic rivers, flowing west to the Central Valley. In addition to these main river systems, there are a large number of seasonal creeks to be found.
Have you ever visited Yosemite? What was your experience like?