Good Subjects for French Culture Projects: Food, Markets, and Traditions!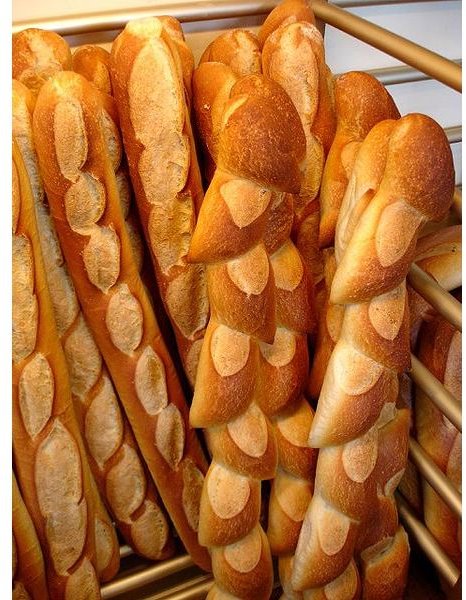 Food in France
How do you choose good subjects for French culture projects? The subject needs to be something accessible to students, while still being representative of the country. Food is an excellent example, as it's very characteristic of France, but also something that everyone can relate to. French markets and traditions are also both lively, vibrant options that offer lots of scope for role playing and activities. Let's start with some ideas for these subjects.
As everyone knows, the French are devoted to their stomachs! They take food very seriously, and the average French citizen is embarrassingly knowledgeable about recipes, food origin and wine.
French school children start their gourmet education at an early age.
When you eat at a French restaurant with your own children, you'll notice that there is no specific 'children's menu' available, with its offerings of fried food. Instead, children can normally choose a half portion of anything on the menu. Very young children can be seen solemnly tucking into moules frites and foie gras, accompanied with watered down wine. French children are also taught from an early age that food is important and demands respect! We have often eaten in French restaurants and not even noticed that there are several young children on the next table, intently dipping bits of baguette into a melted Camembert cheese.
At French junior high schools, the week's menu is published in advance and hung outside the school gates, so that maman can make sure that the same food is not served twice on the same day.
French bread has become such a symbol of France that it is almost a stereotype. The prosaic truth is that most French bread contains no fat, and therefore doesn't keep very well - a baguette, for example, must be eaten as freshly as possible, certainly on the day it's made. This means several journeys a day to the boulangerie to stock up. Before the advent of the freezer, even the tiniest hamlet would have its bakery, as bread is the one commodity that the French don't tend to make at home. Today, many of the bakeries have been replaced with a 'bread van' that serves the outlying villages, and still acts as a focal point for the community.
Suggested Activity - ask members of the class to suggest a week's menu that they feel would be typical of their country, and compare with a typical French menu (see here for suggestions).
French Markets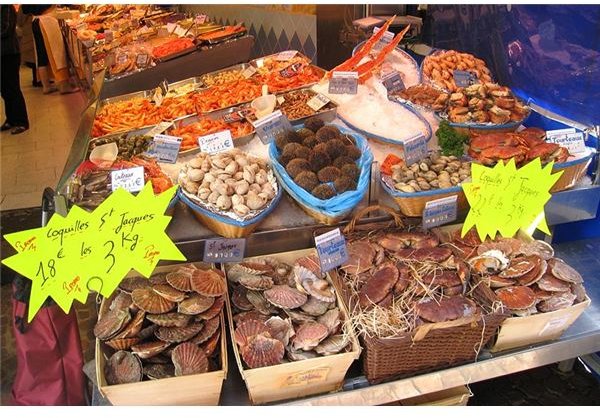 French markets are an important French cultural symbol, linking modern day life with ancient tradition. Every visitor to France is keen to visit to soak up the vibrant atmosphere.
Most small towns in France have their own weekly market, where many of the older inhabitants do most of their shopping, topping up with daily visits to the bakery. The focus is on produce that has been home grown or produced, such as goats' cheese and honey. Fresh fruit and vegetables are available in abundance, most with the earth still on from being freshly dug that morning. The markets have been operating for hundreds of years, and the market days are fiercely observed, with traffic diverted and normal parking banned.
Many markets have become famous for regional specialties such as foie gras, prunes or fish, which carry on a centuries-old artisanal tradition, but at every market you will find fresh fruit and vegetables in season, bread, cheese and chartcuterie.
Suggested Activity - shopping at the market. Each student has to not only ask for the produce they require, but also ask the stall holder for those all important cooking tips!
French Traditions
France, of course, doesn't celebrate Thanksgiving Day. But there are dozens of other traditions and customs, some national (like major festivals such as Christmas and Easter), and some more regional.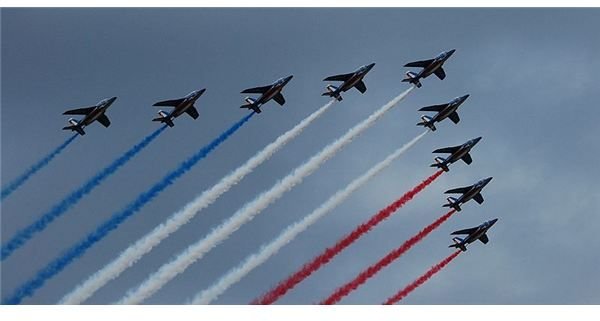 One of the best known is Bastille Day. This is more properly called La Fête Nationale, and takes place on 14th July. It commemorates the anniversary of the storming of the Bastille, and the primary celebrations take place in Paris with huge parades and firework displays. Smaller celebrations take place nationwide.
Galettes des Rois
Galettes des Rois are pastry cakes filled with cream, fruit or marzipan. The exact format differs slightly depending on the region of France. Although associated with Christmas, they actually mark Epiphany or Twelfth Night. The cakes are divided up among the family to see who will be 'king' for the day!
Suggested Activity - research the history and significance of the 'King Cake', which is a very old story with counterparts in many other cultures. If you are feeling ambitious, you could try baking one and letting the students compete for the title of 'King for the day'! Find a recipe suggestion for the original King Cake and see if your students can do the conversions as a math activity before baking.
Learning about French traditions, holidays, and vacations is sure to add to the fun and more good subjects for French culture projects.
Further Reading:
Learning French - Describing Someone's Appearance and Personality
Learn the Most Commonly Used Verbs in French
Image Credits
Baguette Image Courtesy of: Wikimedia.com / GNU Free Documentation License / Creative Commons Attribution-Share Alike License / by: Julie Kertesz
Market Image Courtesy of: Wikimedia.com / GNU Free Documentation License / Creative Commons Attribution-Share Alike License / by: Daderot
Flyover Image Courtesy of: Wikimedia.com / GNU Free Documentation License / Creative Commons Attribution-Share Alike License / by: Ben Averling