Exploring Music for Teaching English as a Second Language to Children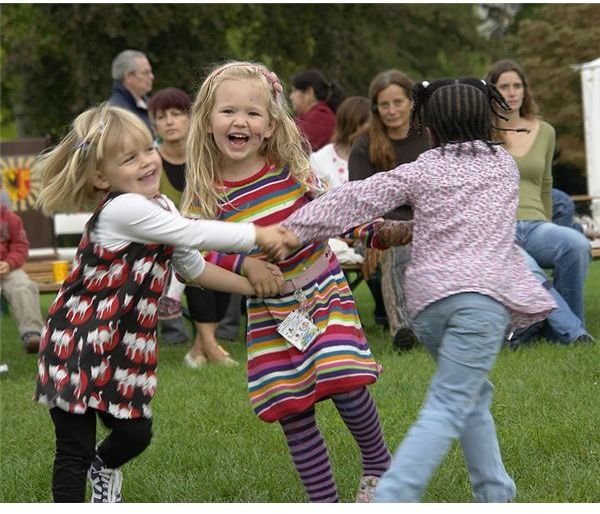 Preschoolers and Elementary School
With research showing that children learn languages much more easily at a young age, many parents and schools are starting English at an early age with their children. Teaching children as young as two or three years old isn't easy - they have very short attention spans and seemingly endless amounts of energy. Selecting the right music can keep them entertained while they learn the English language at the same time.
Some of the best music choices for teaching English as a second language to children includes the same songs many of us sang as children. Some examples are:
"Head, Shoulders, Knees, and Toes" is a great introduction to body parts. By touching the body parts as they sing, students are more likely to retain the words.
"The Hokey Pokey" is a slightly, more advanced song for body parts. In addition to incorporating more body parts, it teaches the concept of "in" and "out." Plus, it gets the kids moving and dancing and lets them be a bit silly.
If you want to cover animals with your students, "Old MacDonald Had a Farm" is a good song. Animal sounds vary by culture, so use some flashcards with pictures of the animals to make sure the students connect the words to the correct animal. For example, a dog in America says "woof woof" or "arf arf" while that same dog says "won won" in Japan. These differences can make for a fun lesson with your students.
"If You're Happy and You Know It" is another great song for young learners. They can learn many different actions, like clap your hands, stomp your feet, and jump up high. As they learn more motions, you can add them into the song.
Many of these songs are found within CD collections of nursery rhymes or on other children's CDs. It is possible to find them at your local library, used bookstores, and even garage sales. If all else fails, you can download them using iTunes or another online music store.
There are also many songs specifically made for teaching the English language to young students. These songs focus specifically on concepts such as numbers, colors, the alphabet, and other simple themes. These types of songs are available on CD or as downloadable files on many ESL/EFL websites, often for a fee.
Older Students
When your ESL students are too old for the Hokey Pokey and have a better grasp of English, pop music is a great way to keep lessons interesting. You can create your own fill in the blank worksheets using the song's lyrics. Students then listen to the song and try to fill in the blanks. Students with advanced abilities can try to fill in words before the song even plays, while the weaker students can improve their listening skills by trying to fill in the blanks just by listening to the song. By leaving out certain words, you can focus on vocabulary or grammar points.
Online Resources
There are numerous online resources for music to use in your classroom. Doing a simple search will bring up dozens of websites, so it's best to spend a bit of time perusing the options to find something to fit your needs.
Here are some websites that may be useful:
www.dreamenglish.com - Free songs suited for young learners. Songs available include classic children's songs as well as songs specifically for teaching English. There are also flashcards that go along with some of the songs.
https://www.musicalenglishlessons.org/index-ex.htm - This website has many fill in the blank exercises for pop songs broken down by grammar points.
https://learnenglishkids.britishcouncil.org/songs - The British Council website has a collection of songs complete with cute videos that go along with holidays and traditional children's songs.
There is a lot of music out there for teaching English as a second language to children. You just need to be creative and flexible and see what works best with your group of kids.