Helping Students Achieve
Often, ESL teachers do not have adequate time to complete intensive learning activities effectively, such as having all of their English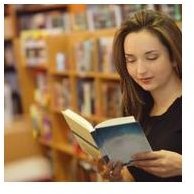 language students read a complete novel as one of the required ESL reading activities. However, encouraging and motivating ESL students to read full-length works of fiction can enhance and expand reading comprehension, vocabulary skills, thematic discussions and fluency beyond the basic goals of English as a second language curriculum.
In an article titled, "Selecting a Passage for the EFL Reading Class", written for The English Teaching Forum for the US Department of State (link provided below), Richard R. Day, a professor of ESL and SLA at the University of Hawaii, describes in depth ten important characteristics to consider when choosing a reading text. Using these criteria enables educators to pull together reading lists that will appeal to all their students.
Note that in order to avoid the frustrations that can occur when students are presented with material that may prove to be too challenging, the skill levels of the students need to be factored into the selection of appropriate works of fiction for ESL learners. For example, many of the classics of the 19th century are amazing learning tools for teaching the English language and culture, but often prove to be overwhelming even for native speakers of English due to the archaic language used in the writing. Most ESL students will need to have mastered the basics of the English language before tackling advanced literary works of literature.
Let's Read
ESL teachers can simplify the daunting task of assigning a full-length work of fiction to their ESL students by providing, in advance of the assignment, the following:
a brief review of the book
a synopsis of the chapters
explanations of idioms
challenging vocabulary words
assign a reading journal for students to track thoughts, questions and vocabulary
These tools enable English language students to process the materials more efficiently.
The variety of fictional books available for use in the context of an ESL learning environment is extensive. For example, the following books could be used for middle/high school students with intermediate to high intermediate English skills.
Books with an historical context might include:
Red Badge of Courage by Stephen Crane-A young man tells of his Civil War experiences.
Time and Again by Jack Finney- The hero travels back in time to New York City in the 1880's
Strong Poison- a mystery by Dorothy Sayers – a story wrapped in the British culture
Books for student who enjoy science fiction:
Martian Chronicles by Ray Bradbury
1984 by George Orwell
War of the Worlds by H.G. Wells
Younger students or students with lower skill levels find these novels to be of interest:
Lily and Miss Liberty by Carla Stevens – fictional tale of the Statue of Liberty's journey to America
The Chalk Box Kid by Clyde Robert Bulla – the adventures of a young boy who finds his voice through art
The Big Wave by Pearl S. Buck – the story of two boys in Japan whose lives are changed by a tsunami
Short and Sweet
Another option for developing reading skills is for English language teachers to provide students with short stories, news or magazine articles. These can be read in class together, allowing the teacher to work one-on-one with students to process challenging vocabulary, idioms, and other obstacles to comprehension.
For beginner readers of any age (including adults), picture books can provide authentic language as well as interesting story lines. Books such as Miss Rumphius by Barbara Clooney, Far Beyond the Garden Gate by Don Brown and The Name Jar by Yangsook Choi have themes that English language students connect with, along with a story line and language that is more mature.
Spreading the Joy
In spite of the challenges faced by both English language teachers and students, one of the greatest pleasures of ESL reading activities is introducing and participating in the joys of reading.
References and Resources
References:
Resources: