A Language With a "Special" Purpose
Special English began as a way to communicate over the airwaves to people who were not fluent in English. In 1959 the Voice of America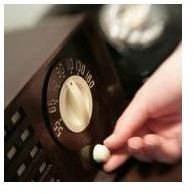 broadcast started Special English as an experiment to broadcast American news and human interest stories to people all over the world.
The idea behind breaking the English language down to a simpler form stemmed from the need of Voice of America to let people who were just learning English have a way to easily comprehend the version of English spoken in America. Over a 17-year period, the Special English program became so popular that in 1976 President Gerald Ford signed the Voice of America charter into law, giving the program a wider international range and establishing the importance of using Special English to communicate internationally.
Language Development
Special English is comprised of only 1,500 words. No idioms are used and anything that needs to be conveyed to the listener such as objects, actions or emotions can only be done within the 1,500-word limit. Sentences are kept short and only hold one idea each. For example, instead of writing: The senator accepted publicly his shortcomings as they showed in his voting record, a Special English writer would phrase it as: The senator admitted that he was wrong. A full listing of the 1,500 words allowed for use in Special English can be found online at Voice of America's Word Book. Also, any story on Voice of America is read at two-thirds speed, a slower pace than the normal rate at which American English is spoken.
Voice of America currently broadcasts to over 115 million people weekly. Covering 45 different languages from Afan Oromo to Vietnamese, each broadcast covers the news in the location's home language and then in Special English. Monday through Friday the daily broadcasts cover topics that have become a running standard for the program and include: the Development Report, This is America feature, the Agriculture Report, Science in the News feature, the Health Report, the Education Report, The Making of a Nation feature and the Economics Report. American Mosaic has also become a featured favorite with the Voice of America international audience. The American Mosaic program features stories that cover the culture of the American landscape and looks at how that may affect the world at large.
Experience Special English
If you would like to listen to any of the Voice of America programs, you can do so by visiting their main website at www.voanews.com. You can also see some of their weekly programs brought over to television format radio via satellite every Sunday starting at 1230 Universal Time Coordinated; UTC being the same as Greenwich Mean Time-GMT. In the event that you miss a radio broadcast or televised program, Voice of America also offers full transcripts in Special English from 2001 to the present, which are listed online by year, month, and week.