ESL and April Fools' Day: Using Humor to Teach Your ESL Students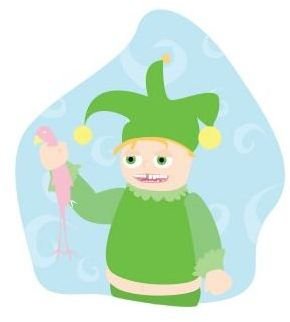 April Fools' Day
April 1st, which is otherwise known as April Fools' Day—a day of hoaxes, pranks and practical jokes—is celebrated in America and in
various countries throughout the world.
Gullible friends, family members, neighbors—and even a few enemies—are traditionally tricked in the name of good humor on April 1st in countries like the UK, Australia, Poland, and specifically in French-speaking Canada, France, and Italy where an April 1st prank of trying to secretly attach a paper "April fish" poisson d'avril to people's backs is a good-natured cultural tradition.
Similar innocent pranks are also performed in Spanish-speaking countries, but on December 28, the Day of the Holy Innocents, rather than on April 1st.
Using Humor to Enhance Student Participation in Learning a Second Language
When humor, in written and/or oral form, is instilled into the process of learning a second language, the anxieties of language acquisition are reduced and foreign language learners of all ages and levels of educational achievement benefit—quite simply, because laughter can instinctively relax students and restore their feelings of well-being.
Moreover, the introduction of humor into the curriculum of a second language classroom can also:
Teach culture, grammar, and vocabulary
Employ reading, speaking, and listening skills
Stimulate recall
Promote oral fluency
Reduce barriers to successful second-language acquisition
Lower social anxieties
Encourage student interest and involvement in lively interactions in class activities
Provide students and teachers a respite from the formally assigned text material.
However, it is important to note that the thought processes that initiate humor also involve familiarity with the language. Therefore humorous material that is introduced into a second language classroom has to be carefully and appropriately selected to fit the varying levels of linguistic competence necessary for second language students to understand it.
Regarding on-line humor resources that can be tapped by ESL instructors, EnglishClub.com organizes jokes into beginning, intermediate and advanced English language learning levels as well as jokes told in both simple and colloquial versions.
The Internet TESL Journal For Teachers of English as a Second Language provides the opportunity for second language students to submit their own jokes.
The use of humor in a second-language-learning classroom in and of itself does not automatically result in a positive effect_,_ although it often can, as addressed in the paper, "Effects of Humor in the Language Classroom: Humor as a Pedagogical Tool in Theory and Practice" by Lance Askildson of the University of Arizona.
Askildson writes "Humor, it would seem, is a pedagogical instrument like any other, and one, which serves as a double-edged sword—capable of improving or harming the classroom-learning environment depending on its employment by the teacher."
Guidelines to Follow
Suffice to say, the second-language instructor needs to avoid the effects of too much or inappropriate humor by heeding the following guidelines . . .
Avoid humor that ridicules ethnic groups, or demeans either men or women
Employ humor that is more playful as opposed to hostile or aggressive, and more constructive humor as opposed to destructive humor that is inappropriate in a classroom setting.
Focus on linguistic or word-based jokes based on specific elements of phonology, morphology or syntax of particular languages.
ESL instructors can also look to "The Reader's Digest" or "The Farmers' Almanac." Both publications feature the type of neutral humor that is not typically offensive to specific individuals or groups.
With proper language instructor initiated guidelines and implementation, the benefits of a humor friendly learning environment in a second-language classroom can far outweigh the risks—no matter the language—because humor can be universal or culture based.
April Fools' Day ESL Classroom Activities
Two great April Fools' Day activities can be found at Lanternfish, which features a large collection of printable teaching resources for language arts, TESOL, TEFL, and ESL.
Activity #1 Have the students create as many words as they can think of that are formed from the letters of the phrase April Fools' Day.
Activity #2 Have the students write a paper describing the best prank they can creatively think of, real or imaginary, that is fueled by their most vivid of imaginations.
References