As early as the primary levels in elementary and even kindergarten, it is important that children learn the value of money. Experiencing how to save, spend, and earn money and keeping a budget at the same time are great ways for kids to develop a grasp of economics at a young age. In this way, they also develop a sense of responsibility and will find out early on the essence of spending money wisely and saving for emergency purposes in the future. To advance such skills, many schools come up with business project ideas for kids in which they themselves get to come up with their own products/services, plan the materials and resources they will need, propose an allocation of expenses, project their profit based on a given budget, and advertise and sell their products/services. These projects may be done regularly, like once in a term or quarter. They may also be implemented during a set business week or as a classroom-based project to go with a certain theme or series of lessons.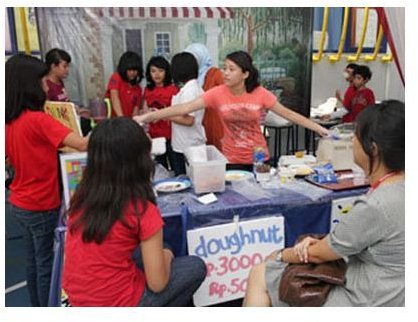 Cake Raffle
One simple project that an entire class can engage in to earn some funds is to have a cake raffle. The students just have to design, prepare, and sell the raffle tickets. For instance, on a piece of bond paper, they can draw around eight identical tickets by folding the paper into eight equal parts and copying the same design on each box. You may also opt to help them print out their designs. Then photocopy the tickets, cut them, and assign a certain number for each student in a group or class to sell. Make sure to assist the students in computing for the number of tickets that need to be sold in order for them to be able to buy the cake (or another prize of their choice) and still have a lot left for their funds. Show them their options for the ticket price before they agree on the final one that would benefit them the most and still be feasible.
Multi-Media Rental
Turn one corner of your classroom into a mini multi-media rental place. You may ask the group or class to bring the books, magazines, computer and video games, audio CDs, and DVDs that they are willing to have rented out to the other students in the school. Then teach them to come up with a code for each kind. For instance, books can be coded with the letter B. So the first book will have the code B1, the second is B2, and the third is B3. Tape appropriate codes on all the items and record them all on a master list. This will let you keep track of which ones are rented out and which ones may be missing. Next, also make sure to remind the students to place a rental card at the back of each item, which the borrower fills out with his name, grade level, section, and contact number. This card shall be left with your students. Another piece of paper where the date rented and the due date are stamped or written should be taped to the item. When all of these things have been prepared, then it is now time to fix them attractively on shelves with labels and advertise the venture to the rest of the school community!
Shoe Shine
Set one day in a week where students can bring shoe polish and brushes for shoe shining services for the school community. Promote this project on the bulletin boards all over the school announcing where the shoe shine will be stationed. You may also want to provide a "home service" in which the students offering the shoe shine will be contacted and will then go to a classroom or office to give the service at a certain time.
Photo Booth
One hip service that kids of all ages will surely love is the photo booth! If you have enough of a budget, you may rent a real one to use and just charge more for each photo. An alternative way, though, is to set up a good digital camera and a huge backdrop tarpaulin with a cool design that can go with a theme. Do not forget to provide tons of funny, cute, and trendy props, wigs, and hats! After a photo, customers must fill up a form in which they have to write their names, location within the school, contact numbers, and the number of copies they wish to order. Rates should be on a "per copy" basis. Make sure not to mix up the forms. Number and sort them properly. After your photo booth time, guide the students in uploading all the pictures in a computer and print them out. Now they are ready for the special delivery!
Food Festival and Product Bazaar
You may want to have the students go through the process of not only planning but preparing the products by themselves. The easiest food items to make and sell are sandwiches, shakes, juices, burgers, French fries with various dips, and other simple snacks. You may ask kids to prepare cooked ingredients at home and just bring them to school. On the other hand, the simplest products to make and sell include bookmarks and cards. Booths can be decorated and set up according to their needs, and kids should have a shifting schedule as to who will be the sellers at a particular time. However, if there are only a few students involved in one booth, all of them can stay there the whole time and just have different roles assigned. One can be in charge of the payments, giving of changes, and keeping track of the earnings. Two or three can be the ones to prepare the products. Another one can be in charge of calling customers or going around to give free tastes to people milling about the area.
Garage Sale
Plan and set up a garage sale in school! Have the students bring items from their houses that they do not like or use anymore. Together, you can decide on the prices of the various items—- clothes, books, CDs, games, bags, shoes, accessories. There are so many things that you can sell! Just be sure to monitor the pricing so as to guarantee low, low prices appropriate for used items. Teach the students to approximate the worth, depending on the kind of item, how old it is, and its present quality. You can set up in a classroom, in the gym, in the cafeteria, or wherever the school will allow you to which the students believe will be a strategically effective location for your business project.
Remember to facilitate everything, suggesting ways to save money and earn more as well as introducing different ways of advertising— from making and putting up posters to doing door-to-door marketing in the classrooms and offices. Whichever you and your students pick from these kids' school business project ideas, just be sure to have them go through the entire process of setting up the business— writing letters and getting permits, planning the budget, acquiring materials and equipment, assigning roles for the selling days, preparing marketing materials, advertising the products and services, selling and giving the services, computing for earnings and savings, and finally celebrating together the job well done!