The Wish Box being a fun activitiy that creates a personalized gift for parents, gaurdians and caregivers that they will cherish. The cutting component of this task is a great way of building fine motor skills in younger students, as well as those with special needs. Students must also practice decision making by choosing colors, fonts, messages and unique items to place within the box.
Materials and Preparation
Before you begin creating your Christmas Wish Box, it is wise to have a quick look through all those boxes of art and craft supplies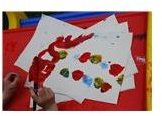 that you have collected throughout the year. You will probably discover that this craft can be easily and quickly made from recyclables and leftover items that you already have in the classroom, rather than needing to go out and buy new supplies.
To make this craft, you will need:
Choice of paints – bright colors give the best effect, or go for colors you know will blend well together
Painting utensils – brushes, rollers, sponges
Some old cardboard boxes
Glue or paste suitable for student use
Safety scissors, or for students with special needs, you may need board-mounted scissors if the student cannot independently grip scissors
Access to a computer with a basic word processing program such as Word
Some decoration, such as the silver string used in the photo below
Samples of student artwork, messages, stories or other special items to include inside the box
Creating and Assembling the Wish Box
Students paint on a piece of plain paper (eg. butcher's paper).

Encourage decision making through colors and textures, and language skills through naming colors and paint utensils.
Allow paint to dry.
Cut paper to size, so that pieces can be fitted to the cardboard box. You will need to cut two large rectangles for front and back, and narrower strips for the sides. Leave the top of the box open.
Paste the colored paper to the box.
Assist younger students, or students with special needs, with writing the text ('The Wish Box') for the front of the box using the computer. Encourage decision making through choice of font color and size, and if suitable, introduce new program functions such as Word Art.
Additional adaptions for students with disabilities:

Use a program such as Dragon Naturally Speaking to dictate a student's message if he or she finds keyboarding difficult. Use adaptive programs or equipment to help the student create the text of the message, such as a tracker ball mouse or a head pointer.
Include a Gift and a Message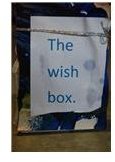 The concept behind this simple Christmas gift is to include a 'wish' for the person the box is being given to. This is often simply a message wishing a happy holiday season or a Merry Christmas. For some students, the message may be more personal, or contain a wish that expresses their thoughts and feelings about the person, or something they wish for that person.
Along with the 'wish,' students can include special gifts, pieces of artwork collected over the course of a year, stories, samples of their classwork, or other handmade items that have particular meaning.
Ideally, anything included in the box should be personal and have meaning, and should be handmade rather than store-bought. This helps students understand that Christmas does not have to be about buying expensive gifts for others; it can be simply about the act of sharing a wish and a handmade present with someone special.
And, by using recycled items and leftover art supplies to make your Christmas craft, you are also teaching your students about caring for our environment through reducing our 'shopping footprint.'