It's Back to School We Go!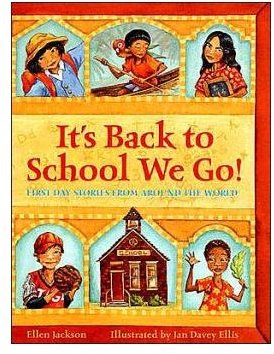 It's Back to School We Go! First Day Stories From Around the World by Ellen Jackson
This book is very different from the traditional back to school books. It has eleven individual stories about children all over the world, each starting their first day of school. Your students will find out about other schools and ways of life. Some of the countries represented are China, Peru, Kenya, Germany and more. Good for grades 1-4. Extra resource materials and maps included. You would be able to use the book one story at a time and do some follow-up activities about each country.
Activity:
Map work: Locate each country on a world map or globe. Draw the map of the country. List what you would like and what you would not like about school in each country.
First Day Jitters
First Day Jitters by Julie Danneberg
Sarah Hartwell is going to a new school! She buries herself under the covers and refuses to get out of bed. Mr. Hartwell assures her that things will go well, that she will meet new friends and that people would miss her if she didn't show up. He finally has to INSIST that she get up. He fixes her breakfast and hands her a new lunchbox. How will the day go for Sarah?
This is a comically illustrated book! You and your students will have fun studying each picture, especially the one of the students in the classroom. The ending turns the tables on the reader and gives a new perspective on the first day of school jitters. Use with students in K-3.
Activity:
Students may choose to write or illustrate a classroom setting when the teacher doesn't show up for the first day of school.
Back to School, Mallory
Back to School, Mallory by Laurie Friedman
Mallory is starting at a new school in the third grade and her mother is the music teacher. If that isn't a big enough problem, she has to be an eggplant in the school play.
This is a beginning chapter book and can be used for second and third graders.
Writing Activity:
What would be the best and the worst things about having one of your parents as a teacher in your school?
Starting School With an Enemy
Starting School with an Enemy by Elisa Carbone
Sarah is a new student in fifth grade and is already starting off on the wrong foot. The older brother of a little boy in Sarah's neighborhood is out to humiliate her. He is angry that she ran into his little brother on her bicycle. Though she is new, she continues to seek revenge each time her enemy does something to her. This is getting her in trouble at school, at home and with her new friend. Is there a better way to handle this bully?
The book is written in a first person narrative for fourth through sixth graders. Sarah is a strong character and the drama between Sarah and her enemy makes it a good book to read to your students. There is enough humor and gross incidents to keep students of this age interested. (Although there is mention of Sarah saying she is having her period-pages 32,36)
Activity:
Discussion- Sarah finally realized that she would get into less trouble if she just ignored Eric's actions towards her. What other ways can we deal with bullies?
Jeffrey and the Third Grade Ghost
Jeffrey and the Third Grade Ghost by Megan Stine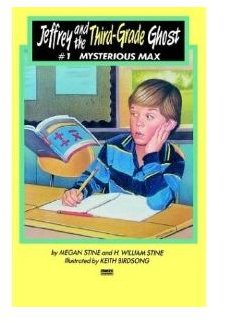 Jeffrey has always been a troublemaker! But when he gets detentions on the first day of school, he even surprises himself. How can he get people to believe that there is a ghost occupying his desk at school? The ghost talks funny, too! He says things like "daddy-oh".
This is the first in a series about Max the ghost. You and your students will enjoy the antics and humor. There is also a lesson about friendship, too.
Activity:
1. Draw a picture of what you think Max looks like.
2. Write a story about a ghost in the teachers desk! What kind of trouble would this cause?
Choose from this variety of back to school books and get your new school year off to a fresh and fun start.