Something Different
This ornament idea might be different from others you've seen. Not only is this ornament easy to make but it also makes a fantastic gift tag! The idea works great for any age but it's basic enough for elementary-aged children.
Materials: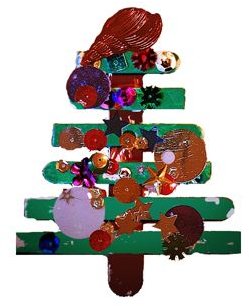 large craft stick (for trunk)
small craft sticks (for branches)
brown and green paint (paint brushes)
sequins, pom poms, buttons, beads, gemstones
Elmer's glue (or hot glue if parents will be gluing)
scissors
pipe cleaner, hooks, or string
Steps:
The small craft sticks will be the branches of the tree. For this project, you will be laying the smaller craft sticks in ladder style (horizontally) on top of the large craft stick which will be the trunk. Since a Christmas tree is an "A" shape and you need smaller "branches" on top, use scissors to cut some of the small craft sticks. Start by cutting one in half and then cutting a few others progressively larger. Craft sticks break relatively easily so you could break them and then just cut any jagged or uneven edges.
While you are cutting, the children can start by painting the tree trunks brown. Then they can paint all the cut branch sticks green.
Glue the (green) branches to the (brown) trunks. The children can use the liquid glue or parents can use hot glue here for a more durable stick.
Children can now decorate their tree using the sequins, pom poms, buttons, beads, or gemstones. Either apply beads of glue to the tree and let children stick on their "ornaments" or give them cotton swabs to dip in glue. Gold pipe cleaners make excellent garland for these little trees.
Parents can hot-glue pipe cleaner, string, or hook to hang the ornament.
If you'd like to use these as gift tags, leave one of the branches free of "decorations" and write the gift recipient's name with permanent marker.