Crafts for Halloween and Christmas: Make Paper Plate Wreaths in Your Elementary Classroom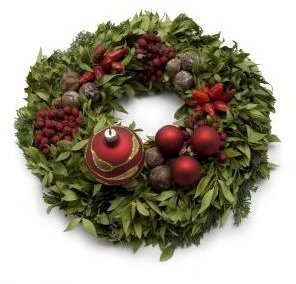 Materials
You will need the following items to complete these wreaths:
Paper plates
Garland
Hot Glue gun
Stapler
Ornaments
Christmas bow
Holly leaves with berries
Fall leaves
Construction paper
Ribbon
Elmer's glue
Halloween Wreath
How to make the Halloween-themed wreath:
Cut a circle out of the middle of your paper plate. Use a compass if you want to make the circle perfect, but it is not necessary.
Gather together some fall leaves from the school playground. Try to get some of each color.
Glue the leaves around your paper plate, being sure to overlap them so that you don't see the paper plate.
Cut a strand of ribbon for a bow. Try to find ribbon that is either orange, yellow, black, or brown as they are more traditional Halloween colors.
Tie the ribbon in a bow the way you would tie your shoe.
Glue the bow to the top of the wreath.
Add decorations. Do this by making some Halloween symbols with your construction paper. Make a pumpkin, ghost, black cat, some candy corns, etc., and then glue them wherever you want on the wreath.
Wait for the glue to dry and then hang up all the wreaths.
Christmas Wreath Activity
How to create the Christmas-themed wreath:
Cut out a circle from the middle of your paper plate. It doesn't have to be perfect, but if you want to teach students another skill have them do this with a Fiskars compass.
Wrap a strand of green garland around the paper plate and cut to fit. Hold this strand up to another strand of either green or red and cut to be of equal lengths.
Twist the two pieces or garland around each other, but make sure they are loose.
Begin stapling them at the top of the paper plate and then at every corner until you get back up to the top.
Peel the backing off of a Christmas bow used for decorating presents and push over the meeting point of the garland at the top of the paper plate. If it won't stick use a little hot glue.
Get some holly leaves with berries from outside or buy some fake ones at a craft store. Use hot glue to get them to stick to the garland.
Hang ornaments from the garland. You can place them wherever you want. They can be ornaments you made at school or ornaments you already own. Either way they should be the kinds that hang from a hook. Be sure you get some extra hooks at any department store.