Apple Pie Paper Plate Craft for Kids: Make Apple or Pumpkin Pies with Paper Plates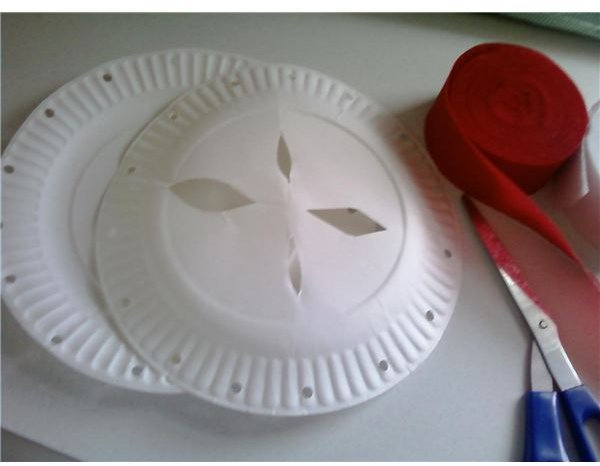 Paper Plate Pies
Conceptual Basis for Lesson:
Students will make an apple "pie" using paper plates and tissue paper and utilizing basic elements of color and texture.
Resources:
The Apple Pie Tree by, Zoe Hall or Ten Red Apples by, Pat Hutchins
Art Materials:
Paper plates,
tissue paper,
crepe paper, or construction paper in red (or green) & white,
brown yarn or string (enough to lace 2 plates together & hang project),
paint (brown for the "crust" & a color for plate), liquid glue or glue stick, gold or silver glitter,
hole punch,
scissors, and
cinnamon & nutmeg.
Vocabulary:
texture: the feel or look of a surface
tear: to pull apart or into pieces
Motivation For Lesson:
Teacher reads the story to the students and discusses. Discussion will vary depending on which book is used.
Requirements:
Students will create a "pie" consisting of a pie plate, crust, and filling.
Steps:
1. Take two paper plates and hole punch them. Make sure to mark off where they line up because students might have a hard time finding the way the holes line up. Otherwise punch holes at the end of project.
2. Paint the bottom side of one paper plate for the pie plate. Before painting the "crust" plate use scissors to cut holes (slits) like a pie would have by gently folding the plate like you would cut a snowflake. Have students paint the top with brown and while the paint is wet, sprinkle with glitter.
3. Once the pie plate is dry, turn it over so students can make the pie filling. If using liquid glue-using a brush, "paint" a layer of glue on the plate.
4. Students tear and crumple red & white paper and stick to the glue. Once they have filled up their plates, sprinkle with cinnamon & nutmeg while the glue is still wet.
5. Students line up hole marks and lace together their pies and create a loop to hang their pie.
This lesson could also be modified to make pumpkin pies by changing "crust" paint color and yarn and selecting a different book. Instead of paint (depending on age of students & time) the lesson could be done with marker, crayon, or any other mark maker.
Lesson Images