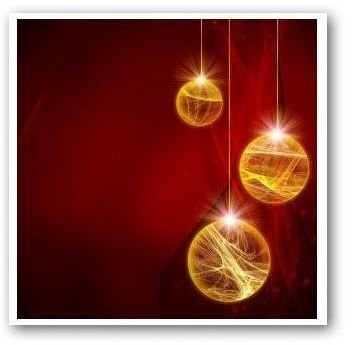 You will need the following items for this project:
Cardboard
Large plate
Small plate
String
Glue
Tape
Hole puncher
Glitter
Paint
Hook
Scissors
Construction paper
Christmas ornaments
You can follow the steps below to create your cardboard mobile:
Step 1: Get out a piece of cardboard large enough to fit a large plate. Pizza boxes work well if you have no other cardboard.
Step 2: Place the large plate on the cardboard and draw a circle around the edges. Then take a small plate and place it in the middle of the circle. Trace it just like you did the larger one. Cut both circles out so that you have a cardboard ring.
Step 3: Paint your cardboard ring Christmas colors. Feel free to add glue and glitter. If you do, you will need to shake the excess glitter off into a trash can. Give your ring time to dry before you continue.
Step 4: Create ornaments to hang from the ring. You can use real Christmas ornaments if you want. To create your own, use some construction paper, crayons, markers, paint or stickers. Create your own ornaments or draw and cut out shapes of Christmas symbols. Stars, angels, a cross, gingerbread men, presents, a Christmas tree, stockings, candy canes, holly leaves, mistletoe and even the manger scene are all great symbols you may want to consider creating.
Step 5: Poke holes in your cardboard ring from which to hang the ornaments. Tie a piece of string at the top of the hole and thread through. Just to make sure the knot is secure, add a dab of glue or piece of tape.
Step 6: Use a hole puncher on your ornaments. Just one punch is all you need on each one. Thread the other end of the string through the ornament and tie in a knot. You want to do this for each ornament. Consider whether you want to make each ornament the same length or if you want different lengths of string to make the ornaments different lengths around the ring. Either way looks good, so let your students experiment.
Step 7: Cut four rather long pieces of string. Tie each piece around the four sides of the circle and draw upward. When the four strings meet at the top, tie them together.
Step 8: Buy a hook and screw it into the ceiling where you want the mobile. Hang the mobile from the hook where the four strings met and were tied together.
Tip: To hang real ornaments, just create a little loop at the end of the string and place your ornaments hook through the loop. This can be done instead of creating your own ornaments.
Warnings: This project can get a little messy, so lay out some newspaper or grocery bags while painting to protect your surfaces from being ruined. Wear an apron or a smock while painting to protect your clothing.