Teaching Social Skills: How to Help Your 6 - 9 Year Old Host a Tea Party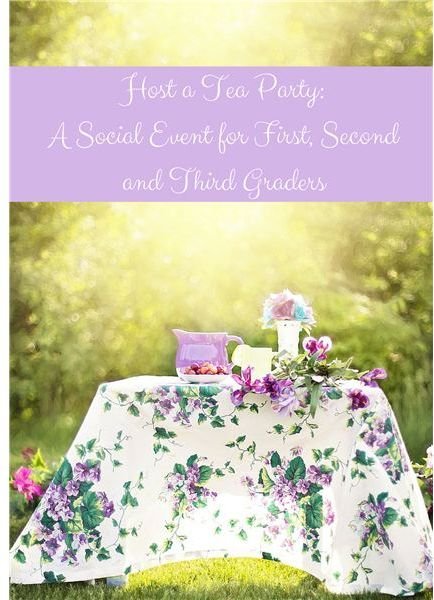 Not only will a tea party encourage children to dress up and use often forgotten manners, but they will also learn a little about how tea parties got started. Engage your children in the planning and preparation and it is sure to be a success. Remember the words of Fancy Nancy: "Be fancy!"
Choose a Theme
Choosing a theme is not necessary, but this focus helps you to plan and prepare for the party. Food, attire, decorations and activities can reflect the chosen theme. Here are some ideas.
Princess (and Prince) Tea Party
Tropical Island Tea Party
Fairy Tea Party
Garden tea party
Choose a Foreign Country: Japanese Tea Party, French Tea Party, Mexican Fiesta Tea Party, etc.
Make the Invitations
Create your theme-based invitations using card stock, colored unlined 4"x6" file cards or colored printer paper. Add stickers, glitter, pictures and decorations.
Include:
Date, time, place
Proper attire for theme
Mention that a small meal or snacks will be served
RSVP information
Practice Manners
Your child (the host or hostess) should model the manners expected at a tea party so that the guests will follow along. Practice ahead of time.
Remember to say please, thank you, excuse me and you're welcome
Napkins on your lap and no elbows on the table.
Eat slowly and no talking when your mouth is full.
Compliment the guests on their attire. "You look lovely."
Decorations
Depending on the theme, you can make some decorations or purchase them. Use a tablecloth, plates, teacups and a centerpiece.
Princess theme: crowns, magic wands, a homemade castle as a centerpiece
Tropical island theme: flower leis, blue table cloth, sea shells, placemats painted with water-color paints
Fairy theme: pink and white flowers and fairy wings, wishing well for a centerpiece, frothy fabrics and a scattering of sparking stars made with glitter
Garden theme: homemade butterfly placemats, many flowers, lace napkins, tiny paper parasols
Fiesta theme: bold colors for tablecloth and placemats, piñata, sombrero as centerpiece
Asian theme: paper lanterns, bamboo placemats, fortune cookies, flowers, make paper fans by folding decorated paper accordion style
Food and Tea
It is best not to give children caffeinated tea but you may serve many varieties of herbal teas. Also, provide juice or water. Be aware of any allergies your guests may have.
Princess: tiny tea sandwiches, fresh fruit, sherbet and vanilla wafers
Tropical: sandwiches cut in the shape of a fish, fresh melon, coconut cookies
Fairy: Sandwiches cut in star shapes, angel food cake with fresh berries
Garden: Sandwiches cut in shape of flowers or butterflies, fresh cut veggies like carrots and cucumbers with dip, vanilla cupcakes with pastel frosting
Fiesta: Tiny tacos, salsa and chips, cinnamon churros
Asian: Egg rolls, barbeque chicken, sherbet with fortune cookies
Activities
As the guests gather at the table for tea, you or your child can explain the history of afternoon teatime.
Anna the Duchess of Bedford in England is credited for starting the afternoon tea. She did this because there was such a gap in time between the large breakfast and the large but late dinner. She would feel ill in the afternoon and began having tea and a light snack in her fancy bedroom. After a while, she began inviting friends to join her. The idea caught on and spread.
Add music based on the party theme and encourage dancing after the elegant and proper teatime.
Include a craft or party game.
Princess: Who is your favorite princess? Share stories. Decorate paper crowns
Tropical Island: Finger paintings of ocean scenes
Fairy: Tell fairy stories, decorate unbreakable hand mirrors with glitter, stars and streamers
Garden: Make tissue paper flowers
Fiesta: Break the piñata! Do a Mexican hat dance
Asian: Make paper fans by decorating the paper first with glitter, Chinese lettering, designs with colored pencils, crayons or watercolor paints. Fold accordion style and add a looped ribbon at the bottom to slide on the wrist.
References
Sarlin, Janeen A. Princess Tea. Chronicle Books, 2009
O'Connor, Jane. Fancy Nancy Tea Parties. Harper Collins Children's Books, 2009.