3 Simple Fall Art Projects: Teach Students about Autumn Symbols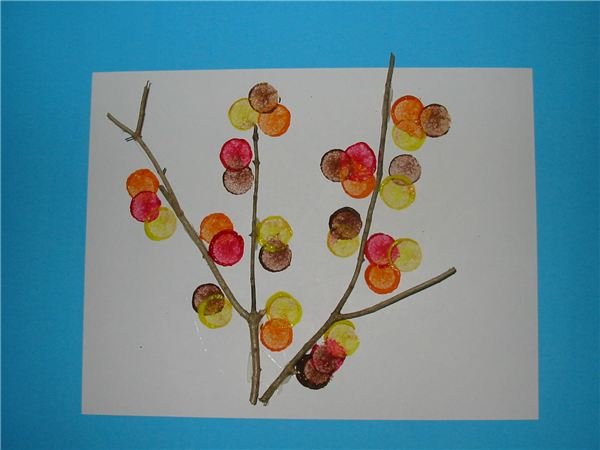 Changing Colors
The fall season presents so many wonderful things for children to explore. Green leaves turn yellow, red and orange. Harvest vegetables ripen and scarecrows are seen in these gardening patches.
Brightly colored leaves are synonymous with the changing season of fall. They are quite common in the northern states of America, but some of the southern states do not have the cooler temperatures and the leaves may remain green. Have no fear; even if the outdoors remains warm and verdant, you can teach the children about autumn with fall-inspired art.
You will need:
A twig or small branch from a bush
White construction paper
Heavy-duty glue or low-temperature glue gun
A circular cork
Tempera paints in red, orange and yellow
Directions:
Take your students on a walk to collect twigs. Each child will need one that is lightweight, has several branches, and will fit onto a sheet of construction paper.
Glue the twigs onto sheets of white construction paper. It's best to use a heavy-duty glue or low-temperature glue guns so the twig adheres securely.
Give each child a paper plate with a dollop of red, yellow and orange paint. Instruct them to dip the round end of a cork into the paint and press this onto the paper adorning the twig branches.
Fill the page with random cork-printed leaves in all the fall colors.
Variations to using a cork could be thumbprints. For cut and paste fall leaves, punch out circles of autumn colors with a hole punch. Glue the circles among the tree branches.
A Craft Stick Scarecrow
There is nothing better than a scarecrow to ward off pests that can damage a fall garden. Farmers would create funny/scary characters from straw and old clothing to perch on posts in the fields. Here is one craft that can be made by the children and taken home as a reminder of fall.
You will need:
8 wooden Popsicle/craft sticks per child
Cardboard
Felt
Raffia for straw
Googly eyes
Red pom-pom
Markers
Heavy-duty glue or low-temperature glue gun
Adhesive magnetic strip
Directions:
Give each child a square of cardboard that fits the length and total width of the craft sticks. Glue the eight sticks side-by-side on the cardboard to create a scarecrow face.
Glue two googly eyes, a red pom-pom nose and draw a funny or scary mouth with a red marker on the face.
Next, create a hat using felt pieces. Set this aside for a minute.
Since scarecrows are made from straw, take a handful of raffia and glue this onto the top portion of the scarecrow's face for hair and his stuffing.
When the raffia is dry, glue the hat on top.
Add a magnetic strip to the backside of the cardboard. Students can hang their cute scarecrows on any metal surface, such as the refrigerator at home.
Create an Ear of Colorful Corn
Most children think of corn as yellow stalks with sweet kernels to eat, but a colorful type of corn seed is often harvested and dried to be used in autumn home décor in the fall.
You will need:
Yellow cardstock paper
Tissue paper in red, yellow and orange
Brown grocery bag
Glue
Safety scissors
Pencil
Directions:
Draw a large ear of corn on a sheet of yellow, white or light blue cardstock.
Give each child a sheet of yellow, orange and red tissue paper. Ask them to cut small squares from each.
Instruct your students on how to wad each square of tissue paper and glue it inside the ear of corn outline. Indian corn has random kernels of varied fall colors. Fill the entire corncob mosaic-style with these wads of paper.
Take a brown grocery bag and cut two strips to represent the husks of the corn. Glue one on either side of the corncob.
References