Ring the Bells! Celebrate With Activities For Mexican Independence Day

People in Mexico are proud of their history and their Independence Day, September 16, is worthy of celebration. So let the fiesta begin!
For 300 years, Mexico was under the control of Spain. It was run with an extremely class-based system with the lower classes of Indians and Mestizos (Spanish and Indian heritage combined) being abused.
A priest, Father Miguel Hidalgo y Costilla, living in the town of Dolores, organized an uprising against the Spaniards. He was famous for shouting, "Grito de Dolores" or the "Cry of Dolores" to incite the crowds to fight for freedom from unfair taxes and slavery. It took 11 years for Mexico to gain independence.
Begin With a Book!
"Mexican Independence Day and Cinco de Mayo" by Dianne MacMillan provides information about two important holidays in Mexico.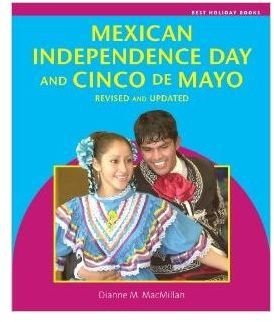 Read the section about the Mexican Independence to give your students the history of this holiday.
"Stories of Mexico's Independence Days and Other Bilingual Children's Fables" edited by Eliseo Torres has a fictional story about the day of freedom from Spain with a heroic child as the main character.
La Bandera!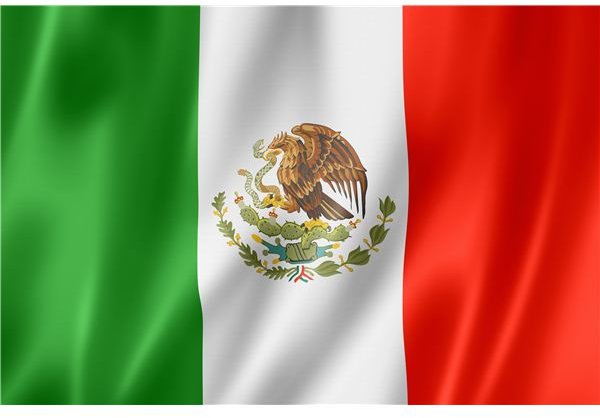 The flag or bandera of Mexico has changed somewhat over the years. The significance of the colors has different meanings, too. Originally the green stood for independence and now stands for hope, the white stood for religion and now stands for unity, and the red stood for union and now signifies the blood of all Mexican heroes.
Combine some measuring in the lesson by giving students the assignment of making a Mexican flag.
Materials:
white paper 9"x12"
red and green construction paper
rulers
glue
scissors
pencils and crayons
Directions for students: Measure and cut 4"x 9" pieces of red and green paper and glue the green on the left side and red on the right side of the white paper, leaving the center of the paper white. Instruct the students to fill the center of the white section with the Mexican Coat of Arms.
The Mexican Coat of Arms is based on an Aztec legend. They believed they should build a city in a special location shown to them by the Gods. An eagle with a serpent in its talon sitting on a prickly pear cactus should be the site of this city. Thus, the coat of arms is the eagle with a serpent sitting on a prickly pear cactus. The site where they found the eagle is where Mexico City is now located.
Let's Act It Out!
In Mexico every year, the people act out what happened in 1810 when Fr. Hidalgo encouraged the crowd to fight for independence. On the eve of Independence Day, September 15, at eleven o'clock, the Mexican President or a high official in each town rings a bell and gives the Cry of Delores (Grito de Dolores).Then the official shouts, "Viva Mexico" and "Viva la independencia" and the crowd shouts the same thing back again. They use confetti, streamers and flags of red, green and white. The fiesta (party) begins.
Do the same activity with your students to celebrate this Mexican holiday. Then follow up with a parade around the playground. Your parade participants can dress to fit the celebration, use noisemakers and carry flags and banners. In the classroom, provide music, food and games. Remember to decorate the room with red, white and green. Check with your local library for fiesta music. There are many choices available.
Fiesta Game
Print a copy of a Viva Mexico Bingo Card (download here) and have you students fill in the card at random with these 25 words (also listed at the bottom of every Bingo card). Then write the words on individual slips of paper and place in a container. Pull one word out at a time and instruct students to cover the word on their cards. The first one with a complete covered row across, up and down or diagonally wins.
taco, fiesta, freedom, party, parade, bell, hat, battle,
flag, Dolores, September, Spain, Mexico, games, food,
red, green, white, eagle, serpent, cactus, music
dancing, army, soldiers
Time to Eat!
Depending on your time, budget and food allergies of your students, you can plan a little or a lot for the fiesta. If you have volunteers to organize it, that's even better. You may want to have Mexican Hot Chocolate and cookies called polvorones (Mexican cinnamon cookies) as a simple treat. Or you can plan something more elaborate by having "fill your own fajitas" and provide an assortment of ingredients such as meat or chicken, shredded cheese, peppers, onions and salsa or sour cream. You could also have chips and salsa.
It is important to seize opportunities to teach your students about our neighboring countries. Children will remember this piece of history because they were actively engaged in the learning with these activities for Mexican Independence Day.
References
Image: Nuvola Mexico Flag by Seahen under GNU Lesser General Public License
Saffer, Barbara. Countries and Cultures: Mexico. Capstone Press, 2002.
Reilly, Mary Jo. Cultures of the World: Mexico. Benchmark Books, 2002.
Costain, Meredith. Welcome to Mexico. Chelsea House Publishers, 2002.
Torres, Eliseo (Editor).Stories of Mexico's Independence Days and Other Bilingual Children's Fables. University of New Mexico Press, 2005.
MacMillan, Dianne. Mexican Independence Day and Cinco de Mayo. Enslow Publishers, Inc., 2008.