Defining Forgiveness and Reconciliation
When you introduce forgiveness and reconciliation to students, you will teach about one concept and then the other. Forgiveness is the easier one to start with because it is based on something children have been doing for years–saying they are sorry to seek forgiveness. They may not have realized this is what they were doing, but it gives you a place to start when teaching. It is best to build on previous knowledge, so ask students questions like: "When do you say you are sorry? Why do you say it? What do you hope the other person will say?" Once you have the conversation flowing discuss with them how this has to do with the concept of forgiveness.
As for reconciliation, once you have discussed forgiveness, you can take it a step further and explain how people confess when they have done something wrong and ask for forgiveness. Depending on the age of the elementary students you are teaching, you can introduce the word penance.
Once you have had a discussion with students, you will want to do forgiveness and reconciliation classroom activities, so students are thinking about these concepts and discussing them further. This will also help students with different learning styles to understand the concepts in their own way.
Books to Check Out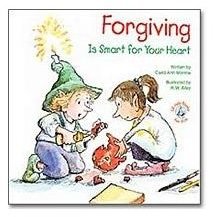 Books are a great way to start a conversation with students about difficult concepts. You can read them a book, discuss what happens with the characters, and then ask them to write about a time in their lives when something similar happened to them. For younger students, their writing assignment can be to draw a picture and write one sentence, instead of a paragraph or entire journal entry. Children often have an easier time at first discussing characters in a book, and then applying these lessons to their own lives.
Forgiving is Smart For Your Heart written by Carol Ann Morrow and illustrated by R. W. Alley is part of the elf-help books for kids series. It is published by One Caring Place, and it is geared for children ages 9 to 12. Using elf children, the author's main message is that kids can let anger and hostility take over their hearts, or they can forgive someone who does something wrong and feel free.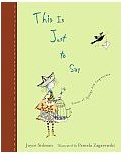 In This is Just to Say: Poems of Apology and Forgiveness by Joyce Sidman, sixth-grade students are writing poems to apologize and ask for forgiveness to everyone from the school secretary to a sibling. It has been nominated for awards and is loved by both teachers, parents, and children. One word of caution–this is a book that you want to read out loud to your students instead of letting them have a copy. There are two poems in this book that use words that may not be appropriate for your classroom. There is no reason why this book can not be used for forgiveness and reconciliation classroom activities, just make sure to read over the poems that you share first. As an extension activity, ask students to write their own apology and/or forgiveness poems, inspired by the ones in the book.
Role Play
One of the best ways to get students thinking about forgiveness and reconciliation is to have them role play situations that they may experience one day. When you ask students to role play give them the situation first, and then ask for volunteers who would like to act out the situation. This way, students are not being forced to participate in an activity that is uncomfortable for them or to act out a situation they have no prior knowledge of. Of course, you want every student to have a turn with the role play activity, but students will learn from both participating and watching. You can also make sure students discuss the role plays, and you can provide small parts for shy students.
Here are some situations students can role play to focus on the concepts of forgiveness and reconciliation:
One child confesses to another that he told a lie of some kind, and he is asking for forgiveness from another student.
Two students are playing with another student's toy, and they break the toy. They want to tell the student they are sorry.
One student is playing a game, and he loses his temper when he doesn't win. He apologizes to the other students playing the game, and they forgive him. (This is a good one for shy students because it is a group of students who are playing the game, so they wouldn't have a very large role.)
Role playing can be fun, and most students enjoy it. You can always offer help and guidance if the play starts to take a turn you weren't hoping for.
Writing Helps
With any of these forgiveness and reconciliation classroom activities, you can ask students to do further thinking and reflection through a writing assignment. They can either write about their own lives or the activity. As mentioned earlier, younger students can do more drawing than writing if necessary. Playing some quiet music during this time will also help students focus and give a peaceful feeling in the room, which is important when students are writing about personal issues. Through writing, role play, and reading, your students will have a good understanding of forgiveness and reconciliation. Character education is an important part of your students' education, so make some time for it.
Resources
My 16 years of teaching experience as a preschool and elementary school teacher
Morrow, Carol Ann Forgiving is Smart for Your Heart. One Caring Place, 2003
Sidman, Joyce This is Just to Say: Poems of Apology and Forgiveness. Houghton Mifflin, 2007