What Is Best Buddies International and How Can My School Get Involved?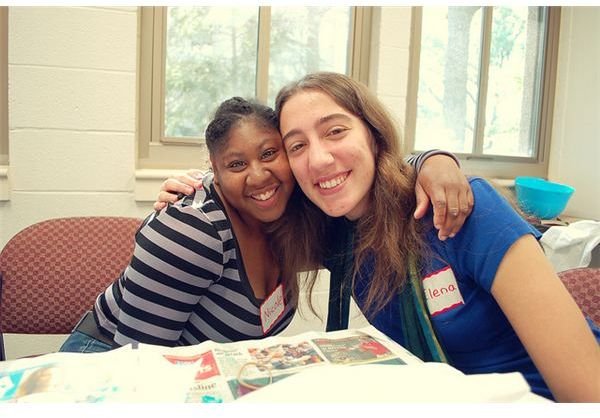 Growing up with intellectual and developmental disabilities (IDD) can be lonely. You have difficulty connecting with your peers, are unable to participate in many activities and are misunderstood by many people. Ignorance and fear can make you the subject of ridicule and abuse.
Best Buddies International is a group dedicated to abolishing these struggles. They foster friendships between those with disabilities and those without; provide jobs, purpose and independence for people otherwise alienated; and empower people without disabilities to understand, assist and befriend fellow humans who were not born with every advantage.
How Did It Begin?
Anthony Kennedy Shriver founded the organization in 1989. Shriver's mother, Eunice Kennedy Shriver, is sister to John, Robert and Ted Kennedy. She is also the founder of the Special Olympics. His father, Sargent Shriver Jr, is a founding director of the Peace Corps. His sister is journalist, Maria Shriver. His brother, Timothy, is the current chairman of the Special Olympics. He and Anthony have joined to form the Eunice Kennedy Shriver Challenge even for IDD athletes.
Beginning with his college classmates, Shriver formed one-on-one connections with IDD students, aspiring to offer them a wider range of experience while exposing mainstream society to a group it didn't understand. Shriver believes that once you have spent time with a disabled person, learned his name and found shared interests, you will never be afraid to do so again. You will see they are simply people with challenges, just like the rest of us.
He envisions a world where people with IDD are so integrated into schools, communities and workplaces that his organization is unnecessary.
Best Buddies has expanded from colleges into middle and high schools. It now touches 800,000 individuals in all 50 states and in 50 countries. Of the $168 million in support the organization uses to operate, only 19% goes to administrative expenses.
How Does It Work at Your School?
Best Buddies begins by connecting a non-disabled student who wishes to volunteer with a student with IDD looking to make a friend. A chapter at the school matches students by analyzing common interests.
At Lawrence Central High School in Indianapolis, Indiana, Jaelynn and Mary met through the Best Buddies Club formed by the school's special education program. Jaelynn and Mary text each other morning, afternoon and night. They talk about homework, sports and all the other stuff teenage girls chat about.
"I love to see my buddy smile," Jaelynn says. "Her smile makes me smile."
"She's my best buddy in the whole world," Mary replies.
The Best Buddies group at Lawrence often attends football games and other sports. The football team wears stickers on their helmets to raise awareness for the group. Education for the whole community is a major goal for the club. They hope to eradicate the use of terms like "retarded" or "invalid" that take hope and self-worth away from the disabled.
Although the group has spread fast and far since its founding, it has miles to go. If your school does not yet have a chapter, you can start one. To help you get moving, find a nearby club.
The 2020 Initiative
In 2011, the organization set an ambitious goal. By 2020, it wants to operate in 100 countries and reach 3 million people. It plans to train 4000 ambassadors, create 1000 jobs for people with IDD and grow into 2500 schools.
Best Buddies believes that the people it touches will touch even more people. By empowering and employing those with IDD, they can create more institutions that are aware and inviting. The students they help will grow into professionals.
They know they can influence leaders of companies that will hire workers with IDD. They can encourage landlords that will rent homes to them and foster independence. They will train medical professionals who will in turn treat those with IDD respectfully.
Best Buddies doesn't only operate in educational facilities. Their Best Buddies Citizens program builds friendships outside schools. E-Buddies connects people from across the world via the internet. The Best Buddies Jobs group helps students become employees. The Best Buddies Ambassadors movement teaches people with IDD how to self-advocate and integrate themselves into a society that may not fully appreciate them.
Best Buddies Challenge
Volunteers are raising funds and awareness for the organization through run, walk or bike events across the country. In Massachusetts, California, Virginia and Florida, celebrities are bringing people together to help.
In May 2015, New England Patriots' quarterback Tom Brady is chairing the event that starts in Boston and ends in Hyannis Port. Entrants have an opportunity to ride with cycling legend George Hincapie or run with Olympic Gold Medalist Carl Lewis. The even concludes with a beach party, massages and a private concert.
Clint Eastwood, Verne Troyer, Rob Lowe and Guy Fieri are among the many celebrities involved with the group.
How Can You Get Involved?
There are so many ways you can become involved. Following are a few ideas.
Find or establish a local chapter at a middle school, high school or college.
Run, walk or bike and one of the Best Buddies Challenge events.
Buy some merchandise to show your support.
Make a donation.
Think about the words you use. Writing or talking about this the wrong way can easily be offensive, whether you intend it or not. The National Center on Disability and Journalism has a well-built guide for doing it right.
Just be a friend. You don't need a club or a chapter to treat another person like a person.
We are all different and yet we're all the same. The hardest part will be the first step. Fear of the unknown will fade with every passing day once you have found a buddy.
References