Tips for Classroom Management in the 21st Century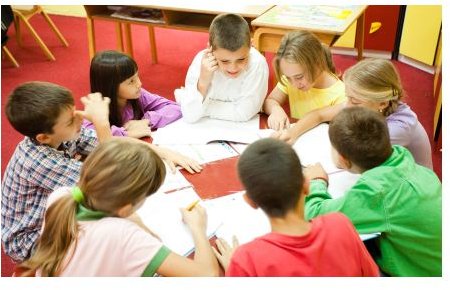 The Common Core State Standards have given educators (myself included) much to think about. Where does classroom management fit in with our 21st Century Classrooms? Growing class sizes and other external challenges certainly do not make matters easier. Without effective classroom management strategies the CCSS will only be a lifeless set of documents on your laptop. Here are some ways to incorporate the standards smoothly and get all your students involved.
The Classroom Environment
Layout
The physical layout of your classroom can quickly become your best friend or your worst enemy! It is important to get this right. Organization is key, as it gives students a sense of predictability which usually leads to a sense of security (both good things). A classroom layout is certainly not one size fits all, it should match your students needs and the activities that occur in your classroom. For example, the elementary teacher will have their students in tables in order to encourage collaboration (big in the CCSS), but having a bean bag over on the carpet ready for a student who needs to escape from the group will help keep everyone on task and minimize interruption. You need to find the layout that will best fit your student's needs!
Being A Visible Presence
As the body needs good circulation so does your classroom. Effective classroom "managers" do not stay put in one spot in the room! You will have better control and will be able to include all your students when you are walking through the classroom while teaching and learning is occurring. Do not underestimate the power of body language either. The next time you want your students (or even your children) to comply the first time your ask them to, slightly lean towards them, make strong eye contact, and in a confident and firm tone of voice make your request. The difference will be noticeable.
Connections
Making meaningful connections with your students can be extremely effective. Calling them by name and discussing their lives outside of school, shows that you recognize them and value them as a person. Once your students know that you truly care for them as individuals your classroom management task will become easier.
What about the class clown? Or the perpetual "trouble maker"? First of all, when correcting or addressing their behavior let them keep their dignity. You may feel as if you've won the battle by humiliating a student in front of his/her peers, but in that moment, you've lost the war.
What about your shy student? How do you bring them into the action? First off, don't let them off the hook by pitying them; you won't be doing them any favors. As we already said, 21st Century Learners are collaborators! Emphasis must be made in class that in order to have productive discussions, everyone needs to make a contribution. Your class should be managed so that there are a variety of ways to contribute: actively listening, asking thought-provoking questions, challenging what someone has said appropriately, inviting others into the discussion, etc. These options may help the shy student find a role in discussions.
Perhaps the best advice for 21st Century classroom management is to truly enjoy what you do and make sure it shows! If you are having fun so will the students! Win their hearts and you the rest will fall into place.
Editor's Note: Nicholas Diaz is the Assistant Principal and the Anti-Bullying Specialist of Van Derveer Elementary School in Somerville, NJ. He is a husband and father of six beautiful children ages six and under! Follow him on twitter @NicholasDiaz1.
References