Classroom Management Guide: Keeping Students on Task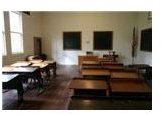 In order to engage your students, you need to manage them. Setting rules and routines from the first day of school will help you create a
positive environment where students and teachers will feel comfortable learning and teaching. Establishing a productive routine takes time. Gain knowledge on effective strategies, routines and tips that you can implement in your classroom today.
Discover topics geared toward specific subjects such as managing preschool behaviors, dealing with disruptive students, creating seating charts, managing special education classes and autism, behavior management for the gifted and talented, and getting parents involved in the process.
Establishing Classroom Routines and Procedures
Learn how to establish a routine right from the beginning of the school year. Find simple steps on how to set rules and create procedures that will last throughout the year. Follow these tips and you will have a well-managed classroom.
Top Five Classroom Management Strategies
Do you feel like you are on the verge of yelling at your students? Learn how to productively manage your students with these five simple steps. You will create a positive environment in which your students will enjoy learning.
An Easy Classroom Discipline Plan You Can Implement Today
Learn how to implement a discipline system into your classroom. Follow the "Card System" and you will begin to see success. Learn how to reward the positive and reinforce appropriate behavior in this in-depth article.
An Effective Classroom Management: Keeping Students on Task
Keep your students focused, engaged and on-task by using these classroom management tips. Learn how to use group instruction and technology to help students focus and eliminate any behavioral issues within the classroom. You will decrease behavioral problems and increased interest in learning.
Student Involvement & Seating Charts: Strategies for Effective Classroom Management and Instruction
Need an effective way to remember your students' names while maintaining a non disruptive classroom? Learn how to create an effective system with seating charts. You can also download a sample to help you create your own chart.
Effective Classroom Discipline Strategies: An Overview of the book Win WIn Discipline
Read about an effective to classroom discipline with the book, Win Win by Spencer Kagan. You will learn about the three pillars that will aid in discipline issues and preventative procedures and strategies.
Tools for Making the Classroom a Place of Tolerance
Teachers find it harder than ever to tolerate disruptive behavior in the classroom. Instead of taking time out of your busy day to discipline your disruptive student, learn the tools that will help you compose yourself. Ideas include, taking a moment to yourself to relax, reflective journals and yoga.
The Disruptive Class and Management
Acquire knowledge on how to deal with a student that is constantly disrupting the class. Learn how to isolate the disruptive student while still being able to maintain a successful classroom. Eliminate these disruptions by following the suggested steps and you will create a positive learning environment for your class.
Classroom Management Techniques During Group Work
Group work is often associated with students talking and being off-task. Learn the techniques to keep your students on-task while learning in a group environment. Follow the seven tips provided and your students learning groups will be well behaved. You will also see successful group activity and a well-managed classroom.
Effective Classroom Management: The Importance of Recess and Downtime
Did you ever notice that after recess students come back refreshed and ready to learn? Learn how to incorporate downtime into your daily schedule, so that your students will stay engaged, and you will have less behavioral issues to deal with. Find out how to structure your lessons so you will have fewer behavioral problems.
Classroom Management Strategies to Control Talking
Learn ideas to help control talking and disruptive behavior in the classroom. Tips include, shutting off lights, chimes, changing seats, the quit game and many more. Learn how to teach consequences and what to do in a last resort
Autism and Classroom Management
Acquire effective behavioral strategies for students with Autism. Discover behavioral interventions and develop constructive strategies that will help you manage your Autistic students. You will gain a basic understanding of how to create a classroom management plan that will suit each individuals needs.
Creating Effective Classroom Management Strategies for Special Education Students
Gain knowledge on how to create an individualized behavioral intervention for special education students. Learn how to monitor students' behavioral performance and create a plan that will be effective. Follow these tips to help you implement the perfect behavioral plan for your special education classroom.
Classroom Behavior Management for Gifted and Talented Programs
There is a stigma attached to the gifted and talented students that just because they are in the program, they automatically behave well. These students often work independently or in small groups and still need guidance and rules. Learn how to prepare a behavioral plan that the students can follow so they can use their talents in the best possible learning environment.
Effective Classroom Management: Rewarding Good Behavior
Rewarding students for their behavior has been used in the classroom for years. Discover new ways to reward good behavior and motivate students to act accordingly. Read about the different types of rewards that have been used successfully.
References