Art Classroom Design Layout Plan: Tips for Younger or Older Students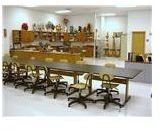 Where to Begin…
In order to design the best art classroom layout for your needs, first you must know what your needs are.
Take note of all of the activities your students will be doing:
What mediums will they be using?
How many supplies of each type will you need to store?
How readily available do you need these items to be?
Next, calculate the approximate number of students you expect to house in this classroom at any one time.
Ask yourself these questions:
What will I be teaching them, and what will I need to demonstrate to them?
Is it possible to design the room so all students can see clearly the demonstrated projects? (You may think of adding a mirror to your desk. Chefs have these when recording TV shows. Be sure you follow all safety precautions when selecting this equipment.)
If not, how can I achieve a workable situation? (Think about maybe a U-shaped set up so you could walk down the middle and demonstrate to your students. This will allow you to be fair to the students in the back of the room, and gives you easy access to all of your students.)
How much storage for each child will be needed?
Can the students bring a plastic container to help in storage needs? (If so, will you be able to afford the costs for students who cannot afford this item?)
How many flat surfaces will be needed for drying painted objects etc.?
Ideas For Your Classroom
If you have choices for the furniture, think long-term. It is very important to have the supplies out of the walkways within the room. You do not want to place the paints and projects the students are working on in precarious positions in the room as they can get spilled or be broken.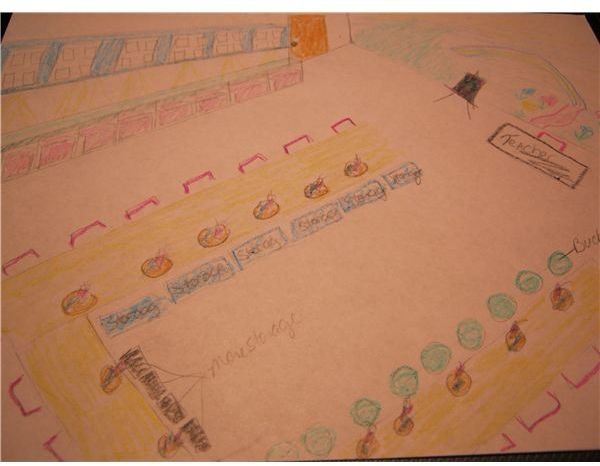 This design is just a springboard for your own creativity. The design includes a U-shaped design for the seating. This works for the very young all the way up to high school age. On the inside of the U are storage shelving, or boxes that are no higher than the tables. They can be shorter. They can consist of shelves, plastic bins or drawers, and painters' plastic buckets, which come in five to seven gallon sizes. You can buy gamma seal lids for these also. They spin on and off with one hand. This makes a painter's bucket worthwhile.
There is nothing worse than having to drag out every single piece of equipment daily. Your time is precious so why not place an inexpensive plastic turntable between every two students. These can sit on the opposite side of the students and house scissors, pens, glue and much more. No more spending half of the class session passing out supplies, or staying up late to get the room ready for the next day. This is a lifesaver! If you need to lock everything up at night, then allow enough room in a locking cabinet to house the entire lot.
The walls can support shelves with cabinets overhead. Underneath of the shelves you can put baskets or plastic containers for each student to store their personal projects or items they are working on.
This waist-high shelf top will double as a work station or drying surface. Be sure to get some lighting installed under the cabinets. You can lay pieces of artwork that are drying or waiting to be finished, flat on this counter. If you wish and are so blessed to have a nice budget for your classroom, think about putting countertop surface on top of these shelves if you do not already have one.
On the cabinets above, put double thick peg board on the door fronts. Frame it in with wooden framing. These door fronts will serve as display surfaces for finished drawings and small paintings that would not be harmed by hanging them up with a peg.
Inside the cabinets you can store rarely used items, or items that only you, the teacher, will need to access.
Be creative. If you paint, or have someone in your class who is very skilled, think about having a mural painted on the wall behind your desk. This could be a yearlong project for an eager class as well. What a memorial to them and a testament to their skills which you taught them.
Place items such as an easel in the front of the class to get the creative juices flowing. You can use this as your surface to demonstrate from.
Keep the shelving short to give a more creative feeling to the room rather than utilitarian. You may wish to have a short shelf or file cabinet near your desk.
It is an art room so if some piece of furniture is not so attractive, paint it and have fun!
Other Ideas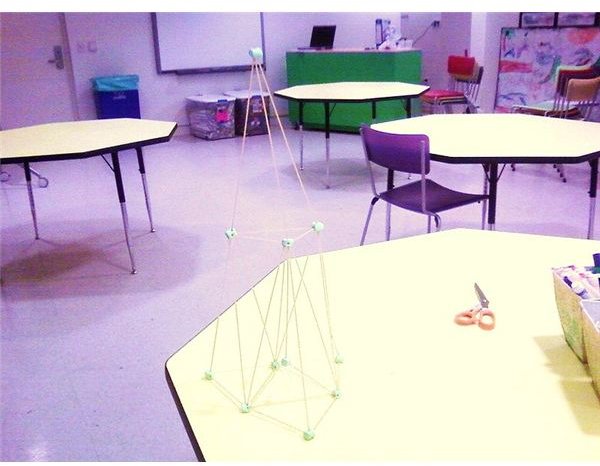 Whether you teach younger students or high schoolers, you want to inspire them and get their minds running wild with creativity. If you use color or prefer visual art, be sure to do it big! Don't be afraid to make a statement that will get their attention and keep it.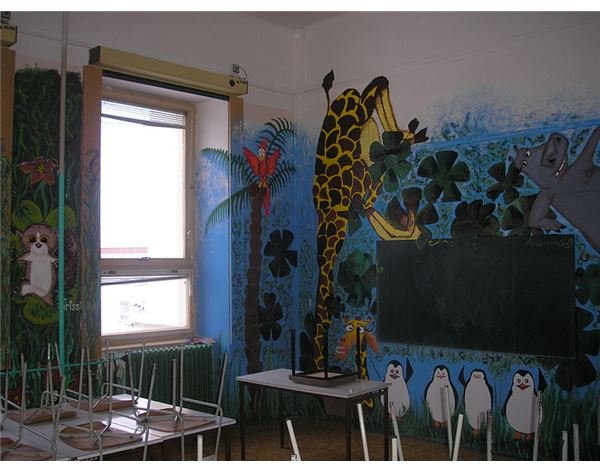 Resources:
Sources: Ideas and instructions by Atlanta Page
Drawing: © 2011, Atlanta Page
Photo #1 Wikimedia Commons: Union City High School-https://commons.wikimedia.org/wiki/File:UCHSArtRoom9.14.09ByLuigiNovi.jpg-Creative Commons 3.0
Photo #2 Wikimedia Commons-https://commons.wikimedia.org/wiki/File:MichaelisClassroomFresnoMet.jpg-Public Domain
Photo # 3 Wikimedia Commons-https://commons.wikimedia.org/wiki/File:T%C5%99eb%C3%AD%C4%8D_gymn%C3%A1zium_v%C3%BDtvarn%C3%A1_v%C3%BDchova.jpg-Creative Commons 3.0
The BreadBeckers Incorporated: https://www.breadbeckers.com/store/pc/showsearchresults.asp?pageStyle=H&resultCnt=10&keyword=gamma+seal+lids&submit=Go+%3E%3E