Preschool Lunch Time: Teacher Tips and Tricks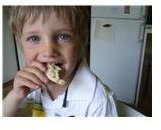 The Set Up
On the very first day of school, invite children to decorate personalized placemats. Be sure these placemats have the child's name written on them, as well as a picture of the child. Allow the children to use paint, markers, crayons and stickers to decorate their placemat any way they would like, being sure that each name and picture is still legible after the artwork is finished. Use heavy construction paper and laminate each placemat after the child has decorated it for ease of cleaning and durability.
Shortly before lunch time, choose three children to help you with lunch set up. Ideally, the rest of your class will be otherwise engaged with another teacher or in other activities. Removing these three helpers should not disrupt the rest of the class. Lunch helpers can be a category on your preschool job board to be sure that each child has a chance to help out.
Give each of your lunch helpers a specific job to do. For example, give one child a spray bottle of soap and water and a few paper towels. His job will be to clean the tables before lunch is served. One child will be in charge of placing the personalized placemats at the table. Allow children to sit near their friends, as lunch should be a relaxed, social atmosphere. Another child can set each place with a plate, napkin, a fork or spoon, and a cup. If one of the helpers finishes his job early, he can help out the place setter. Be sure to check that each place has all the necessary equipment before lunch begins. Make sure to set a place at the table for yourself and your co-teacher, too. Be sure teacher place settings are placed such that you are able to survey the whole classroom while eating.
The Main Event
Call children to lunch when the place settings are ready. Be sure to have one bowl of food for each table, served family style. For example, if the menu calls for carrots, chicken nuggets and fruit cocktail, each table should have these three items on it, as well as milk, water or juice. Allow children to serve themselves with appropriate serving spoons, tongs and spatulas. Give guidance only when necessary, and do not force a child to eat something they don't like. Ask her nicely to please put the item on her plate and give it a try, but do not ever punish a child for refusing a certain food item. Try to providefood items that are kid friendly yet also meet nutritional standards such as chicken, soft steamed vegetables and familiar fruits.
Sit at the table with the children while they are eating and serve yourself a small helping of lunch. Model appropriate table manners and engage in friendly conversations with the children. Discuss the foods you are sampling and ask children for suggestions of things they like to eat. Do not correct children's table manners or discipline a child for spilling or making a mess. Simply ask the child to clean up their mess if milk should spill or food happens to fall on the floor.
Provide small plastic pitchers for children to pour their own drinks. Some children may need help with this in the beginning, but the more practice they have, the easier it will be for them. Plastic hospital water pitchers work well.
The Clean Up
When children are finished eating, be sure they have clear directions as to what they are supposed to do next. For example, children should be able to throw away their own paper plates or scrape their plates if you have reusable dishes. Give clear instructions as to the types of activities that are allowed after lunch. If children are only allowed in the book center and block center after lunch, be sure they know this before finishing lunch. Remind them of these directions before, during and after lunch.
Employ the same three helpers that assisted with the set up to help clean up when everyone is finished. Again, each child should have a specific job. One child can use the soap and water spray bottle again to clean tables. One child will be in charge of cleaning and stacking placemats, and one child can use the broom to sweep the floors. The teacher can assist all of these children in the clean up.
With a little bit of planning, lunch time can be enjoyable for you and your class.
Sources
Photo by elinluna - https://morguefile.com/archive/display/165863
Source: author's personal experience