Service Learning
What is a service-learning project? Taken directly from the servicelearning.org front page, "Service-Learning is a teaching and learning strategy that integrates meaningful community service with instruction and reflection to enrich the learning experience, teach civic responsibility, and strengthen communities." For elementary school students, this means teaching that incorporates ways for students in kindergarten through fourth or fifth grade to scaffold cross-curricular learning in the classroom with service work in the community.
Teaching Stewardship
When teaching elementary school students, one is aware that what is taught lays the foundation on which students will use to build the remainder of their education. Therefore, introducing the concept of stewardship, that is, the idea that we give back to the community something of ourselves, is an essential component of elementary education.
Keep in mind:
make the project age appropriate, yet challenging
incorporate academic learning on all subject matter
assign roles to students according to their abilities
have a reasonable timetable from which to work
be flexible
allow students to have a say in planning
Sample Service Learning Project
Objective: To bring elementary students and elders together
Purpose: Elders have much to teach; students enjoy the attention of elders and have much to learn. Socially, projects with elders give purpose to both students and elders.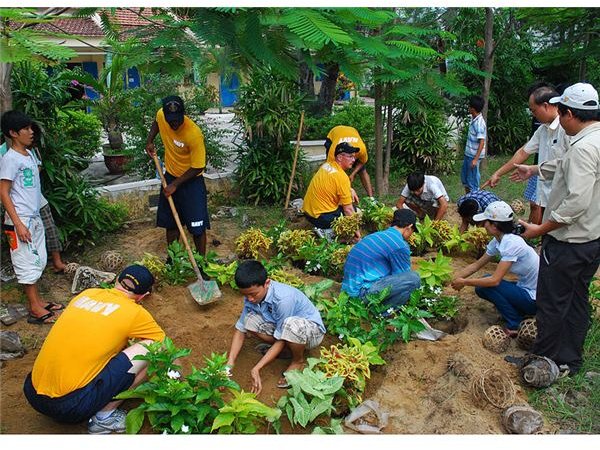 Preparation: Before working with the students, contact the local senior center to recruit members who will be willing to talk to the class about the environment. They only need to be able to describe what the town/city looked like back 10, 20, or 50 years ago. Ask if they have pictures. If not, contact the local historical society or library for access to old photos of landmarks, which would be familiar to the students. Be prepared to take pictures of these places as they appear now.
Project: (For this example, we will assume that the students are in K-3, studying a unit on the environment.) To clean up the community.
To begin, brainstorm with students what they know (prior knowledge) about the environment. Ask them about recycling, conservation and preservation. Create an interactive wall for the students on which to post environmental vocabulary. For younger students, allow them to use pictures to explain the words they are learning.
Next, ask them if they think the community in which they live has changed in the past 10, 20, or 50 years. Ask them if they can think of anyone who might remember what the community looked like back during those times. Make a list of their answers. If students do not include elders (grandparents, older people, etc.) in the list, prompt them.
Explain to them that elders have a great deal of knowledge to share. Have the class as a group write a letter to the senior center inviting elders to come to the school to talk about what the community looked like when the elders were younger.
On the day that the elders come, assign students roles such as, greeters, personal assistants (students who hold things for the seniors, or assist in handing material out, etc.), record keepers (Young students might help record what is said with the aid of an adult through video or audio recording.), etc.
After the presentation by the elders, brainstorm with the students and elders ways to clean up the community. Is there a site that is in particular need of cleaning that can be tackled by the students? What needs to be done? For example: Say the students learn about a small park that previously was a popular place for citizens to go to for relaxation, but now is overgrown and filled with debris. What can they do to fix it up? Ideas could include, organize a community clean-up day with the students, elders and other community members; finding sponsors in the community to donate plants, benches, trash bins, etc.; contacting the newspaper or local TV channel to do a feature on the park with the students explaining why it is important to return the park to what it once was.
Outcome: Children learn about the environment, letter writing, interviewing, organizing and fundraising. Skills in language arts, science, math, history, civics are utilized. Positive connections are made within the community that could last a lifetime. Finally, through learning service projects, elementary students learn that their world extends beyond themselves and their classroom. It is a win/win learning experience!
Resources:
Photo – Wikicommons
https://www.servicelearning.org/