Great Ideas Are Just a Click Away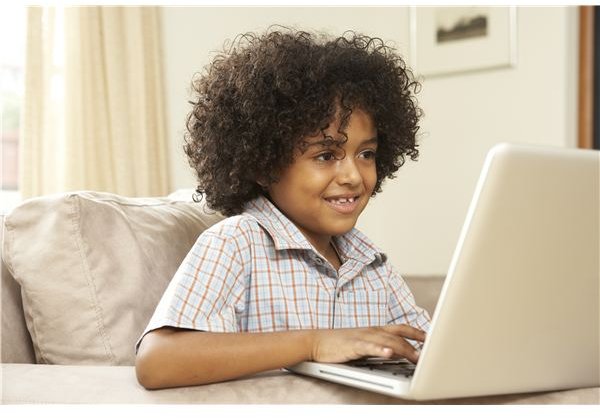 As Kindergarten teachers you are busy with a variety of duties. If you haven't hopped on board the Internet train, it's time to consider that tried-and-proven websites offer great ways to get teaching ideas. But with so many kindergarten websites for teachers, how do you know which ones are the best? We take a look at the ones we really like, including what makes them so useful. The all-important links are included at the end of the article.
Learning Page
The Learning Page offers free professionally produced lesson plans, books, worksheets and other teaching resources. Included in your free membership you have access to over 1,500 worksheets, lesson plans and activities that are accompanied by teaching notes, facts, cut-outs and murals. You can also download "Ewe Books," which are designed to be folded into a complete book and are accompanied by teaching notes, fun sheets and activities that relate to each story.
Teachers love this site because not only is it free, but also because you receive professional lesson plans that are made by teachers.
Kelly's Kindergarten
Kelly's Kindergarten is an excellent online resource that contains behavior management tools, kindergarten classroom organization, printable calendar materials, reading strategies and much, much more. This website has everything a kindergarten teacher would need to help her with her classroom.
Crayola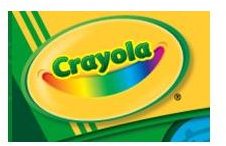 Crayola.com has over 1,000 coloring pages, crafts and lesson plans for educators to use in their classrooms. This site is great because you can search for a craft by type or theme and look for lesson plans by grade, subject and theme. You can also have students play games and print out coloring pages online. You can read the full length review of Crayola.com right here on Bright Hub Education.
Teaching Heart
Teachingheart.net is a site that was created by a teacher in order to help fellow teachers get great ideas for their classrooms. This site is a wonderful resource for kindergarten teachers because it has every component a teacher would need to have a successful class. Some of the resources include bulletin board ideas, activity and creativity centers, themes, reading comprehension and finger plays.
Internet 4 Classrooms
This is definitely one of the best online resources for kindergarten teachers. Internet 4 Classrooms' motto is "Helping you use the Internet effectively…" That is exactly what they do; they provide teachers with every component they would need, from teaching tutorials to assessment assistance. Internet 4 Classrooms is a resource where teachers can find just about everything for free.
Little Giraffes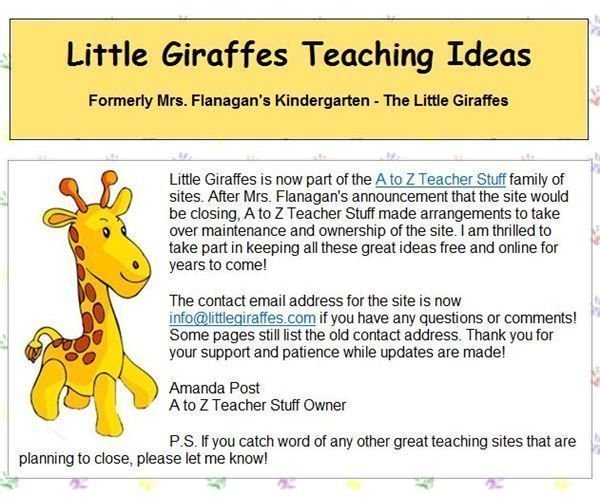 This website is so popular that when A to Z Teacher Stuff heard the site was closing, they decided to take over ownership of the site. Little Giraffes has the three components that all teaching sites should have–lesson plans, teaching ideas and printable resources. There is also a teachers' forum where you can talk with fellow teachers.
Scholastic
Scholastic is an educational book publisher that offers teachers lesson plans, teaching strategies, printable resources and teaching tools. Teachers can place book orders and have students play games right on the site. You can read the full length review of Scholastic.com right here on Bright Hub Education.
Alphabet Soup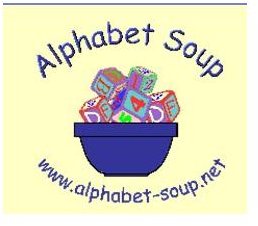 Alphabet-soup.net is a great website for kindergarten teachers because it contains thematic units, crafts, teaching tools and resources, teacher forums and pintables. The best feature of this site is the Kindergarten Kafe. This section is dedicated to publishing children's recipes as they have written them. Teachers can have students describe how they would make a food and have it published on the website.
ProTeacher
ProTeacher is a website where kindergarten teachers can exchange ideas with fellow kindergarten teachers about lesson plans, activities, teacher development and much, much more. This is a great site to learn new ideas for your classroom, while venting to your fellow teachers on the kindergarten message board.
The Idea Box
The Idea Box is tailored to make kindergarten teachers' lives easier. It includes a menu that lists categories so it is easy to find the information you need quickly. The menu includes, music, crafts, holiday, seasons, recipes, games, activities and a teacher forum.
There is a multitude of kindergarten teacher websites out there, but these ten websites for kindergarten teachers offer the best lesson plans, printable resources and teaching ideas for the classroom.
References
The author writes from her experience as an educator.
Image Credit: Website photos: Aphabet-soup.net, Crayola.com, Littlegiraffes.com