Fun and Creative Music Room Bulletin Board Ideas
Is your music room looking a little drab? Do you think it needs some pizzazz and flair? Are you or your students starting to become bored with the surroundings that you call "a music classroom"? If so, try jazzing it up with some colorful displays. It's time to give it a new beat!
Some of the following bulletin boards can be used to display student work, or be used to teach and reinforce music concepts that your students may use on a daily basis. Some of these ideas can be used to create special bulletin boards for specific student achievements as well.
Bulletin Boards for Displaying Work
Oftentimes it is rare to see music class work displayed around the school and in the halls. However, there is no reason why music students should not get credit for their achievements, no matter the subject.
Listening or Sound Maps
Creating sound maps helps to reinforce student listening skills, instrument identification, and helps to determine mood in music. To create sound maps, students are to listen to a classical piece of music and draw the image that comes to mind when listening. It is most beneficial to turn off the lights and close the door for this activity, for it helps the students concentrate on nothing but what is playing. Students can draw their visions on a white piece of construction paper using colored pencils, crayons or markers, whichever is preferred and accessible.
I find this to be a relaxing activity that is a good starter activity when the students come to class with an exuberant amount of energy. It really gets them focused.
Some of the song selections that can be used may include:
The Rite of Spring by Igor Stravinsky
The Aquarium (part of Carnival of the Animals) by Camille Saint-Saens
William Tell Overture by Gioachino Rossini
Pictures at an Exhibition by Modest Mussorgsky
Rodeo by Aaron Copland
The Nutcracker by Pytor Tchaikovsky
To the right is a photo of a hallway bulletin board used to display my students' sounds maps. Kindergarten, 1st, and 2nd grade classes did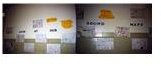 these sound maps. Colored door paper could have also added a nice background color as well.
All Aboard the Rhythm Express
This music bulletin board can reflect your students' hard work, but can also be used as a reference for rhythmic values if left up all year long.
Materials:
Different colors of construction paper
Train pattern - (I have used this pattern, even though it is for birthdays; it is a good basic pattern.)
Black Sharpie
Trace enough trains for each student from the pattern on the construction paper and cut them out. Pass out one to each student and have him or her write a four-beat pattern on his or her train car with a Sharpie. Once they are all hung up, you can have your students clap out the entire rhythm pattern or play it on a variety of percussive instruments.
You can make the engine a bit bigger than the train cars, and provide the values for each of the types of notes (I. e. o=4,♩=1, ♪=8th, etc.) on it. As the students learn more difficult rhythmic patterns, the display can be changed accordingly.
Bulletin Boards for Teaching/Reinforcing Music Concepts
Some music bulletin boards can be used as a visual to help teach various musical concepts to students such as notes on the staff, instruments of the orchestra, and even dynamics or tempo.
Music is Noteworthy
This can be setup as a giant music staff (using treble clef) all the way across it. On each line and space should be the corresponding note name that belongs there. At the bottom, you can write Every Good Boy Deserves Fudge (for the lines) and FACE (for the spaces). If you would like the students to participate, have a contest to see who can come up with the most creative sentences to remember these note names, and you could use the winner's for the display. You can also have each student fill out a staff with a sentence (a mnemonic worksheet activity), they would like to use to remember the note names by, and then put them all over the staff for display. This can be done in traditional colors (black and white for the staff with black notes), you could use rainbow colors for the notes only, or you could create a rainbow for the staff and the notes could be done in black. You could title one of these, "We Love Colorful Music!" or "Music Is Noteworthy".
Instruments of the Orchestra/Instrument Families
This bulletin board could be done in several ways, but I have made it in the past by just creating tag board cutouts of the individual instruments in each instrument family (woodwind, strings, brass, and percussion), laminating them, and then gluing them to a larger piece of tag board in a variety of colors. This way, the students can refer to them within the corresponding family and use it as a learning tool. To make the cutouts, you could either paint coloring sheets or pictures of instruments from a reproducible teacher resource book. You could even buy them pre-made.
The Dynamic Duo
This is great for younger students when learning about the various dynamic levels of music. (Piano, forte, mezzo forte, etc.) I use an overhead projector and a white wall (if possible), taped with a white piece of tag board, and trace an elephant and mouse on the tag board. If you have never done this before, the projector blows up the image to use for a bulletin board or large display. The elephant represents the loud music symbols and the mouse represents the softer ones. Elephants are typically scared of mice, so I show the elephant running away from the mouse, which demonstrates the louder symbols. The softer symbols are closer to the mouse.
The Tortoise and the Hare
Here you can use the overhead again, to blow up cute images of tortoises and hares to represent slow and fast music speeds, otherwise known as tempo. Two tortoises would represent adagio (very slow), one could stand for andante (slow), both a tortoise and a hare could be moderato (moderate), one hare for allegro (fast) and two hares for presto (very fast).
Special Bulletin Boards
Some music bulletin boards may be used to proudly display some of your recent choral or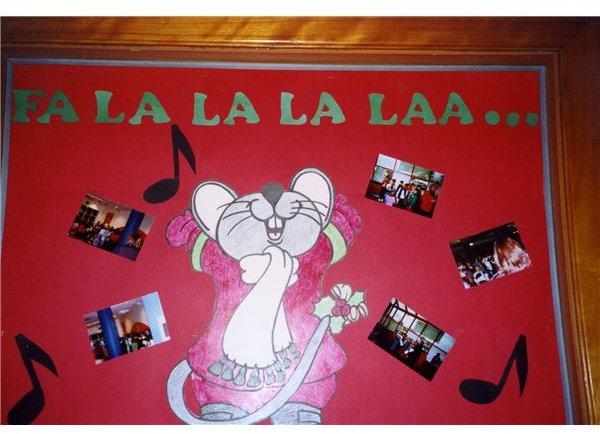 instrumental concert photos, spring musical performance, or even a volunteer singing excursion, such as in the photo to the right.
You could even feature a music student of the week for their outstanding achievement either in class work, participation, or performance. (See the photo to the right for an example.)
Promoting teamwork in the music classroom is especially important, especially if your students are in a music organization such as band or choir. It is possible to have music classes collaborate on a music project or volunteer effort, say selling products to raise money for the department. The following bulletin board can be used for this, and on the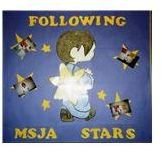 footballs you could write the names of the teachers whose classes are participating and the amounts they have acquired through their hard work.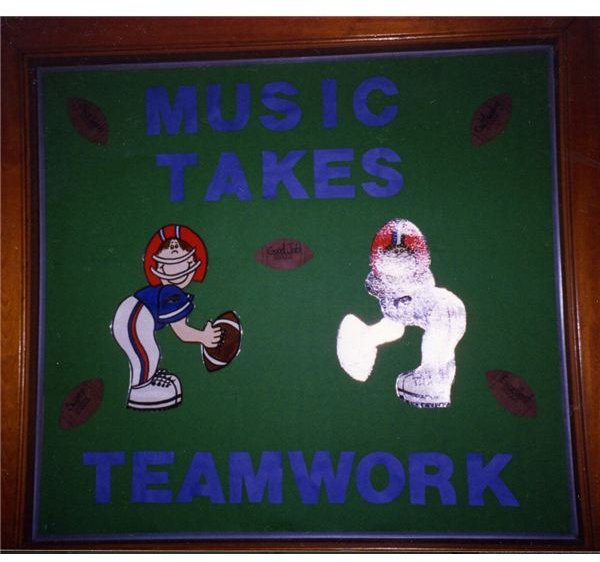 I have also included a photo of how to present music classroom rules.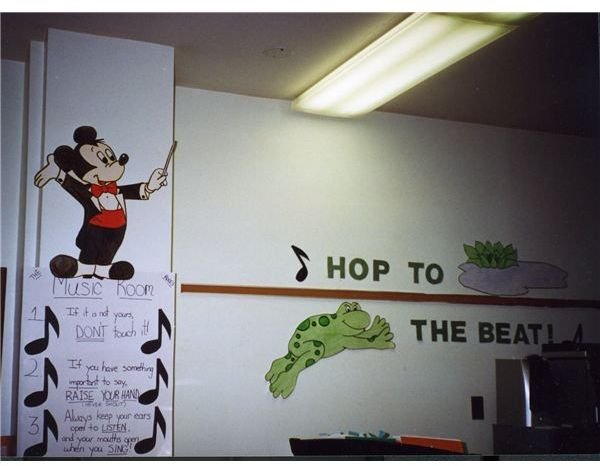 With such an array of music room bulletin board ideas, and a little visit from Mr. Inspiration and Mrs. Creativity, you should have no problem turning your music "room of gloom" into your music "room of BOOM!"
References and Resources
Image Credits
Images courtesy of author and wikicommons/ChinaFlag
Additional Resource
FirstSchool - Music Coloring Pages - Musical Instruments.