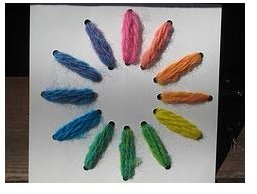 Parents and teachers worry that students will lose academic skills over summer break. At the same time, they want children to be able to enjoy fun activities and have time to relax. These summer art projects allow children to create something useful, express themselves artistically, and practice their math skills.
.
Make a Calendar
Making a calendar is a great art activity that also teaches children about counting, months, seasons, grids, and holidays. Materials you will need include:
a sample calendar
a list of important dates
card stock
glue or tape
scissors
rulers
stickers
glitter
art instruments such as paint, markers, colored pencils, or crayons.
For every month have the child draw what he or she thinks best represents the month such as a love theme for February or a turkey for November on one of the pieces of card stock or glue pictures from magazines or online coloring pages onto that piece of paper. On a separate piece of cardstock, the child should create a grid and, using the sample calendar as a guide, fill in the days of the week and the dates. Then have the child decorate special dates such as holidays, birthdays, or important school days.
Create a Cookbook
Not only is cooking an art form, but creating a cookbook can also be a work of art. An added incentive to explore this project is that it is also a great way to teach practical math skills such as fractions. Materials you will need include:
construction paper
cardstock
glue
colored drawing utensils
art supplies as determined by your child.
Procedures
Have your child list all of his or her favorite foods.
Have them research and find recipes they would like to try, or recipes they create themselves.
Allow them to make different recipes each week and take pictures of the result.
Be sure they take notes of what they did or didn't like about the recipe and what they changed, or will change in the future.
At the end of the summer have each child create one page that has an image of the recipe and one page that details the recipe as well as any notes the child thinks is pertinent.
Allow them to decorate the pages of the cookbook and create a unique cookbook exterior.
When they are done you can staple the pages together or use a three hole punch on them and insert them into a notebook.
Make a Quilt
Creating a quilt actually involves several math skills such as measuring and graphing. Materials you will need for this project include graph paper, colored writing utensils, material in a variety of colors, a sewing machine or needle and thread. If you are making a large quilt this art project could last the entire summer. If you want your child to simply plan a quilt it can be done in a much shorter period of time. First have them decide how big they want their quilt to be. 4×4 squares are common, but any size or shape is fine. Have them decide how to represent their squares on the graph paper so they will be able to see the design and then allow them to work out the design they want based on the colors they have. Once they have the design ready on the graph paper they should lay out the blocks and pin them together. They can then begin sewing the patches together. Once the patches have been sewn together add the batting and the backing and your project is complete. The age and ability of the child will be the biggest factor in determining how much of the sewing they can do without adult assistance.
Anytime your child has the chance to practice his or her academic skills is a good thing. With these summer art projects they'll have so much fun they won't even realize it is good for them.
Photo Credit: Knit Spin