Study Australian Culture: Sydney Opera House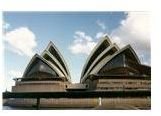 A Much-Photographed Landmark
The Opera House in Sydney is one of those landmark structures that people flock to from around the world. Countless photos are taken every day on the forecourt of the magnificent building, with its impressive sail-shaped roof structure rising high against a backdrop of the equally iconic Sydney Harbor. Set proudly on Bennelong Point on land converted from old tram yards, the building remains as architecturally impressive today as it was when the first design proposal was drawn over fifty years ago.
How It Came to Be
The story of the Opera House in Sydney goes back to the late 1940s, when a newly appointed conductor highlighted the need for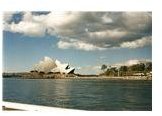 Australia to have an opera house for performance. Eugene Goosens moved to Australia from England to become the conductor of the Sydney Orchestra; he started a process which would eventually create one of the most photographed and well known performance places in the world.
In 1955, Bennelong Point at Sydney Harbor was chosen as the site for the future opera house. The next year, an international competition was launched to find a design for the "best opera house that can be built." The winning entry was by Jorn Utzon from Denmark. As the story goes, Utzon was told of his win by his children who ran to meet him at the train station after work.
Building of the final design commenced in 1959 and continued through political changes, design modifications, payment and funding disputes and Utzon's resignation from the project and later reappointment following a massive public outcry. The building eventually saw its first test performance to an audience of Opera House construction workers and their families in 1972.
Over the Years
HRH Queen Elizabeth II officially opened the Opera House at Bennelong Point in Sydney, Australia, on October 20th, 1973, during a ceremony on the forecourt. High above the opening ceremony, from atop one of the massive rooftop sail structures, Ben Blakeney, a descendant of the Aboriginal Bennelong people, blessed the Opera House.
The Opera House has seen a number of alterations and amendments during its recent lifetime. In 2005, access for disabled and elderly patrons was modified by the addition of a glass lift to improve seat access. The year 2005 also saw the Opera House gain National Heritage listing.
In 2006, the Opera House achieved another milestone; it was nominated for inclusion on the World Heritage Register, and this was finally approved in 2007 with the Opera House officially listed.