Engage Your High School Science Students: Lesson Plans and Ideas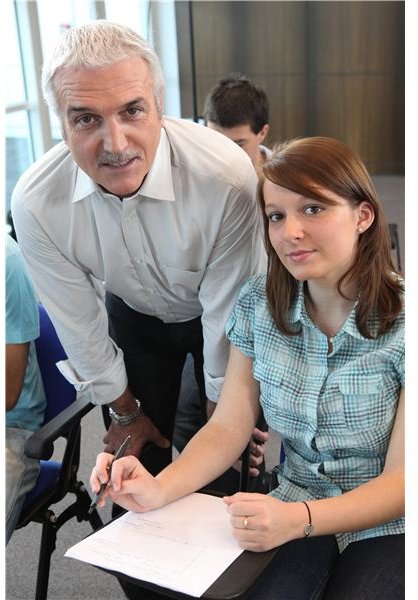 Earth Science
In Earth science, students study the earth and moon, rocks and minerals, and earthquakes and volcanoes. The articles here assist
you in introducing earth science topics with introduction lessons early in the school year. Other articles in this section offer detailed instructions for conducting engaging, informative lessons on the moon, geologic time, fossils, rocks and minerals, and the Richter Scale and Earthquakes.
Add details and examples to your topic-specific introduction lessons with the articles here as well. Then, follow up with topic-specific lesson activities and lab experiments for reinforcement. Students are sure to participate, question and learn with these ideas and hands-on earth science lessons.
Biology
Students in biology learn about life: cells, genes, plants, animals, body systems, adaptation and more. This section offers an array of activities and ideas for keeping your instruction interesting, engaging and thought-provoking as students gain a deeper understanding of life beginning with the single cell.
Browse through these resources for ideas for your biology class. Guidance for assisting students in biology research is included along with a series of lessons on teaching the characteristics of life. Lesson ideas for supplementing instruction on teaching about the body systems and interactive activities for biology class and lab are also included.
Chemistry
In chemistry instruction students learn about matter, substances and interactions involving electrons. Use the activities and ideas presented in this section to vary instructional strategies. The links here incorporate the use of video to spark students' interest in chemistry study beyond high school. The use of video to enhance a lesson on electron configuration is also included.
Within this listing, you will find the guidance you need for a thorough introduction to the carbon cycle. Share specific examples about chemical reactions with your students to ensure understanding. Some may contain specific information to share with your students in order to increase their understanding on chemical reactions. Use the hands-on activities to follow explanations for teaching about electrons.
For chemistry lab, use these lessons for activities showing how chemicals react under different circumstances. These lab lesson ideas include detailed, easy-to-follow steps for making your chemistry lesson a success.
Physical Science
Physical science includes the study of waves, vibrations, matter and energy. This section includes links to lessons and resources for teaching these and other physical science topics. Activities using water, pebbles and cork to study water movement and other hands-on lesson activities for teaching about changes in wave vibrations are included.
Other lessons in this section include activities for teaching about motion and those for understanding the law of gravity. The information presented will enhance your explanations of Newton's Law and increase students' understanding. In addition to lessons and resources for instruction, support students' independent study with the study guide on units and dimensions. You can then follow up with the physical science lab lessons which include activities for learning about friction, gravity and more.
Science Fair Projects
Science learning success becomes evident and observable in students' final projects. Here you will find guidance and ideas on projects for a high school science fair that will showcase students' understanding. Start off by enhancing your skills on guiding students through biology projects and extend that knowledge to the other science areas. Then, share ideas on projects with students to present in the school science fair.
Included are topics from the different sciences studied in high school. Browse through the different ideas to create an original, fun and informative science fair event at your high school. Students will love these ideas to use for their projects and science fair visitors will be impressed!
Sciences Beyond High School
Science instruction in high school is a critical time for students considering a career in the sciences. Including quality lessons and resources into your instruction, such as the ones presented here, ensures student exposure to topics in interesting and exploratory ways. This exposure plays a vital role in students' decisions regarding career choices in the sciences. For students not choosing a career in science, the use of critical thinking skills assists in strengthening students' higher level thinking abilities - a must for all students, regardless of their career choice.
Bottom line - everyone benefits from interesting, quality science instruction.
References
Author's own research and experience